Xiaomi WEMAX ONE - Laser Beamer
The WEMAX ONE is another projector from the production halls of the Xiaomi subsidiary "Fengmi". Not only visually, but also on the hardware side, the WEMAX ONE and the Xiaomi Laser Projector resemble each other like an egg. A tiny, for some even (buy) decisive difference, but there are!
Overview
WEMAX ONE (FMWS01C / FMWS02C)
General
Type: DLP
Chip: 0.47 "DMD 1080p
Light source technology: ALPD 3.0
Brightness: 7000 Lumens
Brightness Uniformity JBMA> 80%
Color Space: NTSC 80% ~ 85%
Center Contrast 2500: 1 ~ 3500: 1
Resolution: 1920 x 1080 pixels
Picture format: 16: 9 (4: 3)
Projection size: ~ 150 "
Projection Ratio: 0.233: 1
Contrast Ratio: 3000: 1
Connections
3x HDMI 2.0 (1x ARC)
1x 3.5mm jack (audio out)
1x AV
1x USB Type-A 2.0 jack
1x USB Type-A 3.0 jack
1x S / PDIF
1x RJ45
other
Speaker: 2x Full Range - 2x Tweeter
Audio: DOLBY, DTS
Smart TV: MIUI TV
3D support: Yes
Lamp life:> 25.000 hours
Power consumption: 250W / 0.5W (standby)
Size: 410 × 291 × 88 mm
Weight: 7 kg
WEMAX ONE
End 2017 has the Electronics giant Xiaomi brought his first projector to the (Chinese) market. Of the Xiaomi Mi Laser Projector convinced by a considerable equipment for a small price. Barely half a year later, in China, a visually identical model is named "WEMAX ONE" appeared. External differences exist only in the color and the logo. A demand among Chinese colleagues revealed that both models of the "Fengmi Technology" (峰 米 科技), a Xiaomi's daughter, are produced.
Update 11. November 2019
GearBest has the WEMAX laser projector up-to-date! In Sale you can do the Buy WEMAX ONE PRO for 1281 € can. The quantity is limited to 50. You can find further information about the deal in the following sale box or at the end of the article in the price comparison.
GearBest Sale - Xiaomi WEMAX ONE PRO FMWS01C Laser Projector
With this GearBest offer, you can buy the Xiaomi WEMAX ONE PRO FMWS01C Laser Projector for only 1281 €.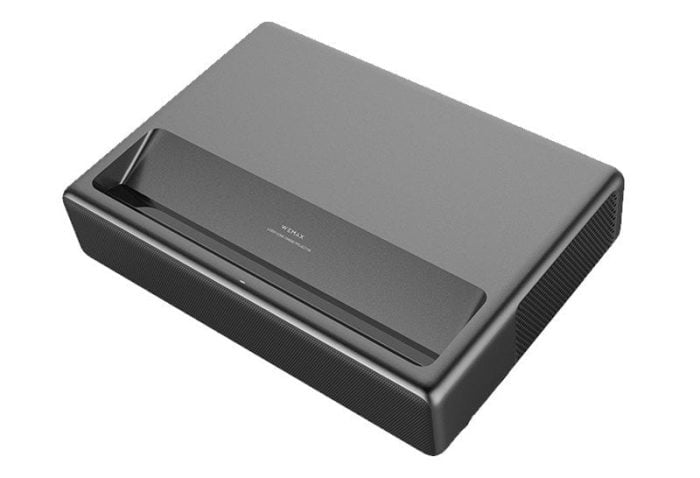 Further research revealed that both devices share the same components. Even the integrated SmartTV function "MIUI TV", which comes from the house of Xiaomi, has been retained. So where is the decisive difference? According to dealers such as GearBestwho have already included the beamer in the assortment, reaches the Appotronics ALPD 3.0 display technology instead of 5000 Lumen (Xiaomi Beamer) whopping 7000 lumens, Chinese users, who have already been able to test both devices in comparison, can confirm that the WEMAX ONE projects a slightly brighter picture. According to measurements, a luminous flux of 1668 ANSI lumens reached.

Despite identical hardware and laser technology, the higher brightness is made possible by Fengmi in the WEMAX ONE higher quality laser diodes installed. Price wise, both devices are close together, so you should preferably opt for the WEMAX projector. However, it is also worth noting that the European market launch for the Xiaomi model, which will not be delivered with Chinese MIUI TV, but with Android TV, is pending soon.
Note: In addition you will find all the specifications, experience reports and further information in the contribution to the Xiaomi laser projector.
Price and availability
You want to know where to buy the WEMAX ONE Beamer? In our price comparison we list the current offers of the most popular shops. All prices are checked and updated several times a day. Should a shop appear several times, it concerns the different warehouses of the dealer.
Price too high? Use our price alarm clock!
Prices last updated on: 9. July 2020 16: 02