Wanbo T2MAX product details
Basically, the Wanbo T2MAX is not a direct Xiaomi product, but one of the numerous third-party products from the Xiaomi (Youpin) ecosystem. With a housing size of 11 x 14 x 15 cm, the Wanbo T2MAX is truly mini. Nevertheless, the mini projector offers a native 1080p resolution, which is achieved here through LCD projection technology.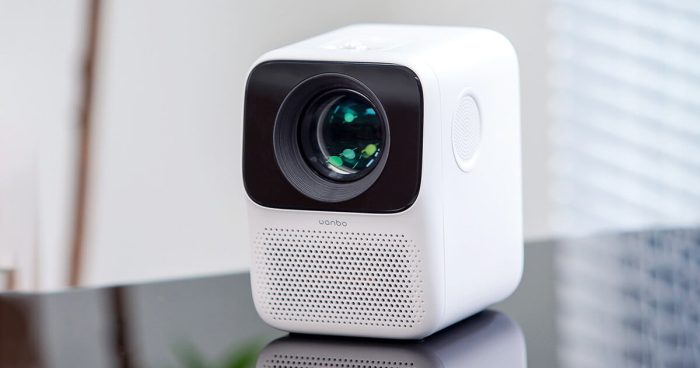 The brightness of 200 ANSI lumens is made possible by a bright LED. The projector is still rather unsuitable for projections in daylight. The maximum projection area is between 40 and 120 inches. For a perfect picture, Wanbo recommends a projection of 50 to 80 inches. The aspect ratio can be set to either 4: 3 or 16: 9.
The combination of small size and weight (900g) make the Wanbo T2MAX the perfect projector for on the go. A gaming evening with friends? No problem! Football in the garden? No problem either! The sound comes from two integrated 3 watt speakers, so you don't even have to connect a speaker. The console, receiver or streaming stick can be connected via HDMI. USB data storage devices or other peripheral devices can be connected via a USB port.
The Android user interface is particularly useful. Among other things, this offers setting options for keystone correction, zoom and image alignment. The focus is set manually using a focus wheel on the top of the projector. Apps such as Netflix, Prime Video and YouTube are preinstalled. Due to the lack of DRM support (Widevine L3 only), the streaming resolution is reduced to SD quality by most providers.
Specifications
data
Brand: Xiaomi / Wanbo
Model: T2MAX
Type: Mini LCD projector
Projection technology: LCD
Lamp: LED
Brightness: 200 ANSI Lumens
Focus: Manual
Resolution: 1080p (native)
Image area: 40 to 120 inches
Projection Ratio: 1.35: 1
Aspect ratio: 4: 3/16: 9
Loudspeaker: Yes, 2 x 3W
Consumption: 55W
Software: Android
Connections: HDMI * 1 / USB * 1 / Audio (3.5 mm)
Dimensions
Weight: 900g
Size: 11 x 14 x 15cm
Wanbo T2MAX reviews
XIAOMI Wanbo T2MAX - Full HD On A Budget!
User Reviews
Wanbo T2MAX price comparison