Xiaomi MiReader on the march!
Xiaomi's product portfolio continues to grow! Under the sub-brand "MIJIA", the Chinese electronics giant publishes the "MiReader", an eBook reader that has a lot to offer for the equivalent of € 77 €. In addition to an 6 inch E-Ink display, the compact reader will use Android 8.1 as operating system and also provide access to a cloud library. More about this in the post.
Overview
Processor and memory
CPU: Allwinner B300 SoC
RAM: 1GB
Internal memory: 16GB
Memory extension: no
Display
Display diagonal: 6 inches
Display resolution: 221 PPI
Display Type: E-Ink
Software
Operating system: Android 8.1
formats:
* TXT
* EPUB
* PDF
* MOBI
* WPS Office
connectivity
WiFi: 2.4 GHz
Bluetooth: 4.0
Accumulator
Capacity 1800 mAh
Charging socket: USB-C
other
Size: 159 116 x x 8.3 mm
Weight: 178g
Xiaomi eBook Reader
Handy design
For the first time Xiaomi ventures to an e-book reader with e-ink display. The MiReader is a compact 6 inch eBook reader that is very similar in design and functionality to Amazon's Kindle. The dimensions of MiReader are handy 159 x 116 x 8.3 mm, With a weight of 178g.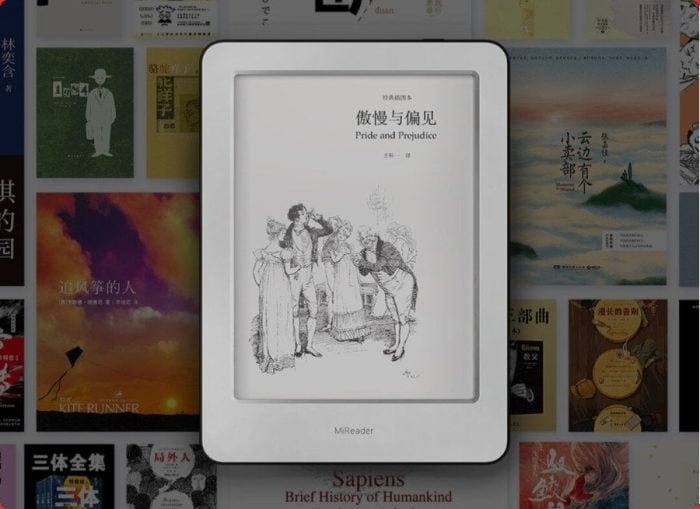 High-resolution e-ink display
The energy-saving E-Ink display achieved High-resolution 221 PPI and thus places itself between you Kindle 2019 (167 PPI) and a Kindle Paperwhite (300 PPI), A special feature of the display is the LED backlight, in the 24 brightness levels is customizable. This makes it possible to use Xiaomi's eBook Reader even at night without an additional light source. Incidentally, the display can also be adapted to other preferences. You can adjust, among others, the Contrast and font size.
Allwinner B300 system
Under the hood, the specially developed for eBook Reader works Allwinner B300 system-on-chip, Supports the quad-core processor (4x Cortex-A7 1.8 GHz) 1GB memory and 16GB data storage to the side. In comparison, a Kindle 2019 comes on only 512MB memory and 4GB data storage. The possibility to expand the memory additionally by MicroSD memory card does not exist. However, considering that traditional eBooks only use 3-10MB, 16GB data storage should be sufficient, even during intensive use.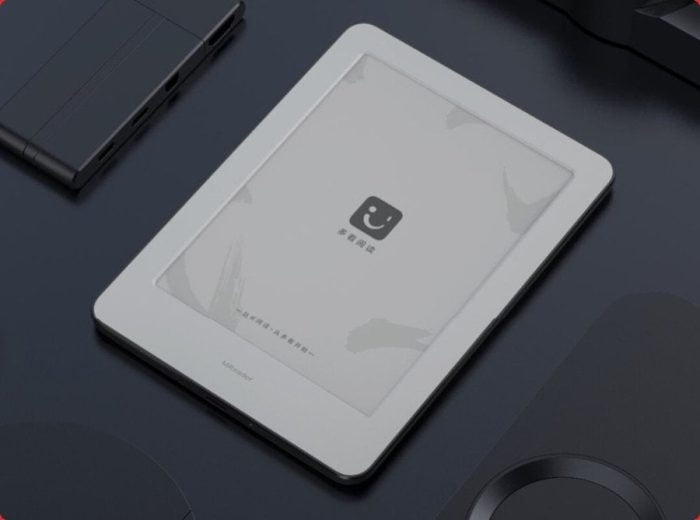 Other hardware features include the support of 2.4 GHz WiFi and Bluetooth 4.0, One battery charge of 1800 mAh large batteries should allow, according to Xiaomi a running time of several weeks. The MiReader is loaded over the current one USB-C standard.
Android 8.1 with WPS support
On the software side, the miReader relies on Android 8.1, Even if the reader appears exclusively in the Chinese market, hobby developers will certainly find a way to make the MiReader tasty for the global user. After all, Android is completely independent of the localization, compatible with all Android apps.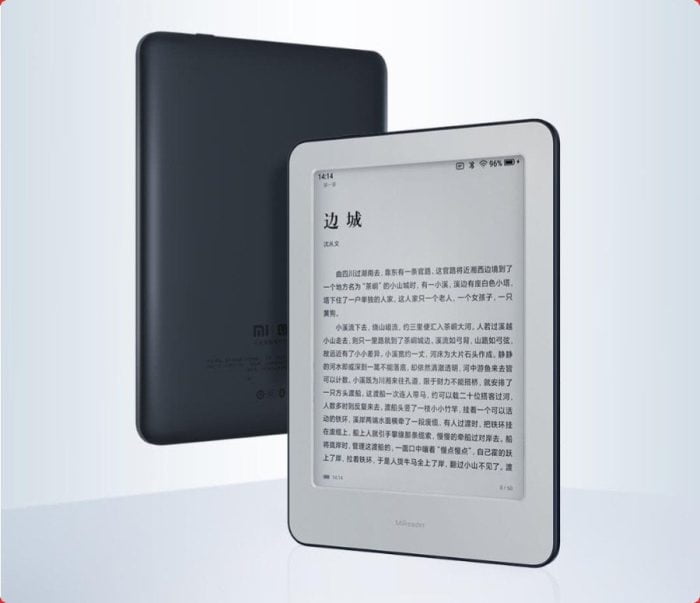 The release is the eBook Reader with books in the format TXT, EPUB, PDF and MOBI, Interesting is the integration of WPS Officeso that even Excel, Word and PowerPoint documents are readable. Users with WeChat or Xiaomi Account can share their books and documents directly with each Cloud offerings synchronize.
assessment
For converted 77€ The Xiaomi eBook Reader will be released in China. Despite better features, the MiReader would even be cheaper than Amazon's current Kindle model. And that even without annoying advertising!
Especially interesting is the Android 8.1 operating system. This not only offers versatile uses, but also lets hope that the eBook reader in this country in one Global version will appear. After all, Xiaomi is very interested in also conquering the European market! Nevertheless, an import could be worthwhile. It remains to be seen whether the operating system will offer a purely Chinese or at least English voice output.
As soon as further information follows or a test copy reaches us, follow the info / the test at this point!