Xiaomi MIJIA Smartwatch - Quartz watch with smart functions
Xiaomi has released a hybrid smartwatch under the house brand "MIJIA", which does not require a display. From the outside, the Xiaomi MIJIA Smartwatch is a classic analog watch with mechanical hands. Smart is the watch thanks to app-controlled fitness tracking.
Overview
Xiaomi MIJIA quartz watch SYB01
Housing
Diameter: mm 40
Thickness: 11.9 mm
Waterproof: 3ATM
Material: 316L stainless steel
Protective glass: crystal
Bracelet
L: 240 mm
Material: cow leather
Removable: Yes
Features
Pedometer: Yes
Notification Receipt: Yes
Vibration alert: Yes
Alarm clock: Yes
Battery
Type: CR2430
Runtime: up to 6 months
other
App: MIJIA app
Bluetooth: 4.0 BLE
Xiaomi MIJIA Hybrid Smartwatch
Smartwatches are practical companions who, in addition to smartphones, certainly have their right to exist. Just like smartphones, smartwatches have to be recharged regularly, usually after just a few days. An alternative to the digital smartwatch are so-called Hybrid Watches, This is classic analog watches with integrated fitness tracker and smarter app control. A big advantage is the long-lasting duration of several weeks, up to months.
design features
The Xiaomi MIJIA Hybrid Smartwatch is a quartz wristwatch in modern unisex design. Almost inconspicuously presented the circular analog clock. Here are the most important design features for the watch case, the dial and the watch strap.
watch case comes to a diameter of 40 mm and a thickness of 11,9 mm. The case material is 316L stainless steel. The water resistance specifies Xiaomi with 3ATM. This means that the watch case can withstand the pressure of a water column of 30 meters. Put simply, the watch is only protected against splashing water and should not be worn while showering or swimming!
dial is provided with hour marks and a step display (0 - 20000). Above is the MIJIA logo. Two simple-gray clock hands indicate the time, another pointer the steps. Dial and hands are protected by tempered crystal glass. A special round cut prevents reflections and increases the light transmission, so that the clock remains easy to read even in sunlight.
watchband is made of Italian cow leather. The overall length of the Xiaomi quartz watch is 240 mm. The total weight at 42g. A simple replacement of the watch strap is possible thanks to quick-change lock. The bracelet is closed by a pin buckle.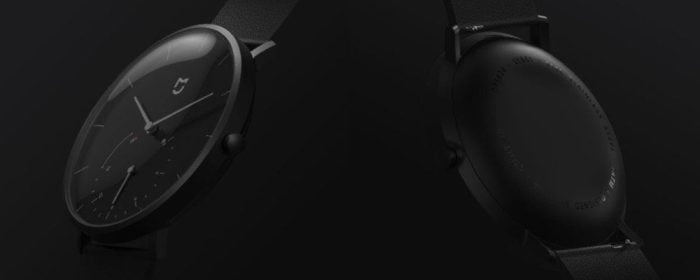 The hybrid smartwatch is in 3 color variations available:
Black case, black dial and black strap
Gray case, gray dial and gray strap
Gray case, white dial and blue bracelet
features
The connection between watch and mobile device (Android or iOS) is sparse Bluetooth 4.0 BLE allows. On Accelerometer records the daily steps taken. The collected data can be combined with the "MIJIA app" synchronize and display in the diagram. Another feature is the notification reception, Whether it's scheduled reminders, call or app notifications, the watch keeps your wearer up to date with a vibrating alert.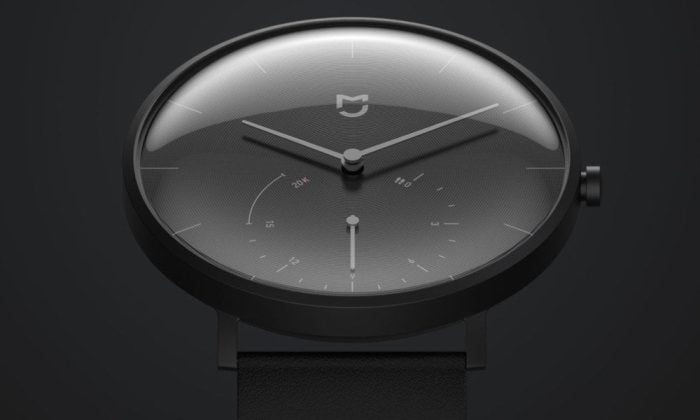 Also for travelers keeps the Xiaomi MIJIA SYB01 (so the model name) an interesting feature ready. The time is automatically synchronized with that of the connected mobile device. Change one time zones, the watch automatically adapts to the new time zone.
running time
In the last point we take a look at the term. The watch comes with a conventional CR2430 button cell operated. Xiaomi's measurements resulted in daily 10.000 steps, 2 received alerts, 3 call reminders, and 12 sync operations Runtime of 6 months, If the battery is discharged, this can be exchanged in a few steps on the back of the case.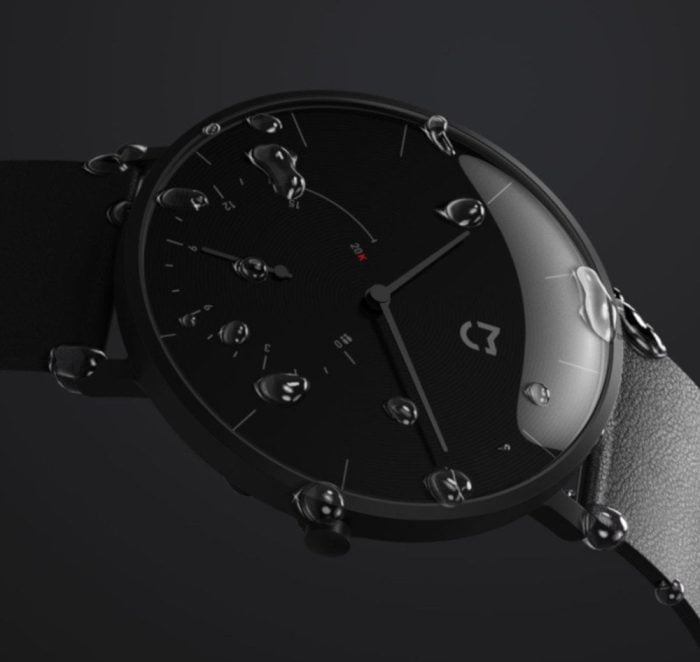 First impression
Hybrid Watches are the perfect compromise for those who want smart functions on their wrist, who want to do without a classic smartwatch, be it due to the short battery life or the design. The Xiaomi MIJIA hybrid watch presents itself as a stylish wristwatch, with which one quite on the "Social parquet" can move. However, you should not expect too much from the smart functions. The notification reminder and pedometer are handy, but they do not replace the functionality of a "real" watch or a fitness bracelet.
If you are less interested in a stylish design, but still looking for a smart watch for everyday life and besides sporty active, should Amazfit Bip or Amazfit Stratos consider. Both smartwatches offer a wide range of fitness features and achieve a remarkable battery life. An inexpensive alternative to smartwatches is a fitness bracelet. In particular, that Xiaomi Mi Band 3, which costs just over 20 €, has a lot to offer.
By the way: Who just one inexpensive and at the same time stylish wristwatch looking, should take a look at the Xiaomi Youpin CIGA toss. This is a Automatic in the transparent housing. A watch guaranteed to attract everyone's attention!
Price Comparison
You want to buy the Xiaomi MIJIA Smartwatch? In our price comparison we list the current offers of the most popular shops. All prices are checked and updated several times a day. Should a shop appear several times, it concerns the different warehouses of the dealer.
Price too high? Use our price alarm clock!
Prices last updated on: April 5st, 2020 08:00