Xiaomi Mi Robot Vacuum Cleaner 2 Pro + product details
The Mi Robot Vacuum Cleaner 2 Pro + (Xiaomi MIJIA Robot Vacuum Cleaner 1T) from Xiaomi is a vacuum robot that focuses on precise navigation, particularly high suction power and a flat design.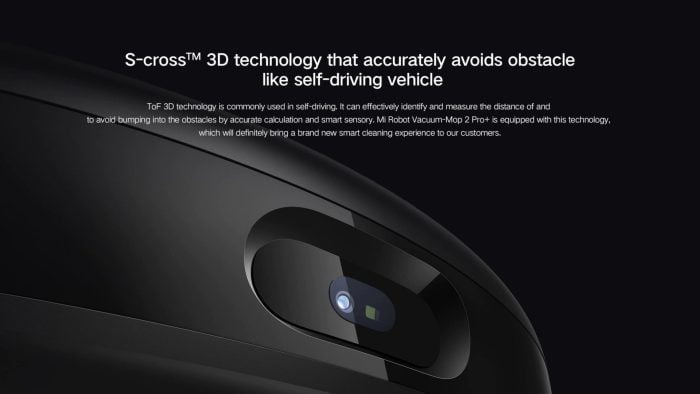 In contrast to many other top models, this model is not navigated via a laser tower, but a 3D camera system (S-Cross 3D). In this way, obstacles lying ahead are effectively recognized and precisely avoided. At the same time, the robot vacuum cleaner is flatter than models with a laser tower. With a height of only 8,2 cm, the Mi Robot Vacuum Mop 2 Pro + fits under many sofas, beds and other pieces of furniture.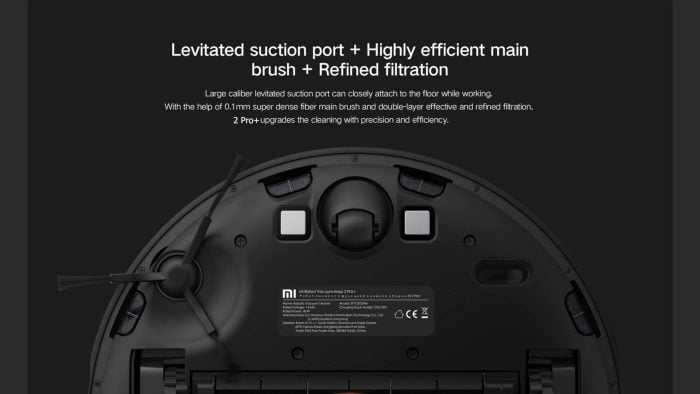 In combination with VSLAM, the vacuum robot creates an image of the room that the user can view as a room map via the app (MIJIA app). The app can be used to track exactly where the vacuum robot is, how far the vacuuming process has progressed, or which surface still needs to be cleaned. In addition, individual room areas can be subdivided and divided into cleaning zones via the app. The "Virtual Wall" can be used to define restricted areas that the vacuum robot does not cross. Room maps that have already been created are available for retrieval even after the suction process has ended.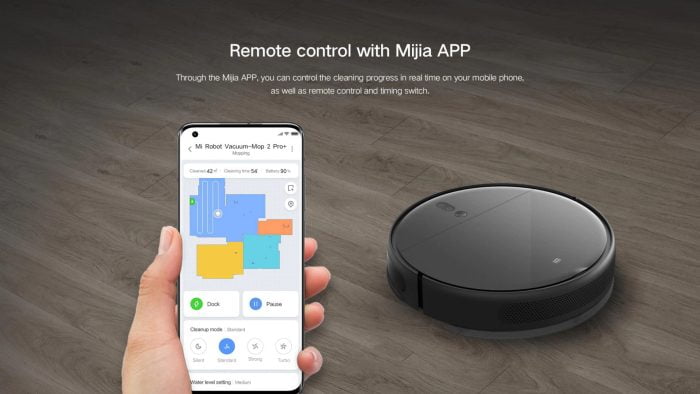 The suction power of the Xiaomi Mi Robot Vacuum Cleaner 2 Pro + is a powerful 3000 Pa. The robot hoover can cope with animal hair, fine dust and coarse dirt. The removable dirt container has a capacity of 550 ml. Wiping with a damp cloth is also possible. An electric pump ensures regulated water delivery in 3 stages. Thanks to the particularly high battery capacity of 5200 mAh, the Mi Robot Vacuum Cleaner 2 Pro + can vacuum and wipe for up to 180 minutes at a time. This corresponds to a living space of approx. 240 m².
Specifications
General
Brand: Xiaomi
Model: Xiaomi Mi Robot Vacuum Mop 2 Pro + / Xiaomi MIJIA Robot Vacuum Cleaner 1T
Model Number: STYJ02ZHM
Type: robot vacuum
Navigation: S-Cross 3D + 3D VSLAM
Parameter
Suction power: 3000 Pa
Dust container: 550 ml
Water tank: 250 ml
Water delivery: 3 levels (electronic)
Virtual Wall: yes
Smart room card: yes
Incline: 2 cm
Battery: 5200 mAh
Dimensions
Weight: 3.6 kg
Size: 35 x 8,2 x 35 cm
Xiaomi Mi Robot Vacuum Cleaner 2 Pro + reviews
There are currently no reviews for the Xiaomi Mi Robot Vacuum Cleaner 2 Pro +.
User Reviews
Xiaomi Mi Robot Vacuum Cleaner 2 Pro +
Good navigation even without a laser tower
I bought the Xiaomi Mijia 1t (that's the name of the Chinese version) from AliExpress because I have furniture with a ground clearance of less than 9 cm. For me, after 1 week of use, the following pros and contrasts arise:

BESS
- lower height than LIDAR variants, with the exception of 360 S10
- acceptable obstacle detection, which can be upgraded, I hope for updates here
-He created a card with me after the first cleaning trip, not only after the 3rd, as many reviews on the net claim
-good orientation and navigation with the ToF sensor
-Price / performance is great, I bought it for € 209
- Suction performance better than my Xiaomi mop pro

Cons
-Requires light for navigation, in the dark it wanders around quite a bit, doesn't matter to me
-Wiping performance bad, but with me the things only vacuum
-has serious problems with the high-floor carpets in the bathroom, gets stuck and rarely gets on it
-cleans the surface first and then the edges, this takes some getting used to, but actually not a Con, since it sucks in the algorithm, just a little different

From my previous experience, I can only recommend the part for a price of around € 200 or less. For around 300, - € there are more powerful vacuum robots!
Xiaomi Mi Robot Vacuum Cleaner 2 Pro + price comparison