Xiaomi Mi Mix 3 - All about Slider Smartphone
The new Xiaomi Mi Mix 3 has been officially launched. The focus is on the slider design, a high-quality camera equipment and again the display, which occupies almost the entire front. All information about the smartphone we have summarized for you in the following post.
Overview
Processor and memory
CPU: Qualcomm Snapdragon 845
GPU: Adreno 630
RAM: 6GB / 8GB / 10GB (LPDDR4X)
Internal memory: 128GB / 256GB (UFS2.1)
Memory extension: no
Display
Display Type: AMOLED
Display diagonal: 6.39 inches
Display resolution: 2340 x 1080 pixels
Screen protector: Toughened protective glass
Contrast: min. 60000: 1
Luminance: 430 cd / m²
Multitouch: 10 fingers
HDR: Yes
cameras
Main Camera: 12MP Sony IMX363 + 12MP Samsung S5K3M3
* 4 axes OIS
* AI mode
* 960 FPS SlowMo
* Autofocus (Dual-PD)
* Dual Tone LED Flash
Front camera: 24MP Sony IMX576 + 2MP OV02A10
* bokeh
* HDR
* AI mode
* AI Beauty
* LED flash
Network
Dual SIM: Yes
SIM size: Nano SIM
China
GSM: B2 / B3 / B5 / B8
CDMAlX / EVDO: BC0
WCDMA: B1 / B2 / B4 / B5 / B8
TD-SCDMA: B34 / B39
TD-LTE: B34 / B38 / B39 / B40 / B41
FDD-LTE: B1 / B2 / B3 / B4 / B5 / B7 / B8 / B12 / B17 / B20
Global
GSM: B2 / B3 / B5 / B8
CDMAlX / EVDO: BC0 / BC1 / BC6 / BC10
CDMA EVDO: BC0 / BC1 / BC6 / BC10
TD-SCDMA: B34 / B39
WCDMA: B1 / B2 / B3 / B4 / B5 / B6 / B8 / B9 / B19
TD-LTE: B34 / B38 / B39 / B40 / B41
FDD-LTE: B1 / B2 / B3 / B4 / B5 / B7 / B8 / B12 / B13 / B17 /
B18 / B19 / B20 / B25 / B26 / B28 / B29 / B30 / B66
wireless
WiFi: 802.11 a / b / g / n / ac MU-MIMO
Bluetooth: 5.0
GPS: Yes
sensors
* Ultrasonic distance sensor
* Ambient light sensor
* Accelerometer
* Proximity Sensor
* Hall sensor
* E-Compass
*Gyroscope
* Fingerprint Sensor
* NFC
Accumulator
Battery: 3.200 mAh (3.100 mAh)
Quick charge function: Quick Charge 4.0
Qi Store: Yes, 10W
Connection: USB-C
other
Operating system: MIUI 10
Size: 157.89 74.69 x x 8.46 mm
Weight: 218g
Xiaomi Mi Mix 3
Already last week, Donovan Sung has the Launch of the new Xiaomi Mi Mix 3 smartphone for the 25. October announced. Since then, the Twitter account of the marketing chief has not stopped. Almost daily, new information on the smartphone came in, which already showed the first features and specifications. Meanwhile, the handheld was officially presented.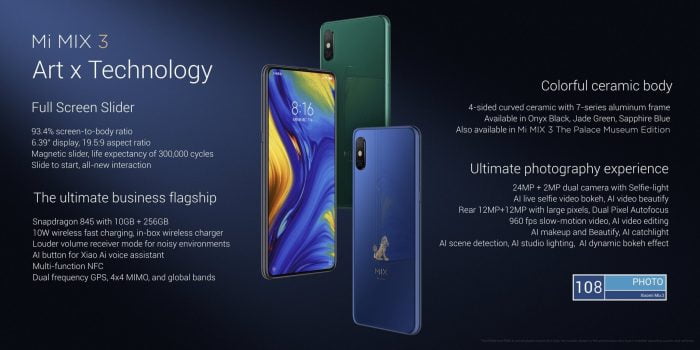 Retractable "slider" design
A smartphone with slider evokes memories of the late 90er. The front of the new Mi Mix 3 is completely occupied by the display. Front camera and sensors interfere with this and inevitably have to be placed elsewhere. Some manufacturers, like last Oppo and Vivo put on an automatically outgoing camera Slider. Xiaomi, however, takes a slightly different approach. Not automatically but quite classic by a "Slide-down" movement the two front buttons come to the fore. How the whole thing looks, you can see in the following video.
Again from Philippe Starck designed, the curved housing of the Mi Mix 3 is made out Ceramics manufactured. Besides black are also the Colors sapphire blue and emerald green available color variants.
Better night shots and super slow motion
The retractable front camera comes with two image sensors and one Front-LED flash therefore. The sensors are once on 24 megapixel SonyIMX576 main sensor and an OmniVision OV02A10 second sensor, Instead of software bokeh effect second sensor will take over the task of the depth effect. Xiaomis Camera-AI, which improves recordings scenically, is now also the front camera to the side.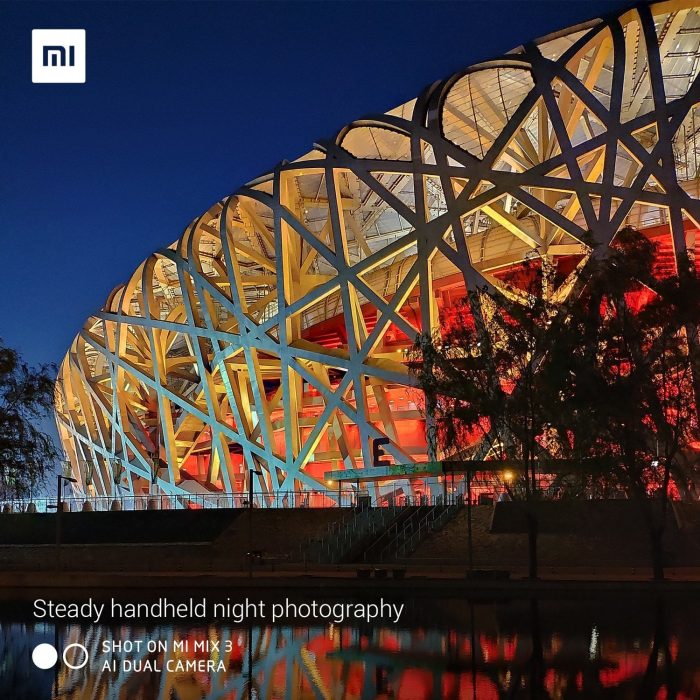 In the main camera Xiaomi attaches great importance to a good recording quality in low light conditions. Nachtaufnahmen should convince by richness of detail, sharpness and color fastness. Even the portrait mode should deliver useful results in low light conditions. The sensors of the dual main camera are identical to those of the Xiaomi Mi Mix 2S and Xiaomi Mi 8. Installed are one 12 Megapixel Sony IMX363 with f / 1.8 aperture and an 12 Megapixel Samsung S5K3M3 Image sensor.
Also on board are one 4 Axis Image Stabilization (OIS) and a faster one Dual PD autofocus, Im already appeared DxOMark The Mi Mix 3 performs a little better than the Mi 8. In the photo benchmark 108 points are scored, in the video benchmark 93 points.
The main camera is capable Super Slow Motion Videos take. The refresh rate reaches a whopping 960 pictures-per-second. The expectations should not be too high. Resourceful developer of XDA-Developers Already "defused" the MiMo 3 SlowMo mode. Thus, it is a software effect of 240 FPS interpolated from native 960 FPS magic. Ordinary videos takes the smartphone up to 4K at 60 images-per-second on.
6.39 inches full bezel-less display
The display extends almost entirely across the front. The lower frame distance, the at Mi Mix 2S nearly 1 cm was reduced to 4.46 mm. This will be a considerable Screen-to-body ratio of 93.4% reached. The display used is from Type AMOLED and solve one Diagonal of 6.39 inches with 2340 x 1080 pixels on. Thus, one comes to a crisp point density of 403 PPI and an aspect ratio of 19.5: 9.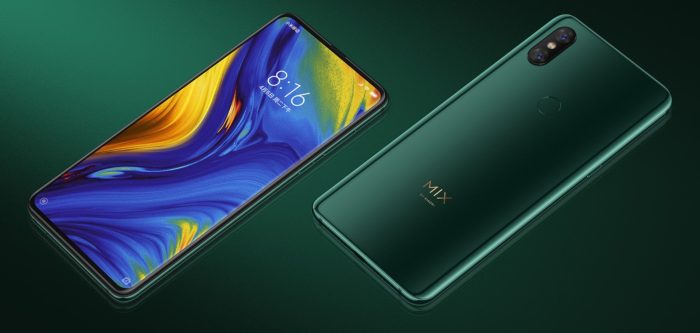 Qualcomm Snapdragon 845
The system-on-chip is already from the Xiaomi Mi Mix 2S known Qualcomm Snapdragon 845, A total of 8 Kryo 385 processor cores (2.8 GHz clock rate) are divided into two clustersthat are powerful but also energy efficient. The Adreno GPU 630 The SoC promises enough power to play current mobile and AR games fluently.
With regard to the storage facilities There are different configuration options. The standard model puts on an optional 6GB or 8GB Memory (LPDDR4X) and one 128GB and 256GB datastores (UFS2.1), Only that special Edition is with a 10GB memory and a 256GB datastore. A memory expansion is not scheduled.
Mobile and others
Donovan Sung already hinted in September. The Xiaomi Mi Mix 3 is expected to be the first smartphone 5G technology, However, a model with 5G modem is not expected until the beginning of next year. In terms of mobile frequencies, Xiaomi again differentiates between a Chinese and a global model. The following mobile radio frequencies and bands are available:
Mobile radio frequencies / bands (Full-Netcom)
GSM: B2 / B3 / B5 / B8
CDMAlX / EVDO: BC0
WCDMA: B1 / B2 / B4 / B5 / B8
TD-SCDMA: B34 / B39
TD-LTE: B34 / B38 / B39 / B40 / B41
FDD-LTE: B1 / B2 / B3 / B4 / B5 / B7 / B8 / B12 / B17 / B20
Mobile Radio Frequencies / Bands (Global)
GSM: B2 / B3 / B5 / B8
CDMAlX / EVDO: BC0 / BC1 / BC6 / BC10
WCDMA: B1 / B2 / B4 / B5 / B6 / B8 / B9 / B19
TD-SCDMA: B34 / B39
TD-LTE: B34 / B38 / B39 / B40 / B41
FDD-LTE: B1 / B2 / B3 / B4 / B5 / B7 / B8 / B12 / B17 / B18 / B19 / B20 / B25 / B26 / B28 / B29 / B30 / B66
The usual mobile radio frequencies in this country are supported by both models. With a Dual-SIM slot equipped the smartphone can be used with two nano SIM cards. Each of the two slots is LTE-capable and supports Volta, Other features are Dual AC WiFi with MU-MIMO, Bluetooth 5.0 and NFC. The Fingerprint scanner Unfortunately, it is not integrated in the display but is inside the back of the case. An AI button makes for a deeper level Xiao Ai Integration. The operating system is MIUI 10 on Android 9 Base.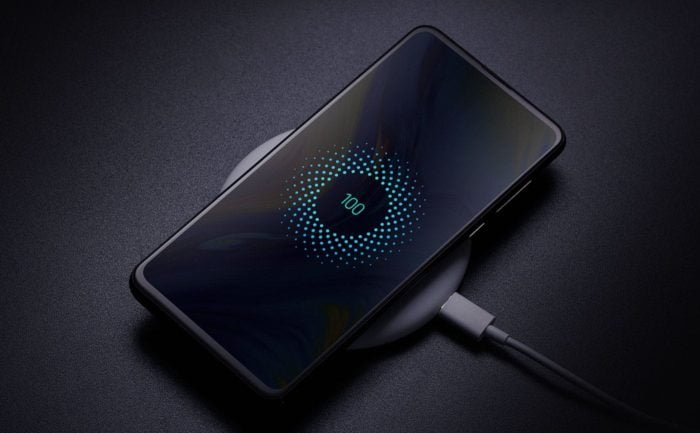 The Accumulator owns one Capacity of 3200 mAh and should bring the user through the day. So that the smartphone is quickly charged again, will Qualcomm's Quick Charge 4.0 Quick charge function supported. Another one is new fast Qi charging function, which loads the smartphone with up to 10W.
Price and availability
Price too high? Use our price alarm clock!
Prices last updated on: April 5st, 2020 23:00