Xiaomi Gaming Notebook - Gaming Laptop from China
After Xiaomi has now established itself on the notebook market, the manufacturer publishes a notebook for gamers. The Xiaomi Mi Gaming Notebook is available from 5999 Yuan (770 €) and offers powerful features from Intel and Nvidia in addition to the features compatible with gamers. All information about the notebook can be found in the following post!
Overview
Xiaomi Mi Gaming Notebook
Display
Resolution: 1920 x 1080 - 142 PPI
Diagonal: 15.6 inches
Viewing angle: 178 °
NTSC color space: 72%
Brightness: 300cd / m²
Performance
CPU: Intel Core i7 7700HQ / Intel Core i5 7300HQ
GPU: Nvidia GeForce GTX 1060 / 1050 Ti
RAM: 16GB / 8GB DDR4 RAM
Internal Memory: 256GB / 128GB PCIe SSD + 1TB HDD
Memory extension: M.2 SSD slot
Connections
1x USB Type-C
3x USB 3.0
1x HDMI
1x headphone jack
1x Microphone
1x RJ45 Ethernet
1x MicroSD
1x DC
Accumulator
Capacity: 55 Wh
Runtime: up to 17 hours
other
WiFi: Dual Band AC WiFi (2.4 + 5GHz)
Bluetooth: BT 4.1
Speaker: 2x 3 Watt
Camera: 1280 x 720
Size: 364 265.2 x x 20.9 mm
Weight: 2.7 kg
Xiaomi Mi Gaming Notebook
Update 03. August 2018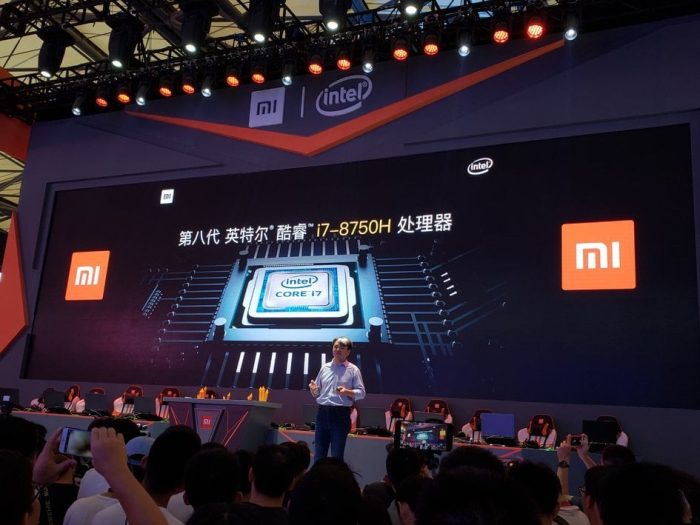 Not even 5 months after the release of the Xiaomi gaming notebook, the manufacturer has at this year's "ChinaJoy"An upgrade presented. The new models of the Xiaomi Mi gaming notebook have been released Intel's 8. processor generation converted, which promises again a significant performance boost. At the same time, Xiaomi has improved the cooling system. The sales start in China is the 16. August. Here is an overview of the models:
Intel Core i7-8750H - 16GB DDR4 - 256GB PCIe SSD - 1TB HDD - Nvidia GTX 1060
Intel Core i7-8750H - 8GB DDR4 - 256GB PCIe SSD - 1TB HDD - Nvidia GTX 1050 Ti
Intel Core i5-8300H - 8GB DDR4 - 256GB PCIe SSD - 1TB HDD - Nvidia GTX 1060
Intel Core i5-8300H - 8GB DDR4 - 256GB PCIe SSD - 1TB HDD - Nvidia GTX 1050 Ti
The published a few months ago Intel Core i7-8750H is with 6 processor cores equipped in the basic clock up to 2.2 GHz and in Turbo up to 4.1 GHz overclock. The memory connection has also improved. The DDR4 RAM clocks with 2666 MHz (predecessor: 2400 MHz). Another improvement that the system-on-chip brings is the new one Dual AC WiFi moduleand Transfer rates up to 1733 Mbps allows.
The new Intel Core i7-8750H promises in comparison to the previous Core i7-7700 HQ one around 31,7% increased system performance, one order 76,7% increased office application performance and one around 92,2% increased rendering performance.
Update 25. May 2018
Meanwhile, the gaming notebook is also available through relevant China shops. For example, GearBest has listed the Core i7 model with 16GB memory for just under 1300 €. Compared to local models, the Xiaomi gaming laptop is not necessarily a bargain. Nevertheless, the usual good Xiaomi processing quality could speak for the notebook. We will try to get a test copy of the device.
Update 31. March 2018
In China, the sale of the new Xiaomi notebook has already started. First Middlemen from the Far East have already included the gaming laptop in their range and offer it in advance. Possible shipments are expected from the end of April or beginning of May. The current price varies depending on the model 870 € and 1315 €, More at the end of the article!
Simple design and play of light
Classic gaming notebooks often stand out due to their extravagant design. Xiaomi, on the other hand, has been more reserved, almost simple housing design decided. Striking ornaments or even a manufacturer logo one looks for on the matte housing of the 364 mm wide, 265.2 mm deep and straight once 20.9 mm high Laptops in vain. The weight is 2.7 kg. To go through it as a gaming notebook, there are two subtle design features.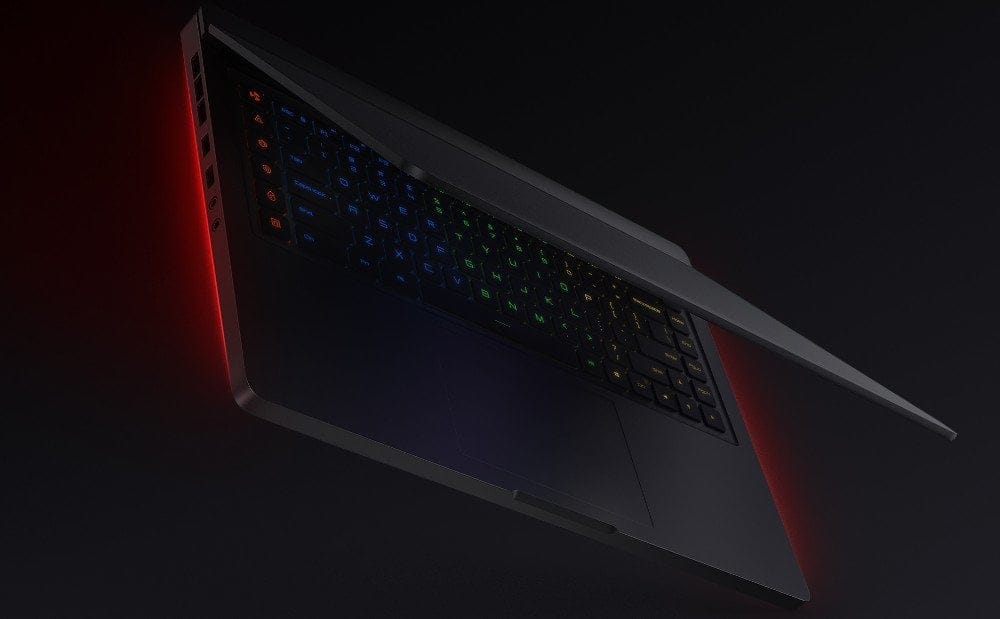 RGB keyboard
The Xiaomi Gaming Notebook does not use a traditional chiclet keyboard, but a keyboard with an extended one 1.8 mm key stroke, According to Xiaomi, this results in an improved feeling of pressure, which plays a decisive role especially in gaming. On 30 Key RollOver (30KRO) Ensures that up to 30 simultaneous keystrokes are accurately registered. Left hand are also 5 freely programmable buttons, Another button is used to control the cooling system. At the same time the keyboard is with a multicolor LED backlight provided in 4 zones is split. In which colors the zones shine, the user can determine himself. With the Luminous modes "Breath", "Wave" and "Colorful" 3 color effects are also available. Below the keyboard is a Trackpad, but without a fingerprint scanner. As already with the before published Xiaomi Notebooks, also the keyboard of this Notebooks is purely in QERTY layout available!

ambient light
Another visual effect is that multicolor pulsating ambient light, By means of LED strips, the so-called "Ambient Light" shines indirectly from the lateral case edges. In terms of color, the Ambient Light adapts to the respective screen contents.
High resolution display
The display is from Type IPS and solve one Diagonal of 15.6 inches in Full-HD (1920 x 1080 pixels) on. The surrounding the display frame edges fall with a thickness of 9.9mm comparatively narrow. The resulting screen-to-body ratio is 81%. Other features of the panel are one Luminance of 300 cd / m², a maximum Viewing angle of 178 ° and NTSC color space coverage of 72%, This is an advantage anti-reflective display glass, which absorbs incident light and thus allows working in the sunshine. Above the display is also a camerawhich resolves in HD (1280 x 720 pixels).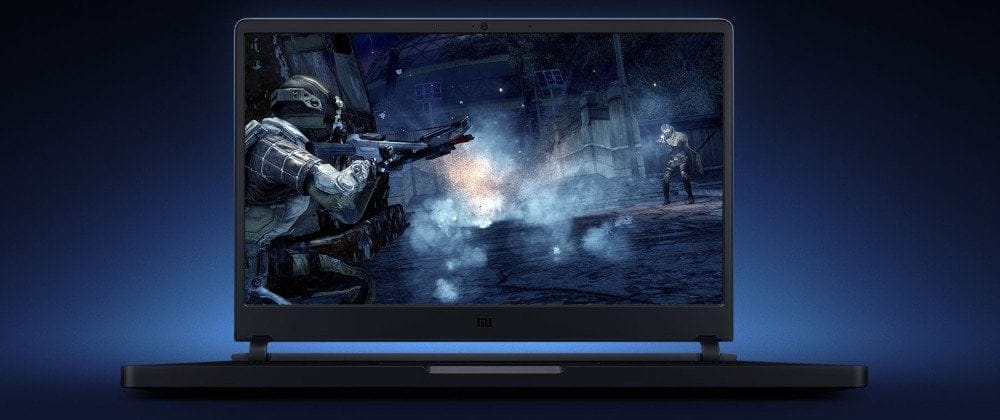 Hardware for gamers
Overall there is 4 models of the Xiaomi gaming notebookthat differ in terms of processor, graphics and memory.
Top models
most powerful model is with one Intel Core i7-7700 HQ processor fitted. Designed specifically for notebooks and based on the Kaby Lake architecture (14 nm), this processor offers 4 processor cores that clock up to 3.8 GHz. In addition to the Intel HD 630 processor graphics, the notebook is also equipped with a dedicated Nvidia GeForce GTX 1060 graphics card (6GB) fitted. The storage equipment amounts to one 16GB DDR4 memory and one 256GB SSD + 1TB HDD data storage, The underlying model differs from the most powerful model in terms of memory (8GB DDR4 + 128GB SSD + 1TB HDD)
Lower models
weakest model turn is with a Intel Core i5-7300 HQ processor fitted. This is also a quad-core processor, but its processor cores clock with maximum 3.5 GHz clock rate. Hyperthreading is not supported by the Intel Skylake architecture-based processor. The processor graphics is also an Intel HD Graphics 630. Instead of a Nvidia GeForce GTX 1060 comes a lower performing Nvidia GeForce GTX 1050 Ti graphics card (4GB) for use. For a small extra charge, the model also comes with an Nvidia Geforce GTX 1060. The storage equipment amounts to one 8GB DDR4 memory and one 128GB SSD + 1TB HDD data storage.
cooling system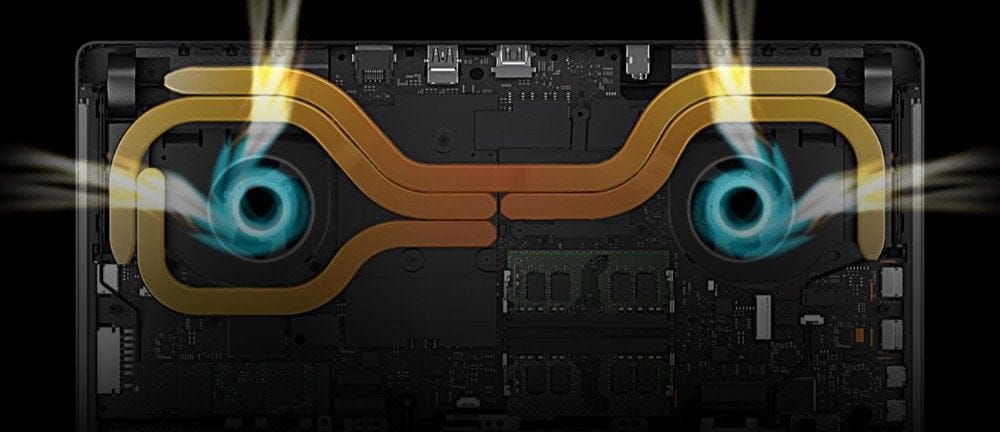 The most common cause of performance dips is an inadequate one Cooling, The result is so-called "Thermal Throttling", which automatically lowers the processor by reaching a maximum temperature. A key feature of the Xiaomi Gaming laptop is a sophisticated cooling system. Cool air is sucked in by two fans across the wide-meshed bottom of the notebook. Hotspots are by the 3 + 2 heat pipe system avoided. The delivery of warm air takes place at four places of the notebook case.
Connectivity, audio and battery
connection options
The connection options Lush and amount to three USB 3.0 sockets, a USB-C socket, a RJ45 jack (Gigabit Ethernet connection), an HDMI 2.0 jack, a 3.5 mm audio output and a microphone input, a MicroSD memory card slot and a power connector. Both the USB-C and the HDMI socket allow two additional external monitors with maximum 4K resolution to be operated at 60 Hz refresh rate. Wireless is the laptop in the Dual band wifi (802.11b / g / n / ac). device is supported with version 4.1.
sound system
The gaming notebook also has a lot to offer in terms of sound. Two 3W speakers promise a powerful sound. The compatibility with Dolby include sound effects, such as the spatial Dolby Panorama Surround sound possible. Headphones are integrated Headphone Amplifier driven. Music lovers will also get their money, because the notebook is among other things Hi-Res audio certified.
Accumulator
The Capacity of the battery gives Xiaomi 55 watt hours at. As a guideline, 5-hour online video playback, 5.5-hour local video playback or 6.5-hour web browsing would be possible. If you transfer these values ​​to compute-intensive application areas, such as gaming or the rendering of videos, a running time of 2-3 hours would be conceivable. The battery is charged via an external power supply. One way to charge the battery via USB-C is not provided.
Initial Coverage
With the Xiaomi gaming notebook, the manufacturer has now launched a fourth notebook model series. Most promising are the gamer-friendly, yet simple design, as well as the top performance features. This makes the notebook on the one hand as a gaming PC replacement, but at the same time for everyday use, be it as an ordinary business laptop. Priced the notebook is depending on the equipment between 5999 yuan (about 774 €) and 8999 yuan (about 1160 €), In the absence of a detailed data sheet, there are minor inconsistencies as to whether Xiaomi has opted for the regular model of the Geforce GTX 1060 Mobile or whether a slightly lower-clocked Geforce GTX 1060 Max-Q has been installed.
Product page of the manufacturer: mi.com/migaminglaptop/
Once we have a test copy, the open questions will of course be investigated. What do you think about Xiaomi's latest trick? With it in the comments!