TicWatch and Wear OS 3
In a Twitter post, Mobvoi communicated the current status of the long-awaited Wear OS 3 upgrade for the TicWatch Pro 3 Ultra, TicWatch Pro 3 and TicWatch E3 models.
The company explains the delay with the special hardware configuration of its devices. With the deployment of the SDW4100 chipset and a Mobvoi proprietary dual-system architecture, upgrading to Wear OS 3 requires additional customization and performance debugging.
Mobvoi emphasized that the quality of the software and the user experience are paramount and further adjustments are necessary before the update can be delivered.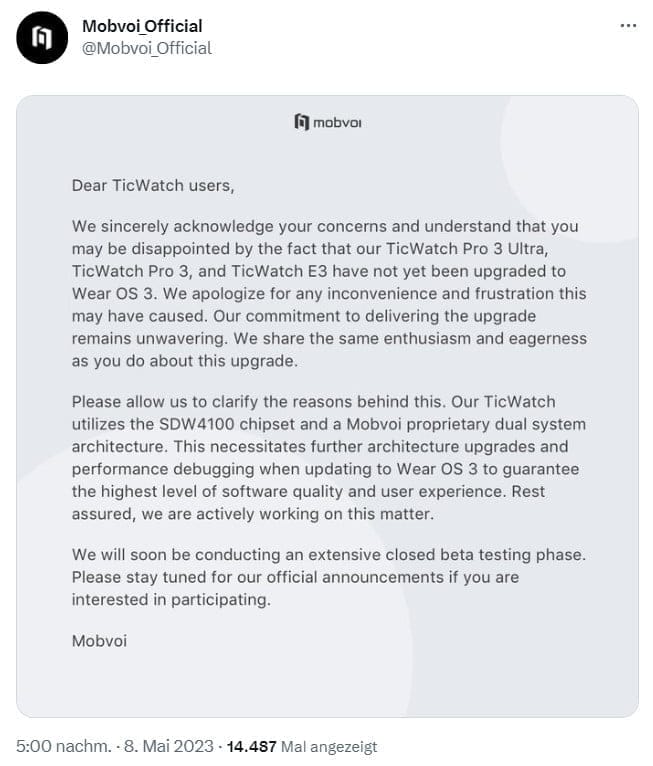 Despite the update issues, Mobvoi is planning a closed beta testing period for the Wear OS 3 update soon. Users interested in participating should keep an eye on the company's official announcements.
Notwithstanding the delays, recent communications from Mobvoi suggest that the end of the wait for the Wear OS 3 update may be in sight.
The announcement comes at an interesting time, however, as Google will provide possible indications of Wear OS 4 at tomorrow's Google I/O. It remains to be seen if and how Google's plans will affect the existing Mobvoi update debacle.
Source: Twitter