VOYO VBook I7 Plus - All information, price, promotions
The VOYO VBook I7 Plus is another surface clone from China, but with a particularly powerful hardware base. In addition to a high-performance Core i7 processor and full 8GB or 16GB RAM-based, the hybrid tablet is also equipped with a high-resolution 3K display. In the following article we take a closer look at the details of the VOYO Detachables.
Overview
Processor and memory
CPU: Intel Core i7-7500U
GPU: Intel HD Graphics 620
RAM: 8GB / 16GB dual-channel DDR4
Internal memory: 256GB / 512GB SSD
Memory extension: MicroSD memory card
Display
Display Type: OGS-IPS
Display diagonal: 12.6 inches
Display resolution: 2880 x 1920 pixels
Aspect ratio: 3: 2
Stylus: Yes
cameras
Main Camera: 5 Megapixel
Front camera: 2 megapixel
wireless
WiFi: 802.11 a / b / g / n / ac
Bluetooth: 4.0
GPS: No.
connection options
2x USB 3.0
1x USB-C
1x Micro HDMI
1x jack audio output
1x MicroSD memory card slot
1x DC
Accumulator
Battery: 10200 mAh
Connection: DC
other
Operating system: Windows 10
Size: 30.57 x 21.70 x 0.97 cm
Weight: 900g
VOYO VBook I7 Plus
Around Ultrabooks, Convertibles and Tablets from China has VOYO quite a name. Products of the manufacturer usually convince by their high-quality workmanship and good equipment at a low price. With the VOYO VBook I7 Plus became a so-called Detachable released. This is strictly one Tablet with optional keyboard accessory, One of the best known Detachables is the Microsoft Surface, whose design is copied frequently.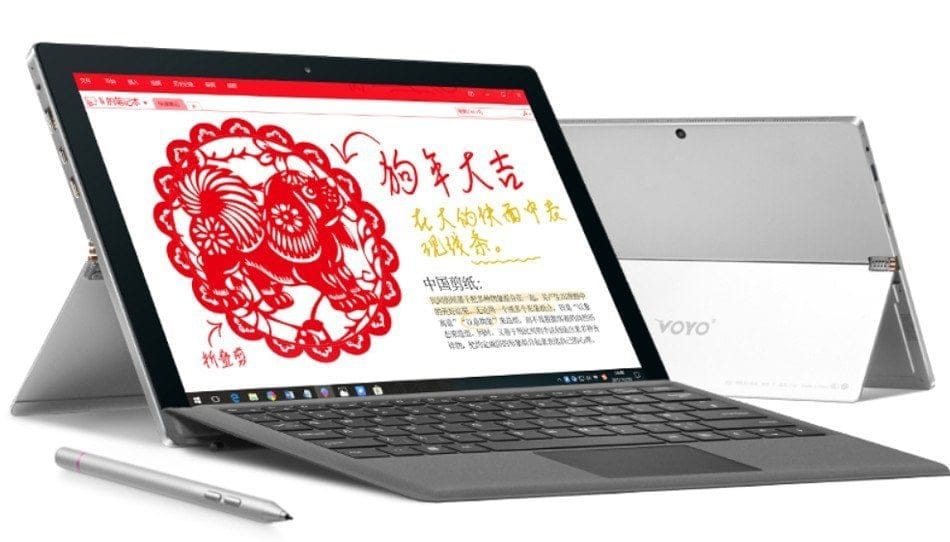 Business design
With a Diagonal of 12.6 inches and corresponding Dimensions of 30.57 x 21.70 x 0.97 cm, the VB00k I7 Plus is not a "family" tablet used on the couch in the evenings. Rather, it is a device for the mobile business user, VOYO advertises the tablet with the slogan "Walk with you, work with you", Accordingly, the simple and high quality design, made of aluminum tablet case and the low stand Weight of 900g in the foreground. The connection options are two USB 3.0 jacks, a USB-C jack, a micro-HDMI jack, a jack audio output and a microSD memory card slot. The connection of optional keyboard via a magnetic PIN connector. To be able to use the tablet upright, one is on the back 178 ° tiltable "kick stand".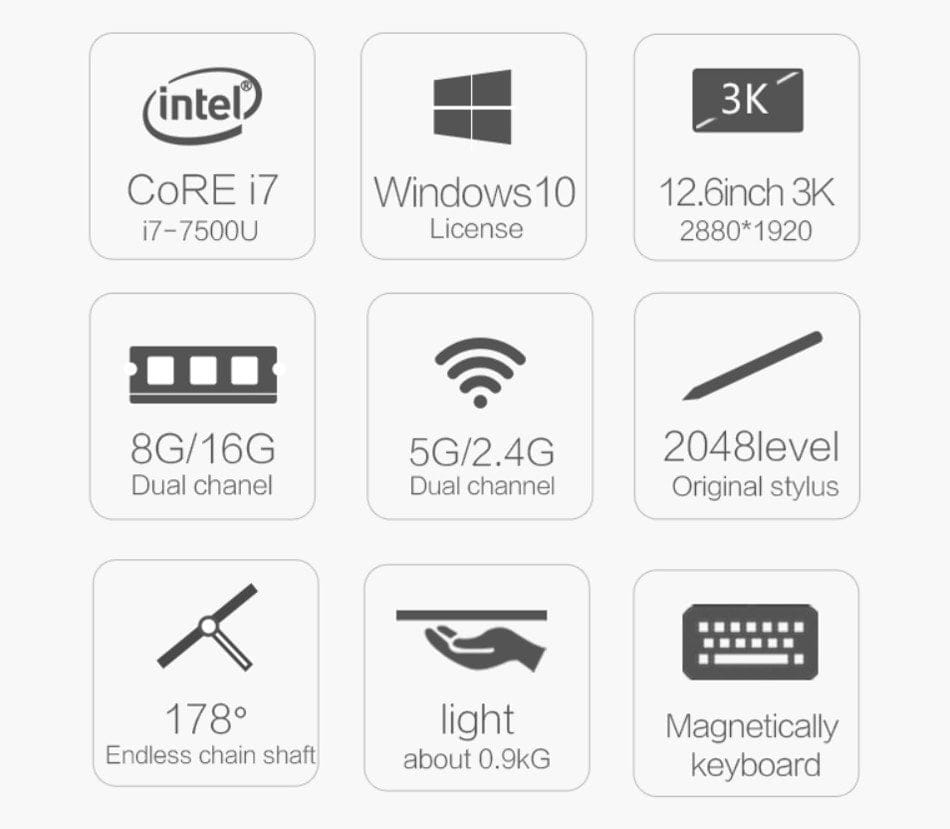 3K display
12.6 inch IPS display dissolves with pin sharp 2880 1920 x pixels on. The aspect ratio is 3: 2. Display and touch screen are as One Glass Solution (OGS) directly connected. Advantages of the OGS production include the elimination of the intermediate layer between the display and the touchscreen, resulting in an overall lighter, more translucent and thinner panel. Work with one Stylus is possible.
Powerful hardware
Inside the VOYVO VBook I7 Plus tinkers with a powerful Intel Core i7-7500U dual-core processor with maximum 3.5 GHz clock rate. The processor is based on Intel Kaby Lake Architecture and is mostly found in compact notebooks and ultrabooks. Multithreading in the form of Hyper-Threading supports the processor, which uses processor resources more efficiently through the simultaneous processing of multiple threads. The processor graphics amounts to one Intel HD Graphics 620 GPU.
The graphics performance depends heavily on the memory used. Installed are fast and lush failing 8GB / 16GB DDR4 RAM, The RAM works in the Dual-Channel Business. Older games, such as CS: GO or Dota 2, the system-on-chip has grown quite. The hardware side Decoding of HEVC and VP9 nothing is in the way. In addition to the memory can also be the Flash memory see, depending on the version with a 256GB / 512GB SSD comes along.
Connectivity and others
The VBook I7 Plus has a wireless connection Dual Band AC WiFi (2.4 GHz / 5 GHz) and Bluetooth 4.0 Connectivity. Photos and videos are taken over by the tablet 2 Megapixel front and 5 megapixel main camera on. A microphone is available, so that the Detachable, among others, the Voice and video telephony suitable. internal Stereo speakers ensure a corresponding sound reproduction. Last but not least, we'll get there battery capacity, the VOYO with 10200 mAh indicates. The battery life is given as an average of 6 hours. The loading time is about 5 hours.
Initial Coverage
VOYO presents with the VBook I7 Plus a quite interesting hybrid tablet. Especially outstanding are the high-resolution OGS display with stylus supportAnd the powerful hardware, two features that are likely to appeal to the most demanding user. Just to see an Intel Core i7-7500U processor in a cheap tablet comes as a surprise. Comparable devices in a similar price range were previously sought in vain. A first critical look you should, however, on the cooling system of the device. Inadequate cooling of such high-performance hardware quickly leads to the so-called "Thermal Throttling", which often slows down processor performance noticeably. Whether the VOYO VBook I7 Plus has a sophisticated cooling system, will have to show.
The VBook I7 Plus is now available at a price starting at ~ 570 €. As one of the first online shops in the Far East, GearBest has added the tablet to its range. Should we get a test copy, the detailed test follows at this point!
Price Comparison
Price too high? Use our price alarm clock!
Prices last updated on: April 5st, 2020 05:01