UGREEN USB C Charger 100W 4-Port PD Product Details
The UGREEN 100W Desktop Charger is a powerful and versatile tool to solve all charging needs. With its impressive 100W total charging power, it supports current fast charging standards such as Power Delivery 3.0, Quick Charge 4.0+/3.0, SCP, AFC, 5V/2.4A, Galaxy 45W Super Fast Charging II and PPS.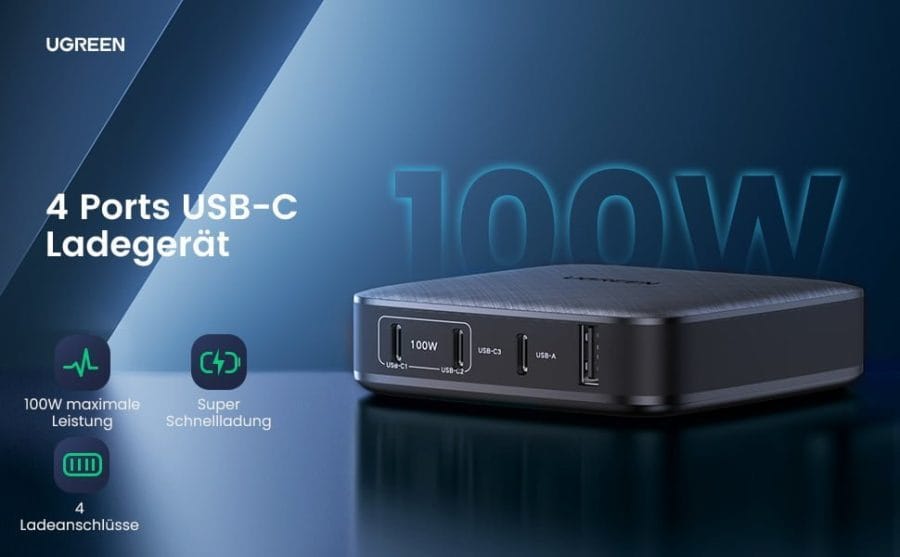 The connections are divided into 3 USB-C sockets and a USB-A connection, with which up to four devices (notebooks, tablets, smartphones, Nintendo Switch, etc.) can be charged simultaneously at high speed. The intelligent power distribution ensures that all connected devices are optimally charged. The following loading speeds are possible:
USB-C1/C2 output: 5V/3A, 9V/3A, 12V/3A, 15V/3A, 20V/5A, 3.3-21V/5A; PPS Adaptive Charge 100W Max
USB-C3 output: 5V/3A, 9V/2.22A, 12V/1.67A; Adaptive Charge 20W Max
USB-A output: 5V/3A, 9V/2A, 12V/1.5A; Adaptive Charge 18W Max
The UGREEN 100W charger is not only powerful, but also safe. It is equipped with an intelligent chip that protects devices from short circuit, overvoltage, overheating and overcurrent. In addition, the robust case is protected against fire (fire protection class UL94-V0).
With its compact dimensions of 8,7 x 8,7 x 2,5 cm and the 2 meter detachable power cable, the UGREEN 100W charger is suitable for work, at home and on the go.
Specifications
data
Brand: UGREEN
Model: UGREEN USB C Charger 100W 4-Port
USB-A: 1x USB-A
USB-C: 3x USB-C
Load Protocols: PD 3.0/2.0; QC 4.0+/4.0/3.0/2.0; 5V1A; 5V/2.4A; AFC; PPS
Input: 100-240V, 50/60Hz 1.8A Max.
Material: Fireproof PC UL94-V0
LAN: 1x RJ45 (1000 Mbps)
Speed: up to 5 Gbps
Dual monitor: mirror mode / extension mode
Compatibility: PC, Mac, smartphones
Dimensions
Weight: 285 g
Size: 8,7 x 8,7 x 2,5 cm
UGREEN USB C Charger 100W 4-Port PD Reviews
No reviews available yet.
User Reviews
UGREEN USB C Charger 100W 4-Port PD