TCL shows the next smartphone innovation!
The TLC company has dedicated itself to a new display technology. After Samsung released the two innovative smartphones Galaxy Fold and Galalxy Z Flip, TLC introduces a new display concept. Why fold when you can also push? We have summarized all the information for you.
Another innovation after Samsung
TCL has a completely new idea for its new concept. Different from the Galaxy fold or when Galaxy Z Flip, in which the displays are folded, a second display is pulled out in order to then use a larger screen. Once the second display is pushed in, the TCL cell phone looks like a regular smartphone.
The new design of the TCL smartphone was originally supposed to be shown at this year's MWC (Mobile World Congress). The congress was canceled due to the spread of the corona virus.
As can be seen in the pictures, a screen curved on both sides is used. On the right side, where the double front camera was also installed, the second display should be pulled out.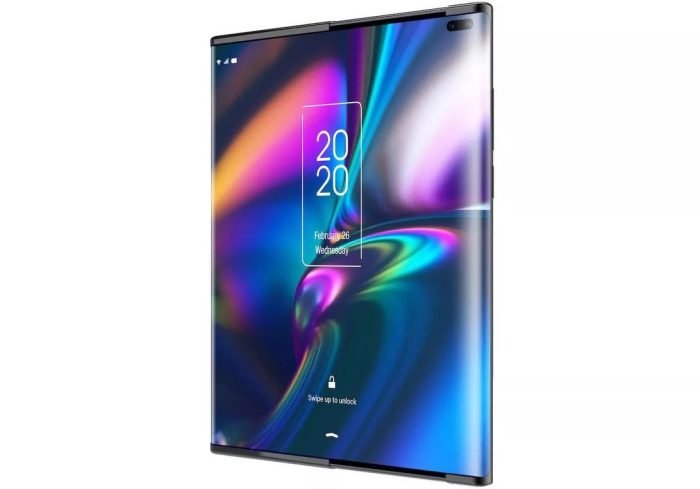 If you take a closer look at the pictures, you can also see exactly where the display can be pulled out. The back of the pull-out display looks slimmer so that it can be pushed into the other half.
The astonishing concept of the smartphone thus reaches the approximate display size of a tablet, when pushed together it has almost the same size as a regular smartphone.
It is not yet clear what advantages or disadvantages the design and the concept of using and wearing the material have. Which display type should be used also seems to be unclear. For example, Samsung has already made great progress in display technology with the Ultra Thin Glass, which was installed in the Galaxy Z Flip.
When and whether TCL's smartphone will appear at all is also unclear. But the concept and the possibilities make the technology heart beat faster.
What do you think of the idea of ​​the retractable and foldable displays? Feel free to write it in the comments.