TICWRIS GTS product details
Update 11. November 2020
The price of the particularly inexpensive TICWRIS GTS Smartwatch has fallen again. With the deal made available to us, you can buy the Smartwatch at Gearbest for only 13,60 euros. The offer is limited in time.

Smartwatch with thermometer
The TICWRIS GTS is the first smartwatch that not only monitors the heart rate, but also measures the body temperature. The particularly inexpensive smartwatch, which is not just by name, but also visually reminiscent of a Amazfit GTS reminds, is equipped with a temperature sensor on the underside. The body temperature can be measured in real time. A warning function alerts the wearer as soon as the body temperature rises above 37,3 ° C. The measurement process takes about 10 seconds.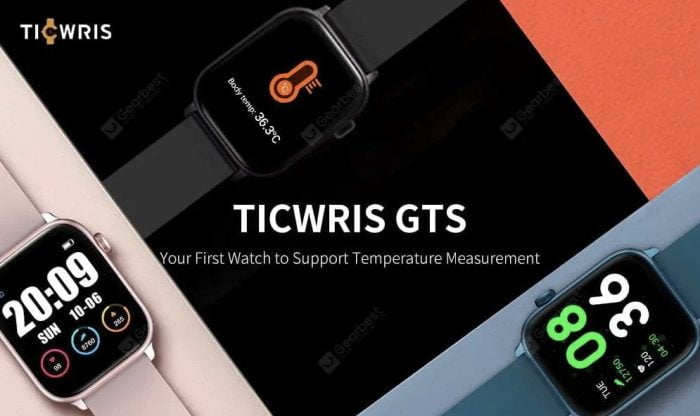 Useful everyday functions
In addition to the thermometer, the TICWRIS GTS is also equipped with other sensors. A pedometer measures the daily distance covered based on the steps taken. A heart rate sensor monitors the wearer's pulse. There is also a sleep monitor that monitors sleep. All data can be transferred to the smartphone via Bluetooth. The app analyzes the collected data and presents it clearly. Alternatively, the data can also be viewed on the 1.3 inch TFT display (240 x 240 pixels). The smartwatch can be conveniently controlled via the touchscreen of the display.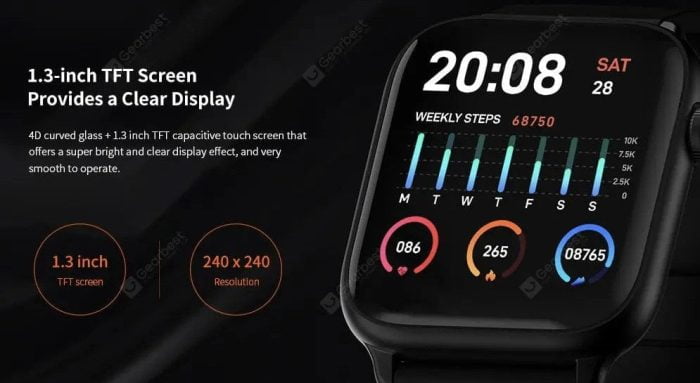 Sports functions and long-lasting battery
The TICWRIS GTS is at your side with 7 sport modes for daily sports activities. Sports programs such as running, cycling or swimming can be activated at the push of a button. The smartwatch is waterproof according to protection class IP68. The watch strap is held by a spring bar and can therefore be exchanged without any problems. The 160 mAh battery lasts up to 5 days under normal use. A runtime of 20 days is possible in standby. The battery is charged within 1-2 hours.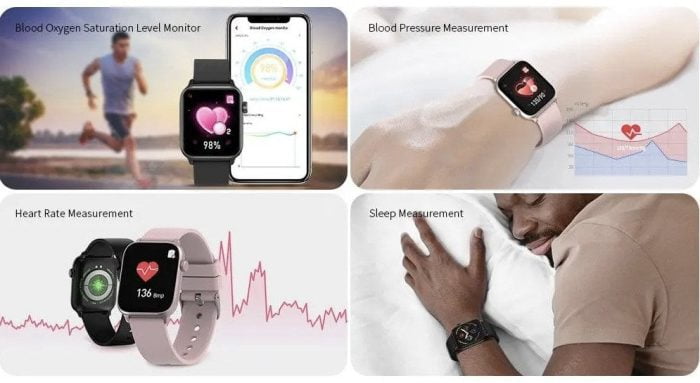 Specifications
data
Brand: TICRWIS
Model: TICRWIS GTS
Type: smartwatch
Display: 1.3 inch TFT 240 x 240
Waterproof: IP68
Temperature: yes
Heart rate: Yes
Pedometer: Yes
Sleep Monitor: Yes
Bluetooth: 4.0
GPS: No.
OS: Android and iOS
Battery: 160 mAh
Dimensions
Weight: 40g
Size: 3.50 x 4.15 x 1.10 cm
TICWRIS GTS reviews
How to Measure Normal Body Temperature with $ 25 Smartwatch?
User Reviews
TICWRIS GTS
Good as a thermometer
Ordered to use as a thermometer. Does what it should for the price. Thank you for the deal.
TICWRIS GTS price comparison