Teclast X5 Pro - Tablet with Intel Kaby Lake Core M3-7Y30
The Teclast X5 Pro ranks as the second China tablet with Intel's "Kaby Lake" Core M3-7Y30 processor alongside the Cube MIX Plus. In addition to the latest Intel processor microarchitecture, the high-end Teclast Tablet has much more to offer. More in this post!
Overview
Operating system
Windows 10
Processor
Intel Kaby Lake Core M3-7Y30
* Basic clock: 1.0 GHz
* Burst frequency: 2.6 GHz
* Hyper-Threading: Yes
* Process graphics: Intel HD Graphics 615
memory
Memory: 8GB
Internal memory: 256GB M.2 SATA-3 SSD
Memory extension: Yes
Display
Display diagonal: 12.2 inches
Display resolution: 1920 x 1200 pixels
Display Type: IPS
camera
Main Camera: 5 Megapixel
Front camera: 2 megapixel
connectivity
Bluetooth: 4.0
WiFi: Intel 3165 Dual Band
Battery: 5.000 mAh
Connections
1x USB 3.0 Type-A
1x USB 3.0 Type-C
1x Micro HDMI
1x 3.5mm headphone jack
1x DC
Teclast X5 Pro Tablet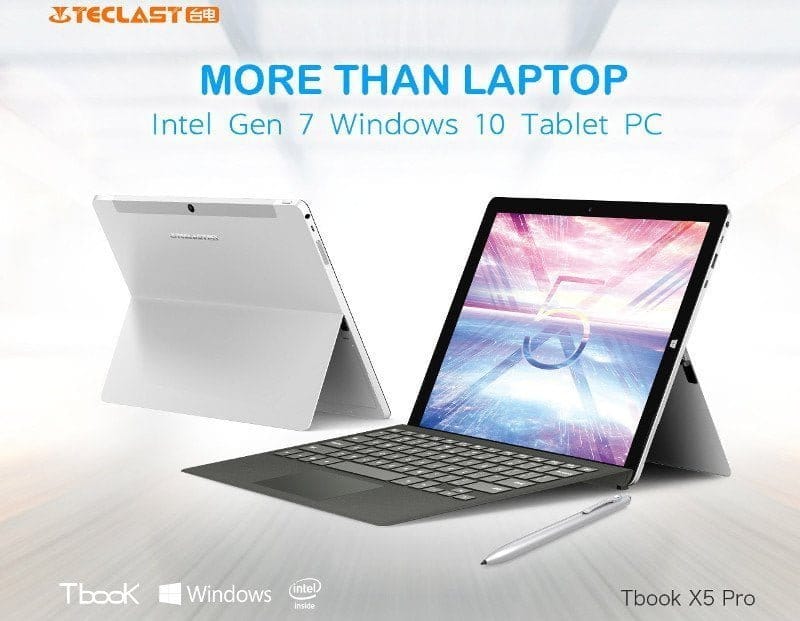 Current processor architecture
Just a few weeks ago, we reported on the recent release Teclast TBook 16 Power, which can also be counted among the manufacturer's high-end tablets. The new Teclast X5 Pro is a good deal better equipped in terms of hardware. With the Intel Kaby Lake Core M3-7Y30, the tablet has one of the latest Intel processors installed, which was introduced in late August 2016 and is installed in very few tablets and notebooks. The processor has a total of 2 cores clocked with at least 1.0 GHz and a maximum of 2.6 GHz. That may not sound like it at first, but there are already mobile processors with 10 cores. However, the Intel Core M3-7Y30 is by so-called "Hyper-Threading" able to process 4 threads simultaneously. For a decent computing power is thus ensured.

Even computer-intensive computer games pose no problem for the Teclast X5 Pro. The included processor Intel HD Graphics 615 allows games like CS: GO or Dota 2 to play smoothly. In support of the tablet is a rich 8GB Memory (DDR3L) available, which is especially useful for multitasking tasks. The internal memory is not too short on this tablet. Installed is one 256GB large M.2 SATA-3 SSD. In addition, the internal memory can be expanded with a MicroSD memory card.
Display and cameras
The IPS display of the Teclast X5 Pro releases into Full-HD (1920 x 1200) on. At a Display diagonal of 12.2 inches The tablet achieves a point density of 186 PPI. Unfortunately, it is not a laminated display, which means that there is approximately 1 mm of air between the display glass and the actual panel. Multitouch is supported with up to 10 concurrent inputs. The cameras are one 2 megapixel front camera and 5 Megapixel main camera. As with just about any China tablet, you should not put too much emphasis on the camera. The cameras are less suitable for sizeable image or video recordings and are mainly used for video telephony.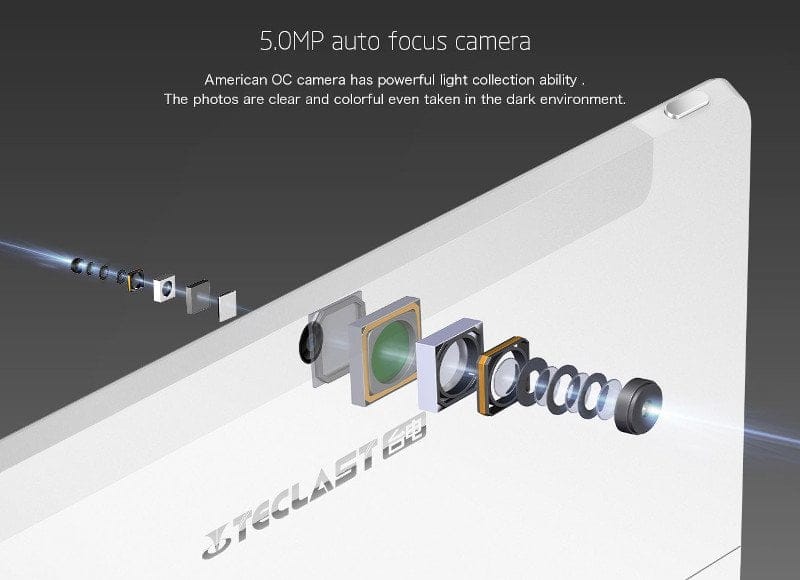 Design and connections
Anyone who has ever seen a Microsoft Surface Tablet of the current generation, the design of the Teclast X5 Pro will probably be familiar. Teclast has copied the design of the popular Microsoft tablet almost 1: 1. Even the fold-out stand on the back of the housing has been taken over. The housing itself consists of Aluminium which brings the tablet a proud weight of 911g on the scales. The dimensions of the tablet are 29.90 x 20.20 x 0.80 cm. The fact that the tablet is cooled passively, the housing is accordingly compact. The waste heat is dissipated via the housing itself. The connection possibilities amount to one USB Type-A 3.0 socket, One USB Type-C 3.0 socket, One Micro HDMI socket, one 3.5 mm audio connection and DC charging socket. There are also several pin connectors on the bottom of the case, which can be used to connect a keyboard. As a result, the actual tablet can also be used as a compact notebook.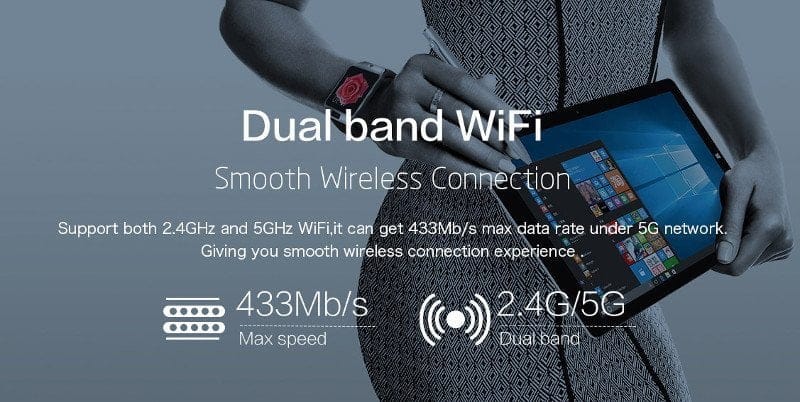 Connectivity and battery
The Teclast X5 Pro can be connected wirelessly via WiFi and Bluetooth. For WiFi is a Intel 3165 dual band module responsible, which guarantees fast transfer rates. device will happen until Standard 4.0 supported. The capacity of the battery is Teclast 5.000mAh on. Unfortunately, Core M processors are not known to be particularly energy efficient. Under normal usage, runtimes of approximately 5 hours should be possible.