Teclast M20 - Tablet with Helio X20 and 4G LTE
Chuwi did it, Teclast does it. The Teclast M20 is an 10.1 Android Tablet with Helio X20 processor and 4G LTE support. In the following article we take a first look at the new China tablet.
Overview
Processor and memory
CPU: MediaTek Helio X20 (MTK6797)
GPU: ARM Mali-T880
RAM: 4GB (DDR3L)
Internal memory: 64GB (eMMC5.1)
Memory extension: Yes
Display
Display Type: IPS (Full Lamination)
Display diagonal: 10.1 inches
Display resolution: 2560 x 1600 pixels
Multitouch: 10 fingers
cameras
Main Camera: 5 Megapixel
Front camera: 2 megapixel
Network
Dual SIM: Yes
SIM size: Micro SIM
GSM band 2 / 3 / 5 / 8
CDMA800 BC0
WCDMA volume 1 / 2 / 5 / 8
TD-SCDCMA band 34 / 39
LTE Band 1/2/3/5/8/38/39/40/41
wireless
WiFi: 802.11 a / b / g / n / ac
Bluetooth: 4.2
GPS: Yes
sensors
* Accelerometer
Accumulator
Battery: 6.600 mAh
Connection: MicroUSB
other
Operating system: Android 8.0
Size: 23.90 x 16.70 x 0.80 cm
Weight: 553g
Teclast M20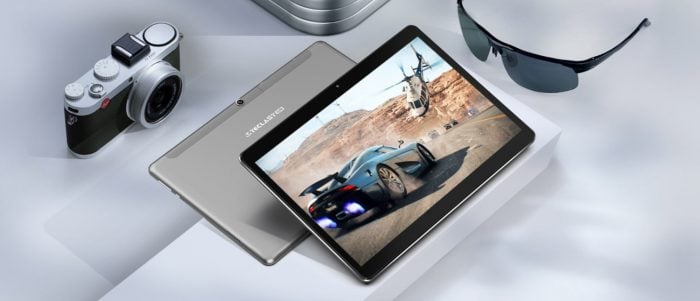 Design and display
Teclast M20 and the one we recently tested Chuwi Hi9 Air are not only hardware-related, but also very similar visually. The M20 relies on a slim Unibody with dimensions of 23.90 x 16.70 x 0.80 cm, Crucial for a unibody design is the production of the housing in one piece, in this case aluminum. The Total weight the tablet is included 553 g.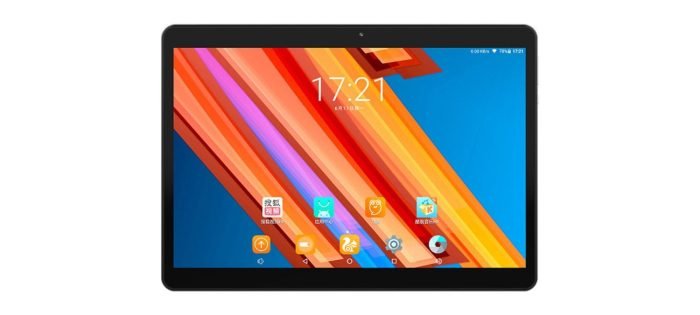 The main back camera is surrounded by a narrow plastic cover behind which the antennas of the tablet run. Part of the cover is removable. Behind them hide the dual SIM slots and the MicroSD memory card slot, Other connection options are one MicroUSB jack and an 3.5 mm jack audio output.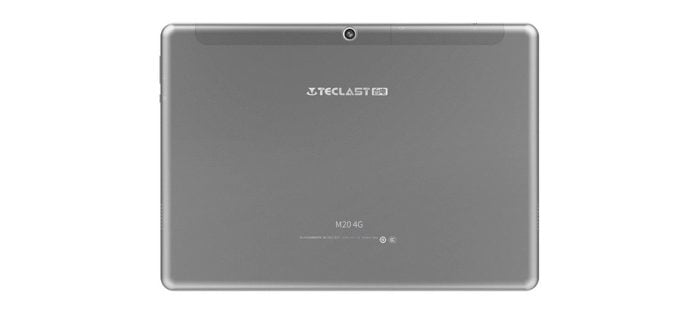 Display is from Type IPS and solve one Diagonal of 10.1 inches with an 2560 1600 x pixels on. Manufacturer of the panel is Sharp. By the "Full-lamination" Manufacture of the panel, the LCD, the touch screen and the protective glass are not glued multi-layered, but form a single unit. Benefits include an overall more compact panel with higher color intensity and better light transmission. Multitouch is possible with up to 10 simultaneous inputs.
Processor and memory
The System-on-Chip (SoC) is a MediaTek MTK6797, better known as MediaTek Helio X20, The beginning 2016 published SoC was designed mainly for smartphones.

Essential components of the system-on-chip include one CPU with 10 processor coreswhich turn into 3 cluster subdivide, as well as one ARM Mali-T880 MP4 GPU, The clusters of the CPU are divided into one High Performance Cluster (2x Cortex A72 - 2.3 GHz), one Performance Cluster (4x Cortex A53 - 1.85 GHz) and one Power Saving Cluster (4x Cortex A53 - 1.4 GHz), The GPU clocks up to 780 MHz. The storage facilities amounts to one 4GB DDR3L memory and one 64GB eMMC5.1 data store, A memory expansion by MicroSD memory card is possible.
Experience has shown that with the Helio X20 SoC a largely fluent everyday operation should be possible. Even with one or the other mobile game, the SoC gets along. To what extent Teclast has adapted the Android system to the chip, however, will have to show. Here showed the similarly equipped Chuwi Hi9 Air significant weaknesses, which is why it came in the test more often to hangers and even total crashes. A noteworthy difference of the Teclast M20 to the Chuwi Hi9 Air is the RAM type. Teclast relies on slower DDR3L RAM, whereas Chuwi uses faster LPDDR4 RAM.
Connectivity, battery and others
The tablet is Dual-SIM compatible and supported 2G, 3G and 4G mobile, However, the LTE bands 7 and 20 that are common in Germany are not supported! Only LTE band 3 is available. Here is an overview of the frequencies and bands:
GSM 850 / 900 / 1800 / 1900 MHz
CDMA: CDMA800 BC0
WCDMA: 2100 (B1) / 1900 (B2) / 850 (B5) / 900 (B8) MHz
TD-SCDMA: B34 / B39
LTE: 2100 (B1) / 1900 (B2) / 1800 (B3) / 850 (B5) / 900 (B8) / 2600 (B38) / 1900 (B39) / 2300 (B40) / 2500 (B41) MHz

For a connection to the domestic network is the Teclast M20 with a Dual AC WiFi module equipped. device is available in version 4.2. Also on board are two cameras. A 5 Megapixel main camera allows one or the other snapshot, the 2 megapixel front camera is suitable for video telephony. On Microphone is available. A precise position determination is thanks GPS Compass possible. The Capacity of the battery Teclast says 6600 mAh at. The Battery life depends on the use between 6 and 8 hours.
First impression
On the datasheet, the Teclast M20 is not quite as good as the competition from Chuwi. Although from the display to the system-on-chip used a similar features offered, but in detail there are minor weaknesses. For example, Teclast does not use LPDDR4 RAM but slower DDR3L RAM. There is a significant difference in the supported mobile radio frequencies. The Hi9 Air is better equipped for use in the local LTE network (LTE band 3, 7, (8) and 20)!
Price Comparison
You want to buy the Teclast M20? In our price comparison we list the current offers of the most popular shops. All prices are checked and updated several times a day. Should a shop appear several times, it concerns the different warehouses of the dealer.