Supretro - Retro game console in handheld format
Supretro brings emergency in his pocket. The Android game console is packed with more than 2300 games and emulates up to 15 game consoles, including N64 and Dreamcast.
Overview
Processor and memory
CPU: MediaTek MT6580A (4x 1.3GHz)
GPU: ARM Mali 400 MP2
Memory: 512MB DDR3
Data storage: 4GB eMMC + 32GB SD
Memory card format: MicroSD to 128GB
Display
Display Type: IPS
Display size: 3.5 inches
Display resolution: 640 x 480 60 Hz
Gaming
Included games: more than 2300
Included emulators: FC, SFC, MD, DC, N64, PCE, PSP, PS, GBA, GB, GBC, WS, WSC, MAME, FBA
connectivity
Bluetooth: 4.0
WiFi: 2.4G
HDMI-Out: Yes
other
Battery: 4000 mAh
USB: Micro-USB
OS: Android 6 (Pandora's Box)
Weight: 210g
Size: 14.10 x 8.80 x 1.90 cm
Supretro - Nostalgia for the trouser pocket
Update 09. March 2020
The Supretro game console is now available in the relevant import shops. Gearbest has exclusively provided us with a coupon with which you can Buy Supretro reduced for only € 81 can. All further information can be found in the following deal box or at the end of the article in the price comparison.
€ 8 coupon - Supretro Handheld Game Console
With this GearBest coupon you can buy the Supretro Handheld Game Console reduced for only € 81.
More than 2300 games and 15 emulators
Normally has from nothing Powkiddy, the manufacturer of Supretro, has unleashed the handheld game console on the retro community. Surprising is the concept, because Supretro is not a classic game console packed with games, but based on Android, especially the highly acclaimed Pandora's Box user interface. The console is already delivered with more than 2300 games, Emulate alongside Gameboy classics as well Playstation, N64 and Dreamcast Games.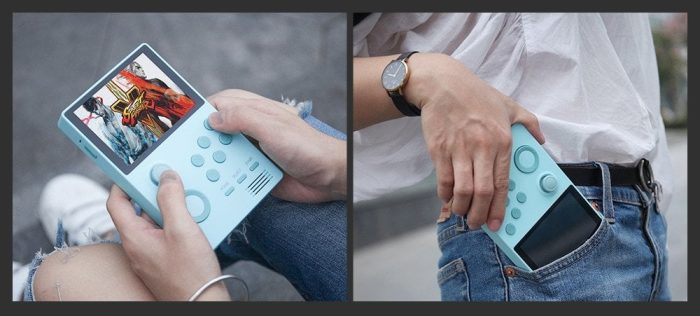 Modern design in Gamebox look
The design of the console is based on the well-known Gameboy. At the top is an 3.5 inch IPS display with 640 x 480 pixel resolution, which corresponds to 229 DPI. In addition to a sharp presentation, the panel delivers a 60 Hz refresh rateso that games are presented very smoothly.
The Operation of Supretro is mainly designed for arcade games. All controls are located below the display. There are no shoulder buttons, so getting control of N64 and Dreamcast tracks takes some getting used to. In addition to an analogue stick, the console offers a D-pad, 6 control buttons, as well as a Home, Select and Start button. The case is available in white, orange and blue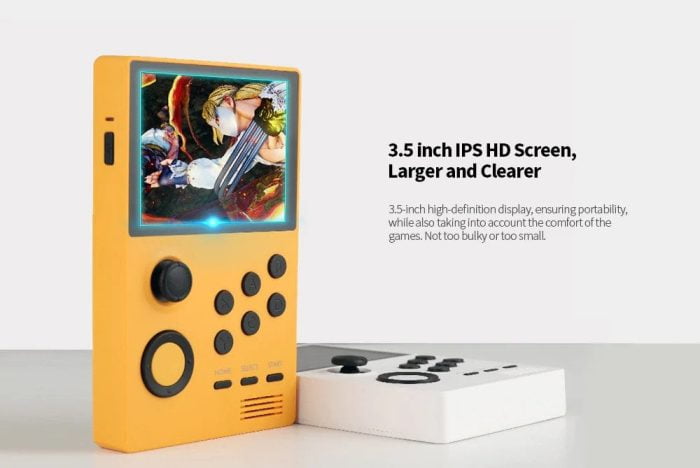 Android with Pandora's Box surface
Supretro uses the Pandora's Box user interface. This is not only clearly structured, but also offers numerous functions and settings to the system (display brightness, sleep mode) and the games (memory levels, game settings). The actual operating system builds up Android 6 on.
Periphery can via device be connected to the console. WiFi allows Supretro to access the Games Marketplace and receive system updates. If you prefer to play your games on a big screen, you can use the game console HDMI-out connect. An additional 3.5mm audio jack enables trouble-free playing on the go. Speaking of traveling: The Accumulator The handheld console measures 4000 mAh and is up to 6 hours of gameplay.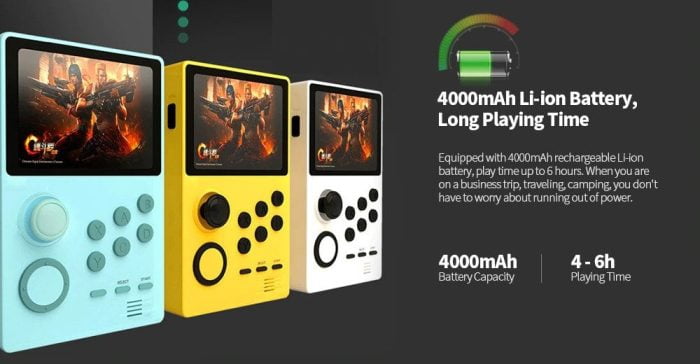 MediaTek system-on-chip
To keep the price as low as possible, Powkiddy has opted for the already 2016 MediaTek MT6580A system-on-chip decided with Mali 400 MP2 GPU. The processor is assigned to the low-end range, but is sufficient for the emulation of most classics. Only in demanding games of recent generations of consoles (PS, PSP, N64 and Dreamcast) image collapses are expected.
The storage facilities includes an 512MB DDR3 memory, an internal 4GB eMMC data memory and an 32GB SD card memory. The external SD memory card slot can also be equipped with up to 128GB large MicroSD memory card.
Price Comparison
You want to know where to buy the Supretro game console? In our price comparison we list the current offers of the most popular shops. All prices are checked and updated several times a day. Should a shop appear several times, it concerns the different warehouses of the dealer.
Price too high? Use our price alarm clock!
Prices last updated on: 31. May 2020 17: 02