Review
SJCAM SJ8 Pro test - Action Cam with 4K at 60 FPS
The action cam manufacturer "SJCAM" has also released a new model series for 2018. This includes 3 models from the low budget to the high end segment. In the following review, we will discuss the SJCAM SJ8 Pro, the top model in the series. Equipped with an Ambarella H22 image processor, which allows 4K pictures with up to 60 pictures-per-second, among other things, the Pro model maneuvered at least in terms of equipment in addition to high-end action cams from well-known manufacturers.
Overview
Hardware
Image processor: Ambarella H22
Image sensor: Sony IMX377
Display: 0.96 + 2.33 inch IPS
* 720 x 480
* 370 PPI
* touch screen
Connections: USB-C
SD card: SDHC / SDXC up to 128 GB
Battery: 1200 mAh
video Resolution
4K @24/25/30/50/60
4K Ultra @ 24 / 30
2.7K @24/25/30/50/60
1440p @24/25/30/50/60
1080p @24/35/30/50/60/120
1080p Ultra @ 50 / 60
720p @ 240
resolution
12MP
10MP
8MP (16: 9 or 4: 3)
5MP
3MP
2MP
other
* WiFi, Bluetooth and App
*Time lapse
* Slow
* Self-timer
* Loop Recording
* Burst Record
*ICE CREAM
* Dash cam
1x SJCAM SJ8 Pro
12x mounts
2x adhesive pads
1x housing
1x housing cover
1x lens cover
1x battery
1x charging cable
1x cleaning cloth
1x user manual
Foreword: SJCAM SJ8 Pro
After a year full of leaks SJCAM beginning 2018 the SJCAM SJ8 model series released. This includes 3 Modelle different price ranges and features.

The Entry-level model "SJCAM SJ8 Air" is already available for under 100 € and is equipped thanks to Panasonic MN34112PA image sensor and USB-C interface contemporary.
The Mid-size model "SJCAM SJ8 Plus" costs just 150 € and is by the combination of NTK96683 image processor and Sony IMX117 image sensor able to make native 4K recordings.
The Top model is the "SJCAM SJ8 Pro", Equipped with an Ambarella H22 image processor and a Sony IMX377 image sensor, the Action Cam makes native 4K video recordings with up to 60 images per second. An 2.33 inch touch screen facilitates operation. Priced, the action cam is about 200 €.
First impression of the SJCAM SJ8 Pro
Scope of delivery and accessories
Action Cams from SJCAM come with a sumptuous delivery. Next to the waterproof housing are numerous brackets, adhesive pads and Spare parts contain. Another part of the package is an additional housing cover with a resistive surface. As a result, the touch screen remains operable despite the waterproof housing! A multilingual user manual is also included.

Not included though optionally available are an external microphone (10 €), a remote control (15 €), spare batteries (4 €), a battery charger (6 €), a USB-C FPV cable (4 €) and (UV) filters (from 4 € ).
Design and workmanship
Despite new model series remains SJCAM the previous design largely faithful. The rectangular housing measures 62.5 x 41 x 28.8 mm and brings 85g on the scales. Instead of noble aluminum frame, as it still in the SJCAM SJ7 Star the case was, one has opted for a non-slip, rubberized plastic housing. The action cam is built up as follows: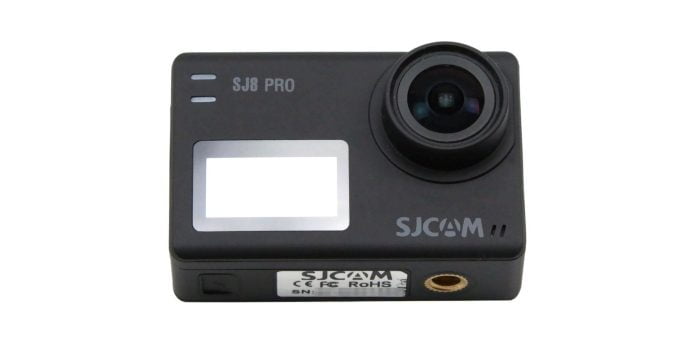 Next to the lens is on the front side 0.96 inch OLED display with two overlying Status LEDs, Bottom right is one of the two microphones.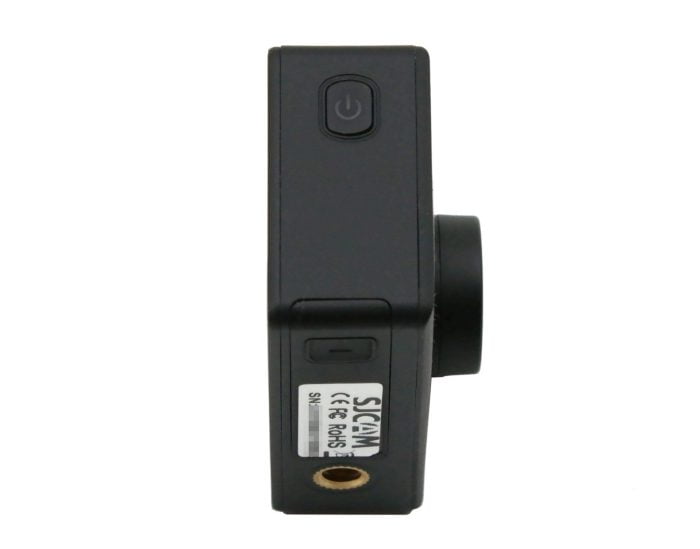 The case frame includes a top side Trigger and control button, a side power button and the hide behind a cover USB-C socket, There is no separate HDMI interface. For the transmission of video signals is an optional USB-C FPV cable .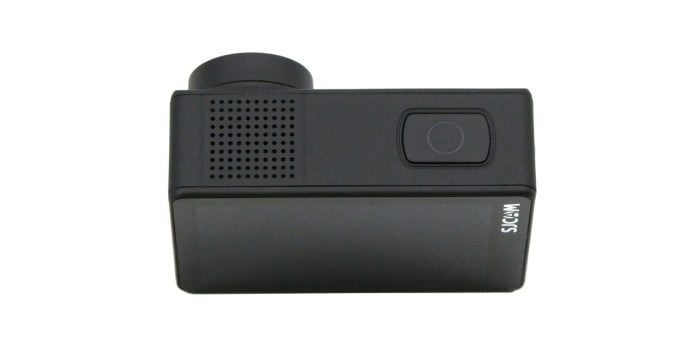 On the underside is the battery bay with an adjacent one ¼ inch screw connection, The battery compartment is opened via a folding mechanism. The MicroSD memory card slot is inside the battery bay.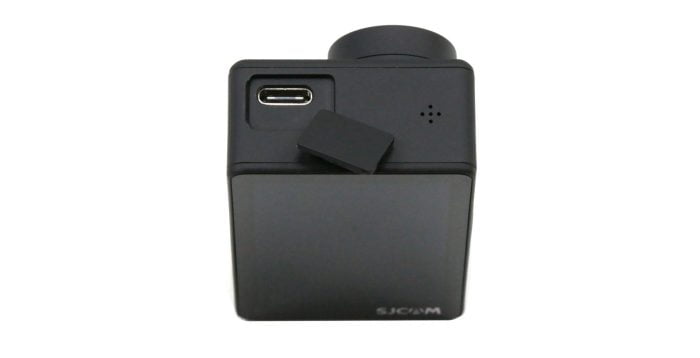 The majority of the back takes that 2.33 inch IPS color display on. To the left of the display there is also a status light.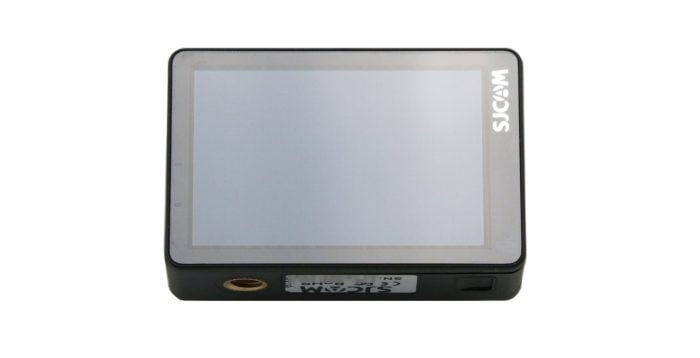 Display and touch screen
The SJCAM SJ8 Pro is the same two displays fitted. The front side 0.96 inch OLED display provides a convenient overview of the recording mode, recording time, remaining storage capacity and battery level.
The back is the 2.33 inch IPS display with touch screen, Compared with the competition models YI 4K + (2.19 inches) and GoPro HERO6 (2 inches) offers the SJCAM SJ8 Pro with one of the largest displays. The Resolution is 720 480 x pixels, which makes it crisp PPI 370 be achieved.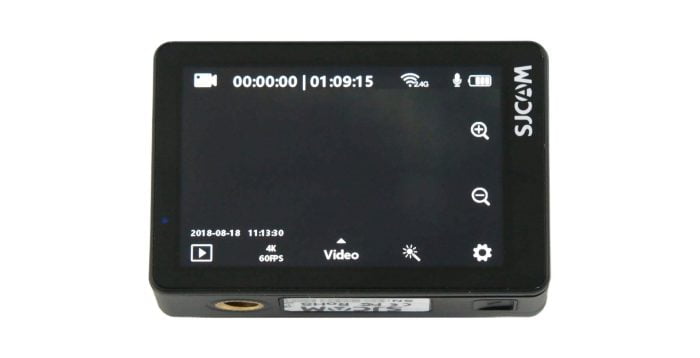 In practice, the display convinces by a high display brightness, Even strong sunshine or incidence of light affects readability only slightly. Colors and contrast convince. Wiping and touch gestures are precisely recognized by the touch screen.
Hardware
The image processor carries the name Ambarella H22 and is a system-on-chip designed specifically for Action Cams, which is technically located between an Ambarella H2 and the Ambarella A12 SoCs. In combination with the Sony IMX377 image sensor, by the way, also in the YI 4K + is used, the SJCAM SJ8 Pro is able to record videos natively in 4K at 60 pictures-per-second.
Further hardware features are included Dual Band Wi-Fi (802.11 a / b / g / n) and Bluetooth module, 6-axis gyroscope for image stabilization as well two noise-reducing microphones.
Commissioning and user interface
Micro SDXC memory cards recognize the SJCAM SJ8 Pro with a Memory size up to 128GB, The Samsung EVO Plus Micro-SDXC with a memory size of 64GB used in the test was easily recognized. For high-resolution 4K60 video recordings, a memory card with UHS-3 interface is recommended.
To the appropriate memory card
The commissioning is no different from other action cams. Insert memory card and battery, switch on SJ8 Pro and start filming. The User Interface is available in several languages ​​including German.
Current firmware updates can be obtained from the manufacturer's website. In addition, updates can be directly received and installed via the SJCAM Zone App. The following steps are important when manually installing an update:
Format memory card in file system FAT32.
Copy firmware in .BIN format to the root directory.
Insert a memory card into the Action Cam.
Check if the Action Cam battery is charged / if necessary connect to power source.
Insert memory card and turn Action Cam on.
The installation starts automatically! Alternatively: Touch the firmware version in Settings and confirm the update.
Run update. Update status recognizable by LEDs.
Remove and format the memory card.
Use Action Cam as usual.
Each of the three SJCAM SJ8 models comes with a different user interface. The user interface of the SJCAM SJ8 Pro is similar to the YI 4K + built up. The start screen will be next to the Live image and the Camera Status also numerous Quick Access options, Here is an overview:
If you swipe vertically over the display, the so-called opens "Toggle Menu", A lock screen deactivates the touch screen to prevent unwanted entries. On the WiFi Toggle you can enable or disable the WLAN of the camera. Of the FPV mode enables video signal transmission if the separately sold FPV cable is connected. Of the Remote Toggle connects to the optional Bluetooth remote control.
In practice, the user interface still has some problems to overcome. Crashes during an ongoing recording are not uncommon. In the test, there were also more hangers, which could be eliminated only by removing the battery. The latest firmware updates at least eliminated the total crashes, but the irregular hangers continue to appear isolated!
Settings
The settings menu can be in classic "List Style" or im "SJCAM style" to be displayed with icons. The subdivision is done in "Capture Settings" and "General Camera Settings". Here is an overview of all shooting modes and settings options:
shooting
Video - Recording mode for traditional video recordings
Video Lapse - Recording mode for time-lapse recordings
Slow motion - Recording mode for slow motion shots
Photo - Shooting mode for traditional still images
Photo Lapse - Time-lapse photo capture mode
Burst Mode - Shooting mode for series photography
Video + Photo - Simultaneous recording of video and photo
Auto Mode - Capture mode for using the camera as a Dash Cam
recording settings
video mode
Resolution - 4K @ 24 / 25 / 30 / 50 / 60 | 4K Ultra @ 24 / 30 | 2.7K @ 24 / 25 / 30 / 50 / 60 | 1440p @ 24 / 25 / 30 / 50 / 60 | 1080p @ 24 / 35 / 30 / 50 / 60 / 120 | 1080p Ultra @ 50 / 60 | 720p @ 240
Exposure - + 2 to -2 in 0.5 steps
White Balance - Automatic | Daylight | Cloudy | Fluorescent | submerged
Color - SJCAM | Flat
Measurement Mode - Center | Spot | average
Gyrosensor - On / Off
Coding - H265 | H264
Volume - 0 to 10
Sharpness - Strong | Normal | Soft
Distortion Correction - On / Off
Loop recording - On / Off
File size - 1 to 20 minutes
Quality - Good | Normal | economy
ISO - MAX 100 to MAX 6400 (100 - 6400)
Audio - On / Off
Timestamp - On / Off
Photo mode
Resolution - 12MP | 10MP | 8MP (16: 9 or 4: 3) | 5MP | 3MP | 2MP
Exposure - + 2 to -2 in 0.5 steps
White Balance - Automatic | Daylight | Cloudy | Fluorescent | submerged
Color - SJCAM | Flat
Measurement Mode - Center | Spot | average
ISO - Automatic | 100 to 6400
Shutter speed - Automatic | 1 / 500 | 1 / 240 | 1 / 120 | 1 / 60 | 1 / 30 | 1 / 20 | 1 / 10 | 1 / 5 | 1 / 2 | 2 | 5 | 10 | 15 | 20 | 30 | 60 seconds
Sharpness - Strong | Normal | Soft
Distortion Correction - On / Off
Timestamp - On / Off
RAW - On / Off
Image quality - Good | Normal | economy
General Settings
Language - English | French | German | Spanish | Italian | Portuguese | Chinese | Japanese | Korean | Czech | Slovenian | Danish | Dutch | Turkish
WiFi - On / Off
WLAN frequency - 2.4 GHz | 5 GHz
format
Auto Power Off - Off | 3 to 10 minutes
Screensaver - Off | 30 seconds - 5 minutes
Front Display - On / Off
Indicator light - On / Off
Key tone - on / off
display brightness
color temperature
External Microphone - On / Off
Date and Time
Cardanic Control - On / Off
Frequency - 50 Hz | 60 Hz
default settings
ISO Information
User Interface - Classic | SJCAM
version
"SJCAM Zone" App
A remote control of the SJCAM SJ8 Pro is over the SJCAM Zone App possible. The app is for Android and iOS Mobile devices available in their respective app stores. Alternatively, the Action Cam can also be remotely controlled with the optional SJCAM Remote.
The connection between Action Cam and mobile device is over Wifi manufactured. The camera builds its own Wi-Fi. A connection can be over both 2.4 GHz, as well as 5 GHz getting produced. The SSID and the WLAN password (12345678) are fixed and can not be freely configured!
In addition to live image output including status display, all camera settings can be made via the app. About the Gallery is access to the memory card of the camera possible. Recordings can be downloaded to the mobile device and shared directly in social media.
The connection was no problem in the test. The connection is stable up to a few meters and only slightly delayed. Only from about 5 meters occurred in the test isolated image artifacts and the transmission was increasingly delayed. The data transfer speed when accessing the SD memory card is average.
recording quality
Video quality of the SJCAM SJ8 Pro
Compression and bitrate
The SJCAM SJ8 Pro is one native 4K Action Cam the shots with up to 60 pictures-per-second draws. The Ambarella H22 image processor allows optional encoding in H.264 or the current one H.265 or HEVC Default. Advantages of HEVC are a stronger compression and a resulting, smaller file size in spite of consistent quality. The recording format is MP4.
With a conventional Samsung SDXC Evo U3 lies the Video bit rate on 4K at average 60 Mbps and on 4K @ 60 at 100 Mbit / s, Disappointing is the bitrate at low resolution. A 1080p recording reaches a bit rate of only 18 Mbit / s! The bitrate of the sound recording is 128 kbit / s.
SJCAM SJ8 Pro Review | 4K @ 60 Sample Footage / Test Recording
Colors, details and contrast
The Recording quality of the SJCAM SJ8 Pro is comparable to the competing models of YI Technology and GoPro. However, the Action Cam needs a lot of fine tuning to achieve excellent video quality and has to be repeatedly tuned to the respective scene. With optimized recording settings, video recordings convince with one high level of detail and pleasant picture sharpness, In terms of color, the action cam is very warm without losing any of its naturalness. in the SJCAM color mode The warm vote is particularly good effect. Even at night, the SJCAM SJ8 Pro produces color-accurate images. Only a picture noise is noticeable by the raised ISO.
The dynamic Range is limited, but still convinces with a pleasant level of detail in high-contrast scenes. Bright areas do not appear washed out and dark scenes still show details. Exposure changes from light to shadow are fast.
Despite convincing 4K shots, the falls Recording quality in lower resolutions is not quite as good out. Picture details are clearly lost and recordings are relatively muddy due to the low bit rate. It is also surprising that SJCAM cheats at the refresh rate. Despite native 4K60 resolution, the frames are merely duplicated with 1080p120!
image stabilization
Video recordings are made electronically with the help of a 6-axis gyros stabilized. The EIS can be added up to a resolution of 4K30. The implementation has succeeded SJCAM. Although the EIS is not comparable to a gimbal stabilization, especially in freehand filming wobble are very well balanced. Even with fast running movements, the Action Cam gets along well. It should be noted, however, that with the addition of EIS the image also minimally shrinks.
SJCAM SJ8 Pro Review | EIS Sample Footage / Test Recording
sound Quality
The SJCAM SJ8 Pro is with a forward and a side microphone fitted. The sound is in stereo added. The recording quality convinced if you use the Action Cam without waterproof housing. If the camera is housed in a watertight housing, the recording volume will be greatly reduced.
Sound recording without waterproof housing
Sound recording with waterproof housing
Within the camera settings, the recording volume can be controlled, as well as mute the microphones. For the best possible sound quality, it is recommended to use the external one SJCAM lavalier microphones.
Photo quality of the SJCAM SJ8 Pro
Photos can be natively with 12 megapixels (4000 x 3000 pixels) be included. A distortion correction, which by the way can also be activated during video recordings (except 4K60 and 1080p120), removes the fish eye effect of the wide-angle lens (170 degrees) on the software side.
Like the video recordings, the photos are convincing pleasant picture sharpness with accompanying high level of detail and a natural color reproduction, There are weaknesses in the dynamic range and occasionally occurring aberrations in the form of color fringes (violet shadows). Photographs are saved by default as JPG. Within the settings, you can also enable RAW as the output format so photos are saved as RAW and JPG.
Accumulator
With the SJCAM SJ8 model series, SJCAM has again new battery format introduced. The batteries of the 3 SJ8 models are identical. Batteries older models, such as the SJCAM SJ7 Star, do not fit into the SJ8 models due to the new form factor.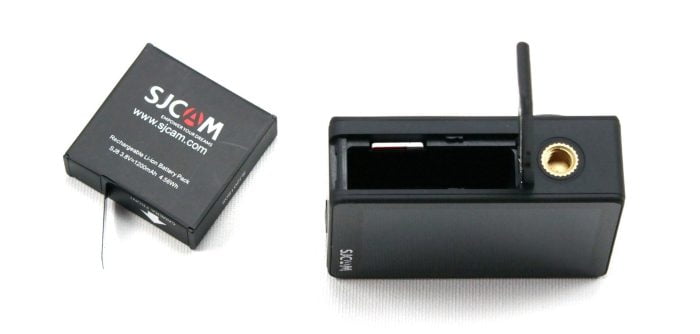 Referring to the Capacity of the battery, this places itself with 1200 mAh just below a GoPro HERO6 (1220 mAh) and a YI 4K + (1400 mAh). The Battery life in 4K60 recording mode, SJCAM indicates even with 90 minutes. The test measured only 70 minutes. A complete one charging requires 110 minutes. A small LED helps to control the charging status.
Price Comparison
Price too high? Use our price alarm clock!
Prices last updated on: January 31st, 2021 15:44 am
Final Words