Samsung Galaxy S8: The wait is over!
Many smartphone enthusiasts can breathe deeply. Samsung has officially unveiled the much-anticipated Samsung Galaxy S8 and Galaxy S8 Plus. With which equipment the Smartphone comes along and further information about the price and availability, we have summarized for you in this post!
Overview
Processor and memory
CPU: Exynos 8895 / Snapdragon 835
GPU: Mali G71 / Adreno 540
RAM: 4GB
Internal memory: 64GB UFS-2.1
Memory extension: Yes
Display
Display Type: AMOLED
Display diagonal: 5.8 inches / 6.2 inches
Display resolution: 2960x1440 pixels
cameras
Main Camera: 12 Megapixel
* Aperture: f / 1.7
* Laser AF
* LED flash
Front camera: 8 megapixel
* Aperture: f / 1.7
* AF
wireless
WiFi: 802.11 a / b / g / n / ac MU-MIMO
Bluetooth: 5.0
GPS: Yes
Accumulator
Battery: 3.000 / 3.500 mAh
Fast charge function: Yes
Qi store: Yes
Connection: USB Type-C
other
Fingerprint scanner: Yes
Operating system: Android 7.0
Size (S8): 149 mm x 68 mm x 8 mm
Weight (S8): 152g
Size (S8 Plus): 160 mm x 73 mm 8 mm
Weight (S8 Plus): 173g
Samsung Galaxy S8
Frameless "Infinity Display"
Already after the first leaks to the Samsung Galaxy S8 it was foreseeable that the new Galaxy smartphone will come up with an extremely interesting design concept. Especially that Display of the type AMOLED is clearly in the foreground with this device. Available with one 5.8 inch and with one 6.2 inch display diagonal at unusual 2960 × 1440 pixel resolution the smartphone reaches a point density of 570 or 529 DPI. Despite the relatively large display diagonal, both models retain a compact size of 149 mm x 68 mm x 8 mm or 160 mm x 73 mm 8 mm, On the other hand, the physical home button had to disappear Fingerprint scanner, which is now no longer below the display. Instead, the fingerprint scanner has moved to the back of the case next to the lens of the main camera. If you want to unlock your smartphone in the lying state, you have to on the Iris scanner as unlock method. The highlight of the display is this Edge Design, which in comparison to its predecessor - the Smasung Galaxy S7 Edge - adds a fad and appears completely rimless.
"Two" processors
That in the Galaxy S8 no two system-on-chips slumber is clear! Samsung has decided to publish the device with different processor equipment. Will the Galaxy S8 in Europe with Exynos 8895 processor In other regions Samsung has opted for the smartphone with Qualcomm's high-end processor "Snapdragon 835" expel. In everyday life, a performance difference will hardly make noticeable. Rather, in current benchmark tests, the Exynos 8895 currently has the edge. The Exynos 8895 offers a total of 8 processor coresof which 4 cores with 2.3 GHz and 4 cores clock with 1.7 GHz. The processor graphics of the SoC is one Mali G71 GPU, which has also grown to particularly demanding mobile games. The storage equipment amounts to one 4GB large memory and an internal, 64GB large UFS-2.1 memorywhich can be additionally expanded with a memory card.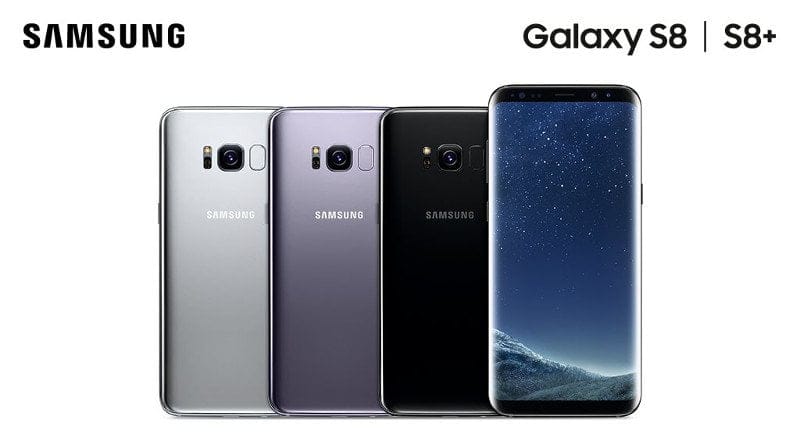 Nothing new at the cameras
Samsung also dispenses with the Galaxy S8 on a dual-camera system. As with its predecessor, the Main camera with 12 megapixel on. One is used f / 1.7 aperture, One Optical image stabilization is available and also one Laser autofocus Of course, it should not be missing. The still located on the front Front camera resolves with 8 megapixel and also relies on one f / 1.7 aperture and one Autofocus.
Bixby
What would a smartphone producer be without an in-house assistant? Samsung joins "Bixby" in addition to Google's Assistant and Apple's Siri. The assistant can be activated via a lateral control button, For questions such as the weather or opening apps Bixby listens to the word and answers them or opens the requested app. What makes Bixby special is its ability to learn and contextual execution of tasks. In addition, all information can be displayed in tile form. Whether Bixby can prevail against the other smart assistant, will have to show yet.
other
Software side is the Galaxy S8 with Android 7.0 be equipped. Other hardware features are USB Type-C Data and charging port, the support of the Galileo satellite system, 3.000 or 3.500 mAh big battery together Qi charging function, Bluetooth 5.0 as well as dual band AC WiFi with MU-MIMO Support.
Price and availability
The Samsung Galaxy S8 is available for pre-order and costs 799 € or 899 € for the plus version. With a delivery or Availability is from 28. April 2017 to count. An interesting feature of the delivery are high quality AKG headphonesthat come with every Galaxy S8.
Product page of the manufacturer: samsung.com/de/smartphones/galaxy-s8/