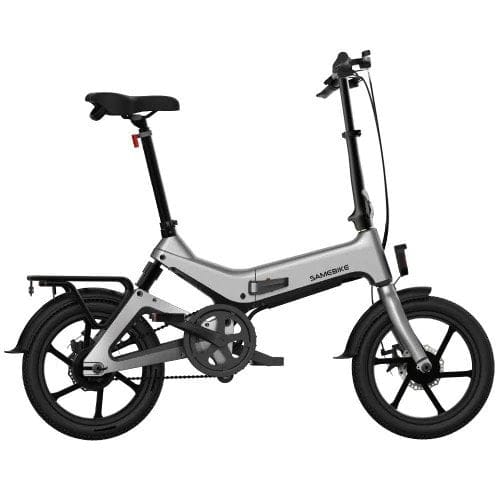 Samebike JG7186 e-bike for 644 €
With this Gearbest Offer you can buy the Samebike JG7186 E-bike or pedelec for only 644 € instead of 828 € to buy! Shipments are made directly from the EU warehouse within 2-5 working days. Additional costs do not apply to this item.
Samebike JG7186 product detail
The Samebike JG7186 is an affordable, foldable electric bike with 16 inch tires, The compact 82 x 40 x 62 cm foldable e-bike (140 x 61 x 110 cm unfolded) is suitable for people of all sizes up to a maximum weight of 120 kg. The 250W rear hub motor can handle steep inclines of up to 25 degrees and reaches a top speed of 25km / h The range with pedal assistance is approximately 50-65 km. The charging time is given as 5 hours.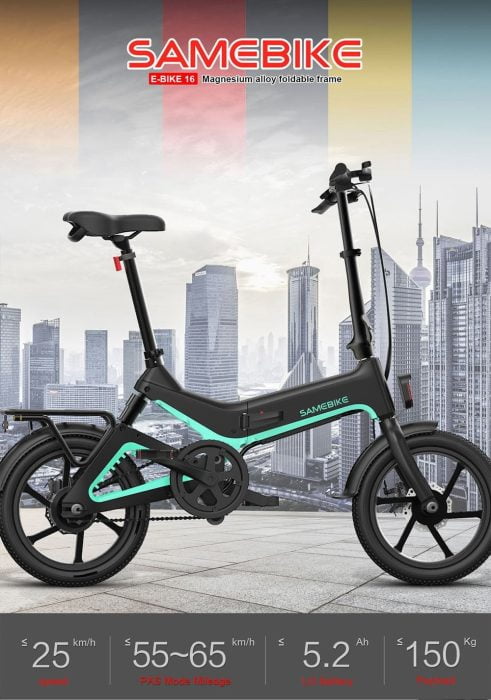 The Samebike supports three riding modes. You can choose between the Pedal Mode, The Moped mode (pedal support) und dem purely electrical mode (without pedal), In electric mode, the range is reduced to less than 35 km. Front and rear disc brakes ensure safety. A brake light indicates the braking process. A headlight enables the e-bike to be driven even in the dark.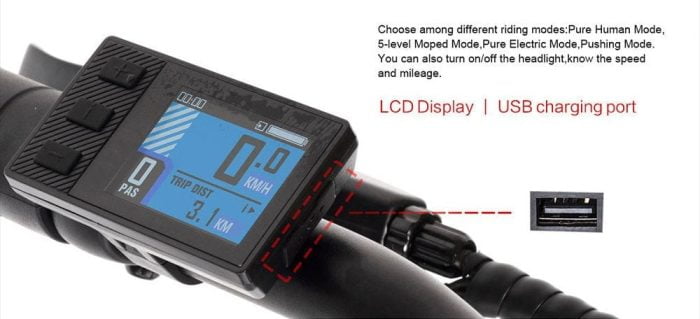 An LCD display serves as the speedometer, showing the power range and speed. Next to it is a USB port, which can be used to charge additional devices such as a smartphone. The Samebike JG7186 is available in five different colors. Interested parties should consider the respective regulations of their country before buying. In Germany, the Samebike JG7186 is open to the public road traffic most likely not allowed! Driving on private property is again permitted.
Specifications
General
Brand: Samebike
Model: JG7186
Type: E-Bike / Pedelec / electric bike
Leistung: 250W
Battery: 7.5AH / 36V
Parameter
Range: 25-35 km (electric) to 65 km (pedelec)
Incline: up to 25 °
Load capacity: max. 120kg
Dimensions
Weight: 21 kg
Size (unfolded): 140 x 61 x 110 cm
Size (folded): 82 x 40 x 62 cm
What's in the box
Includes: 1 x e-bike, 1x tool, 1 x English user manual
Samebike JG7186 reviews
New product without test
user reviews
Samebike JG7186
Overall rating:
(1 reviews)
Write a Review
The Samebike e-bikes are a real insider tip! I am completely satisfied with my bike. The workmanship is top and even after 100 km there is hardly any wear. Spare parts are also readily available.
Samebike JG7186 price comparison
Price too high? Use our price alarm clock!
Prices last updated on: 2. July 2020 12: 01