Roborock T7S Series
When a new Roborock vacuum robot is presented in China, it usually takes a year for a comparable model to appear. At the end of March, Roborock presented the new Roborock T7S Series in China. This includes two new models, the Roborock T7S and the Roborock T7S Plus.

The standard model Roborock T7S is with our Roborock S7 comparable. The key feature is the ultrasonic mopping function (Sonic Mopping), whereby the robot vacuum moves the wipe over the floor with up to 3.000 movements / minute.
Roborock T7S Plus with Reactive3D
The Roborock T7S Plus, which is based on a Roborock S7 / T7S, but is equipped with additional camera obstacle detection, has more to offer. The Reactive3D obstacle detection is similar to the ReactiveAI obstacle detection Roborock S6 Max V, however, uses a slightly different detection method.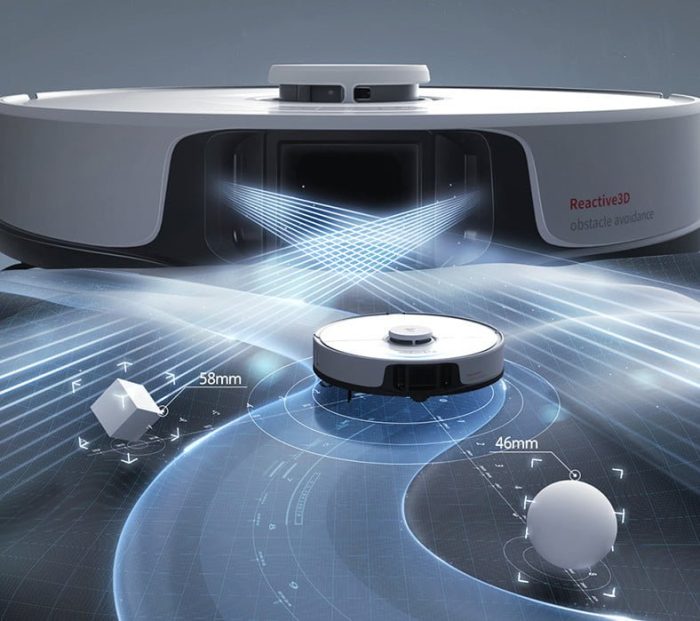 Instead of a stereo camera, one relies on the projection of structured light that captures obstacles ahead in three dimensions. According to Roborock, Reactive3D is so precise that it is possible to avoid obstacles at the millimeter level by receiving depth information.
Otherwise, little new
As far as the suction power and the battery are concerned, Roborock has not developed any further. The suction power is 2500 Pa, with a noise level between 64 dB and 72 dB. The battery has a capacity of 5200 mAh, which is sufficient for about 2.5 hours of running time or 250 m² of surface.
Further features are a 470 ml dust container, a 300 ml water container, sonic mopping with auto-lift function, child safety, a rubber main brush for better ground contact and the improved RR Mason 8.03D algorithm, which draws three-dimensionally recognized objects on the cleaning card.
Initially only in China
In China, the Roborock T7S Plus is available for 3499 yuan, the equivalent of 450 euros. With us, the vacuum robot will probably come onto the market at the end of the year / beginning of next year and under a slightly different name (Roborock S7 Plus? Roborock S7 MaxV? Roborock S8? ...).
Source: Roborock CN