Roborock S7
Offer (February 16, 2022)
The Roborock S7 (without suction station) is currently available from GShoppper at the offer price of only 449 euros. Shipping is free within a few days from Germany.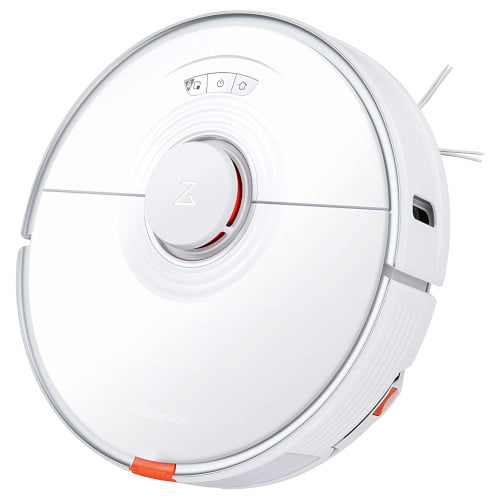 70€ Coupon - Roborock S7
With this GShopper discount code you can buy the Roborock S7 vacuum robot for only 449 euros.
To get the price, simply call up our discount code and enter it in the GShopper shopping cart.
With the Roborock S7, Roborock is sending a new top-of-the-range robot vacuum model into the race again this year. In contrast to last year's Roborock S6 MaxV, they say goodbye to the smart stereo camera and rely on an improved wiping function and solid rubber brush.

Before we look at the Roborock S7 in detail, let's take a look at the technical data and compare them with the Roborock S5 Max and the Roborock S6 Max V.
Comparison: Roborock S7 vs. S6 Max V vs. S5 Max
Model
Roborock S7
Roborock S6 Max V
Roborock S5 Max
suction
2.500 Pa
2.500 Pa
2.000 Pa
Volume (max)
67 dB
67 dB
65 dB
dust container
470ml
460ml
460ml
water tank
300ml
290ml
290ml
Battery (runtime / charging time)
5200 mAh (3 hours / 5 hours)
5200 mAh (3 hours / 6 hours)
5200 mAh (2.5 hours / 5 hours)
Slope
2 cm
2 cm
2 cm
Size:
35,3 x 35,0 x 9,65 cm
35,3 x 35,0 x 9,65 cm
35,3 x 35,0 x 9,9 cm
Weight
4,7 kg
3,7 kg
3,5 kg
Features

Sonic mop function with VibraRise
Ultrasonic carpet detection
Improved main brush (solid rubber / ground contact)
Roborock auto-emptying station
childlock
Card storage
Zone cleaning

Stereo camera
ReactiveAI obstacle avoidance
Electric water tank
Card storage
Zone cleaning

Electric water tank
Card storage
Zone cleaning
Solid rubber main brush
The Roborock S7 does not reinvent the vacuum robot, but scores above all through improvements. One of these improvements is the new main brush with a ribbed solid rubber design. Spiral lamellas and better traction ensure that fine and coarse dirt is captured even more effectively.
According to Roborock, the new brush copes even better with annoying hair tangles. At the same time, the brush is more durable and long-lasting. The suction power remains unchanged compared to the Roborock S2.500 MaxV at 6 Pa.
Sonic mop wiping function with VibraRise
The wiping function has so far only been a casual topic for many robotic vacuum cleaners. After the classic water tank and electric water dispenser, Roborock would like to further improve or expand the wiping function. The new Sonic mop wiping function with VibraRise technology promises better wiping results. The mop attached on the underside scrubs the floor with up to 3000 movements per minute. An electronic 300 ml water tank takes care of the precise water delivery.
Roborock has improved carpet detection so that wiping does not fail on carpets. Ultrasound can now detect carpets with exceptional accuracy. If the vacuum robot drives over a carpet, the new "VibraRise" technology is also activated. VibraRise automatically lifts the mop so that vacuuming and parallel wet mopping are possible without interruption.
New app functions
The Roborock app also benefits from the new functions of the Roborock S7. Carpets are now drawn on the room map and the user gets a real-time insight into the wiped and vacuumed areas. Settings for wiping intensity can be specified via the app interface according to user requirements. Functions from previously released Roborock models, such as multi-map management, zone division or smart voice control via Alexa, Google Home and Siri, are also available for the Roborock S7.
Smart suction station
The Roborock auto-emptying station is brand new and only appeared a few months ago. Instead of manually emptying the dust container after each suction process, the dirt ends up in the dust bag of the suction station at the end of the suction process. A 15-cyclone design empties the robot vacuum completely automatically.
The dust bag (6 liters) only needs to be replaced about every 1,8 weeks. This is not only much more convenient than constant emptying by hand, but also particularly allergy-friendly. A multi-stage filter system prevents even the smallest particles with a size of 0,3 micrometers from remaining 99,99% in the container and not being released into the ambient air.
Source: uk.roborock.com/pages/roborock-s7
What is your opinion on the Roborock S7? From there in the comments or in the Roborock fan group!
Price Comparison