Red Road V17
Companies are constantly striving to guarantee the consumer a varied range of products. more engine power, longer lasting Rechargeable batteries or design revisions are the most common steps that vacuum cleaner manufacturers take do to improve the cleaning routine.
But also when it comes to the attachments of cordless vacuum cleaners, the manufacturers keep presenting us with new ideas.
Double roller for better cleaning routine
Trendsetter in 2022 is the dual brush, which Dyson first introduced with the Dyson Onmi Glide. The Redroad V17 follows a very similar concept high cleaning success also comes with a double brush. How it works is simple but effective:
Unlike the regular bottom roller, which only rotates in one direction, the Redroad V17's dual roller brushes rotate in opposite directions. Each roller is controlled by an independent electric motor. For a high level of cleaning success, a soft roller, which demonstrates its skill on hard floors, has been paired with a brush roller for carpets.
According to Redroad, the cleaning performance of dual roller brushes is four times that of single roller brushes, resulting in significant cleaning time savings.
Many accessories and high suction power
A high suction power is the basis for thorough cleaning. The intelligent, brushless 450 watt motor of the Redroad V17 reaches a speed of 125.000 revolutions per minute. Thanks to its patented air channel design, up to 155 air watts are possible, which corresponds to a suction power of 26500 Pa.
The finest dust and even coarse dirt don't stand a chance here. In particular, allergy sufferers benefit from the 5-stage filter system. Particles up to 0,1µ are stopped by the multi-layer filter and remain safely trapped in the dust container.
The extensive accessory set of the Redroad V17 covers most cleaning scenarios. This includes a total of 7 different suction heads. Included are, among other things, an illuminated flat vacuum cleaner for hard-to-reach places, an electric mite removal brush for upholstery or a suction attachment with a particularly wide nozzle, for example to clean car seats.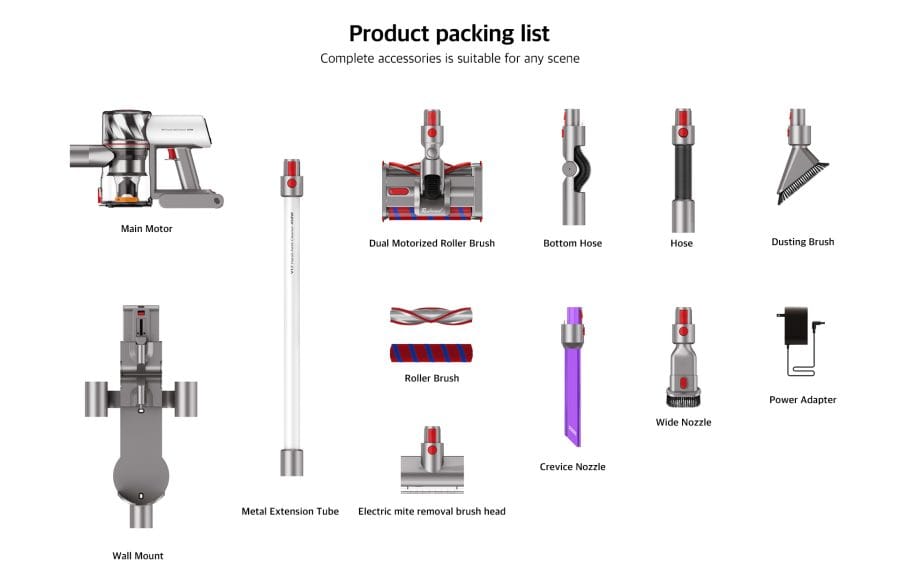 The bent pipe attachment is practical, with which it can be easily vacuumed under furniture. A telescopic hose that can be used flexibly and a wall charging station round off the accessory package.
The Redorad V17 cordless vacuum cleaner is equipped with an LC display for the simplest possible operation. All information about the current suction mode, the remaining battery life and any errors are always available via the display. The display is multilingual in 13 different languages.
Interchangeable battery
Fortunately, the battery (2500 mAh) of the Redroad V17 is not permanently installed, but plugged in. In the event of a defect, the battery can be easily exchanged for a spare battery.
The running time varies depending on the suction mode, which is divided into Eco (up to 60 minutes), Medium (up to 25 minutes) and Turbo (up to 10 minutes). The battery is charged in 3-4 hours, either directly via the battery vacuum cleaner or the charging station.
Price and availability
The Redroad V17 is now over The Amazon or OTTO .
Source: Redroad