Overview
Specifications
Processor and memory
CPU: Qualcomm Snapdragon 695
GPU: Adreno 619
Storage: 6GB / 8GB LPDDR4X + 128GB / 256GB UFS2.2
Memory extension: Yes
Display
Display diagonal: 6,67 inches
Display resolution: 2400 x 1080 pixels
Display frequency: 120 Hz
Display Type: AMOLED
Screen Protector: Corning Gorilla Glass 5
Multitouch: 10 fingers
Cameras
Main camera: 108 MP Samsung HM2 1/1.52", 0.7µm, PDAF, f/1.9
Ultra wide angle camera: 8 MP, f/2.2, 118° wide angle
Macro camera: 2MP, f/2.4
Front camera: 16 MP, f/2.4
mesh
Dual SIM: Yes
SIM size: Nano SIM
eSIM: No.
2G GSM: 850 900 1800 1900MHz
3G WCDMA: 1/2/4/5/6/8/19
4G LTE FDD: 1/2/3/4/5/7/8/12/13/17/18/19/20/26/28/66
4G LTE TDD: 38/39/40/41
5G NSA / SA: n1/n3/n5/n7/n8/n20/n28/n38/n40/n41/n77/n78/n66
wireless
WiFi: 802.11 a / b / g / n / ac
Bluetooth: 5.1
GPS: Yes
NFC: Yes
Sensors
* Ambient light sensor
* Accelerometer
* Proximity Sensor
* E-Compass
*Gyroscope
* Fingerprint Sensor
* IR blaster
Accumulator
Battery: 5.000 mAh
Fast charge function: 67 Watt
Qi store: no
other
Operating system: Android 11 (MIUI 13)
Audio: 3.5mm headphones / stereo speakers
Connection: USB-C
Size: 164,2 76,1 x x 8,1 mm
Weight: 202g
What's in the box
1x Redmi Note 11 Pro 5G
1x charger 67W
1x charging cable
1x protective cover
1x SIM needle
1x manual
Review: Redmi Note 11 Pro 5G
In mid-February, Xiaomi presented the Redmi Note 11 series, which is intended to replace the Redmi Note 10 series that was released last year. The Redmi Note 11 Pro 5G tested here is at the top, followed by a Redmi Note 11 Pro (without 5G), the Redmi Notes 11S and the budget smartphone Redmi Note 11 (Review).
Pretty confusing, right? You can see how the smartphones differ from each other in the following table.
Model
Redmi Notes 11 Pro 5G
Notes redmi 11 Pro
Redmi Notes 11S
Redmi Note 11
chip
Qualcomm Snapdragon 695
MediaTek Helio G96
MediaTek Helio G96
Qualcomm Snapdragon 680
CPU
Octa Core (2x Cortex-A77 @2.2 GHz 6x Cortex-A55 @1.7 GHz)
Octa Core (2x Cortex-A76 @2,05GHz 6x Cortex-A55 @2,00GHz)
Octa Core (2x Cortex-A76 @2,05GHz 6x Cortex-A55 @2,00GHz)
Octa Core (4x Cortex-A73 @2.2 GHz 4x Cortex-A53 @1.8 GHz)
GPU
Adreno 619
Small G57 MC2
Small G57 MC2
Adreno 610
storage
6+64GB / 6+128GB / 8+128GB LPDDR4X + UFS2.2
6+64GB / 6+128GB / 8+128GB LPDDR4X + UFS2.2
6+64GB / 6+128GB / 8+128GB LPDDR4X + UFS2.2
4+64GB / 4+128GB / 6+128GB LPDDR4X + UFS2.2
Display
6,67 inch AMOLED - 120Hz + 360Hz - 1080 x 2400 pixels - DCI-P3
6,67 inch AMOLED - 120Hz + 360Hz - 1080 x 2400 pixels - DCI-P3
6,43 inch AMOLED - 90Hz + 180Hz - 1080 x 2400 pixels - DCI-P3
6,43 inch AMOLED - 90Hz + 180Hz - 1080 x 2400 pixels - DCI-P3
Cameras
108MP, f/1.9, 1/52′ Samsung HM2
8 MP, f / 2.2, 118˚ wide angle
2MP, f/2.4, macro
16 MP, f / 2.4, front
108MP, f/1.9, 1/52′ Samsung HM2
8 MP, f / 2.2, 118˚ wide angle
2MP, f/2.4, macro
16 MP, f / 2.4, front
108MP, f/1.9, 1/52′ Samsung HM2
8 MP, f / 2.2, 118˚ wide angle
2MP, f/2.4, macro
16 MP, f / 2.4, front
50 MP, f / 1.8
8 MP, f / 2.2, 118˚ wide angle
2MP, f/2.4, macro
13 MP, f / 2.4, front
Loudspeakers
stereo
stereo
stereo
stereo
NFC
Ja
Ja
Ja
Ja
Accumulator
5000mAh - 67W
5000mAh - 67W
5000mAh - 33W
5000mAh - 33W
Height Weight
164,19 x 76,1 x 8,12 mm - 202g
164,19 x 76,1 x 8,12 mm - 202g
159,87 x 73,87 x 8,09 mm - 179g
159,87 x 73,87 x 8,09 mm - 179g
That's not all. The one that was also presented in February and has already been tested by us POCO X4 Pro 5G (Review) is almost identical to the Redmi Note 11 Pro 5G.
On the hardware side, the complete data sheet has simply been adopted. There are only differences in the design of the back, which is much simpler in the Redmi Note 11 Pro 5G.
Redmi Note 11 Pro 5G: design and finish
And with the design of the Redmi Note 11 Pro 5G we also start. The smartphone has a size of 164,19 x 76,1 x 8,12 mm and weighs 202 g. So it's quite large, but still within the norm of today's smartphone sizes. If you prefer a more compact smartphone, you should take a look at the Redmi Note 11S, which is at least a bit narrower in length and width.
In contrast to the cheaper models of the Redmi Note 11 series, the back of the Redmi Note 11 Pro 5G is made of glass. Xiaomi does not mention to what extent a special protective glass was used. However, despite daily use without a protective cover, there were no scratches during the test phase. The back of the glass also withstands dirt and unsightly fingerprints very well. In terms of color, you have the choice between "Graphite Gray", "Polar White" and the somewhat more striking "Atlantic Blue", which also comes with a mirror effect.
The angular and therefore flat sloping frame is made of plastic. I personally like the hand feel of the flat frame. The smartphone is therefore stable in the hand. However, the feel is a matter of taste. Some people will probably prefer a rounded case frame. Operating the device with one hand is just about possible. The power button on the side, which also includes the fingerprint scanner, is easily accessible. Above that is the volume rocker, which is also easy to reach.
According to protection class IP53, the smartphone is protected against dust and spray water. For example, the SIM slot has the typical rubber ring that is supposed to keep water out. The smartphone is not waterproof, but it can withstand heavy rain.
The connections are placed as follows: The USB-C socket is typically located at the bottom. To the left is the SIM slot, which can be fitted with either two nano SIM cards or one nano SIM and one microSD memory card. To the right is a microphone and one of the stereo speaker outputs. The right side of the frame has been left completely free. It continues at the top with a 3.5 mm headphone jack, another loudspeaker output and another microphone, as well as an infrared transmitter. Xiaomi has done a good job with the processing.
Redmi Note 11 Pro 5G: 120Hz AMOLED display
Xiaomi uses a 11-inch AMOLED display with a refresh rate of 5 Hz for the Redmi Note 6,67 Pro 120G. A display with such properties is becoming more and more common in the middle class, but it is still the exception in this price range.
In addition, there is a high display resolution of 1080 x 2400 pixels, which in turn corresponds to a sharp display of 395 PPI. The display is protected by particularly scratch and shatterproof Corning Gorilla Glass 5 .
The display is optimized for the DCI-P3 color space. In the display settings, you can adjust the colors in the modes "Vivid", "Saturated" and "Standard". Depending on the mode, the colors come out a little stronger, cooler or warmer. The color temperature can also be adjusted in several modes or via a color wheel. Typically AMOLED, the display of the Redmi Note 11 Pro 5G convinces with excellent color fidelity, a strong contrast ratio and a strong black value.
The good readability in sunshine also speaks for the display. In automatic mode, the display brightness adapts quickly to the environment. With up to 700 nits in "High Brightness Mode" and 1200 nits in "Peak", the display shines amazingly bright. Good things can also be said about the viewing angle stability. Flat viewing angles do not significantly affect legibility and display.
Another key feature is the 120 Hz refresh rate, which ensures that content is displayed particularly smoothly. However, you first have to activate 120 Hz in the display settings. By default, the smartphone is set to 60 Hz. A shortcoming of the high refresh rate is the somewhat weak Snapdragon 695, which does not offer any major performance reserves and cannot fully utilize the 120 Hz in most apps and mobile games.
The always-on function of the display is met with incomprehension. Actually, this means the continuous status display on the switched-off screen. Xiaomi understands something different by "always-on".
Although there is a function with various setting options, the display only remains active for 10 seconds. This form of AOD is completely useless to check the time or notifications, because you still have to pick up the smartphone. Let's hope Xiaomi responds to this in upcoming updates!
Another notification function is the notification effect on the edge of the display. Incoming notifications are signaled by briefly flashing on the edge. Here, too, there are various effects to choose from.
Streaming lovers can enjoy Netflix and Co. in high resolution. The necessary Widevine L1 certification is available. Unfortunately, lovers of HDR10 and Dolby Vision are left out in the cold!
Redmi Note 11 Pro 5G: Snapdragon 695
The Redmi Note 11 Pro 5G is equipped with the ARMv8-based Qualcomm Snapdragon 695 mobile platform, whose eight-core CPU has two Cortex-A77 cores (2,2 GHz) and six Cortex-A55 cores (1,7 GHz). The GPU is an Adreno 619. Thanks to 6nm production, the chip promises decent energy efficiency.
The storage types are LPDDR4X memory and fast UFS2.2 data storage. Here you have the choice between 6+64GB, 6+128GB or 8+256GB memory. So much for the theory.
As already mentioned, the Snapdragon 695 does not have very large performance reserves, which is also reflected in the benchmark results. In real everyday life, however, this is less noticeable. In terms of performance, the smartphone behaves smoothly and confidently most of the time. Complex websites are built quickly in the browser test. The memory sequential read rate is good. Apps start at a comfortable speed and are kept in memory for a sufficiently long time.
The Snadragon 695 shows weaknesses in demanding mobile games. It should be said that the Redmi Note 11 Pro 5G is less recommended for mobile gamers. Games like PUBG or Asphalt 9 can be played, but the detail level should be reduced significantly to avoid stuttering. The smartphone keeps a "cool head" in almost every situation. Performance drops due to high heat development do not occur.
Redmi Note 11 Pro 5G: user interface
On the software side, MIUI 13 is already on the smartphone, which was still based on Android 11 at the time of the test. An update to Android 12 will appear in the near future.
The pre-installed apps are versatile. In addition to numerous Google and Xiaomi apps, a lot of bloatware is also preinstalled. A total of 19 such apps from the gaming, social media and shopping categories are pre-installed on the smartphone. Fortunately, each of these apps can be uninstalled.
The MIUI user interface itself is functional and clearly structured. The integrated theme store offers extensive customization options with a huge selection of themes. In this way, the appearance of the interface can be changed in no time at all. If you have linked the smartphone to a Mi account, you get access to the Xiaomi Cloud, where important files and photos can be saved.
The Dual Apps feature allows users to clone applications. The "second profile" function, which allows you to create an additional user account with your own home screen, is more far-reaching. The "sidebar" is also useful, as it offers quick access to apps as an overlay. There are also many other useful functions. It would go beyond the scope of this section to go into this in more detail.
Redmi Note 11 Pro 5G: camera
The rear triple camera uses the 108 MP Samsung HM2 image sensor (aperture f/1.9, 1/52″) from last year's Redmi Note 10 Pro. The camera sensor was already able to prove itself there and convinced (taking the price range into account) with good photo and video quality.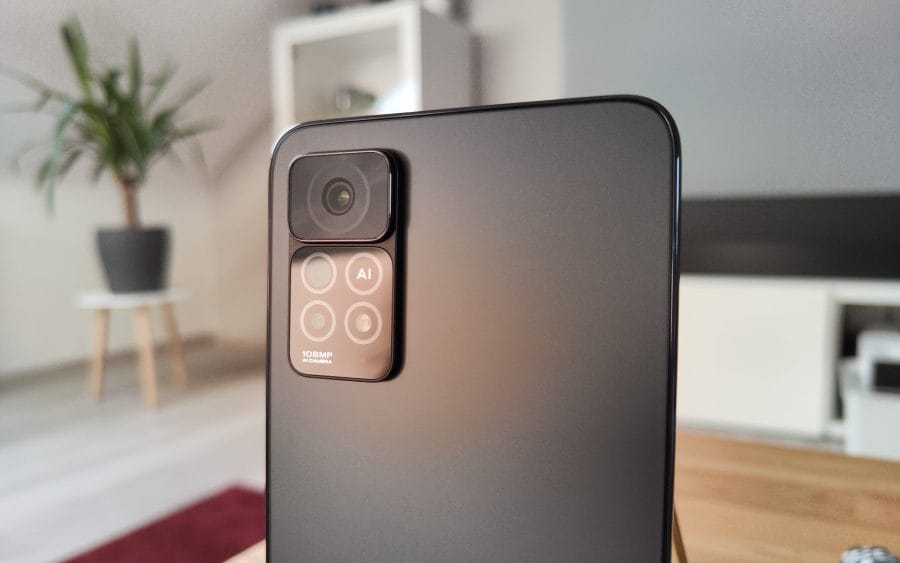 The remaining sensors are divided into an 8 MP Sony IMX355 ultra wide-angle camera with a 118° wide angle and a 2 MP macro camera (aperture f/2.4). Experience has shown that the 2 MP macro camera is just a gimmick without much added value. A 16 MP Omnivision OV16A1Q front camera is responsible for selfies.
main camera
Measured against the price range, good photos can be taken with the 108 MP main camera of the Redmi Note 11 Pro 5G. The images are pleasantly sharp, details are well reproduced and the colors appear natural. The focus is set quickly without having to do a lot of manual work.
The recordings are a bit more detailed and sharper in 108 MP mode. However, this only becomes really visible when you zoom into the recording. In addition, good lighting conditions are required, because the elimination of pixel binning also increases the noise component in the image.
The dynamic range of the main camera is by no means limitless. The automatic HDR function rarely has to help. Here is a series of different shots taken in daylight and sunset.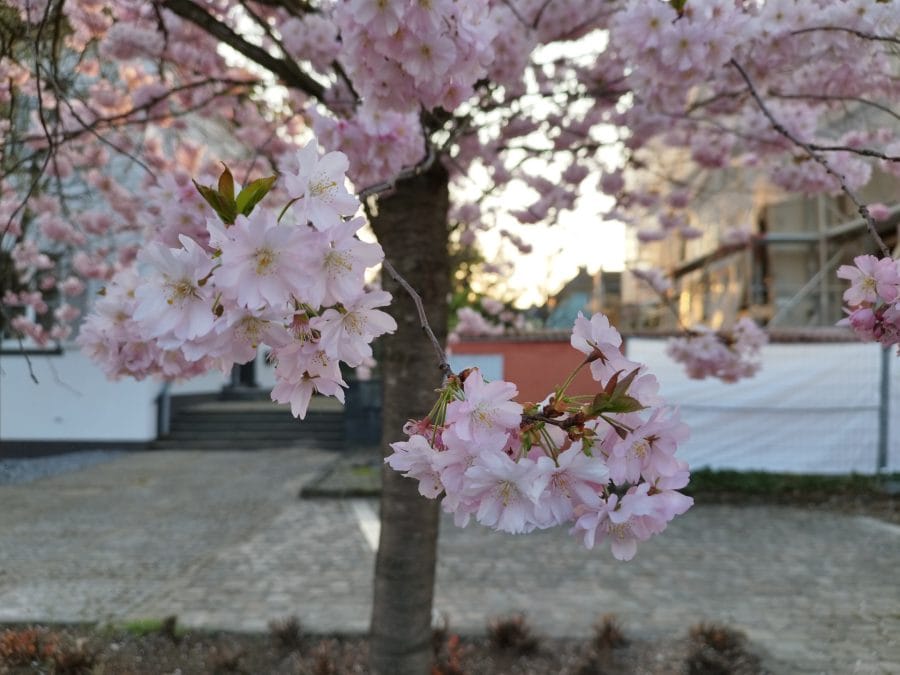 The Redmi Note 11 Pro 5G also copes well with poor lighting conditions. Colors are well preserved and the amount of noise in the image is not significantly increased. As expected, the level of detail decreases slightly. The night mode helps, as it brightens the picture and brings out the details a little more.
Ultra wide angle camera
The Redmi Note 11 Pro 5G also takes ultra-wide-angle shots well. The recording quality cannot compete with the main camera due to the reduced level of detail and lower dynamic range, but it is completely sufficient for snapshots. Especially on small displays, the difference is hardly significant. All the more clearly on a large monitor.
Other sensors and recording functions
The macro camera is only there to beautify the data sheet. In practice, the recordings bring no real added value. The operation of the camera app is simple and understandable. The function you are looking for can be found quickly and settings can be changed in no time at all. Alternatively, it is advisable to experiment with Gcam mods, as the camera software can also have a major impact on the recording quality.
The Redmi Note 11 Pro 5G records videos in a maximum resolution of 1080p30. That's a shame, because nowadays you can expect high-resolution 4K video recordings even from cheap mid-range smartphones. The maximum 1080p resolution is due to the Snadragon 695, whose image processor does not support 4K. Even 1080p60 is not an option. The recorded sound is convincing.
Finally, we have the 16 MP front camera, which takes pretty nice selfies during the day. In poor lighting conditions, the images become increasingly poor in detail and blurry.
Redmi Note 11 Pro 5G: connectivity and sensors
Mobile
As the name suggests, the Redmi Note 11 Pro 5G is a smartphone with 5G cellular support. The mobile radio frequencies and bands commonly used in this country are fully supported. Here is an overview of the frequencies and bands:
2G: GSM: 850 900 1800 1900MHz

3G: WCDMA: 1/2/4/5/8/19

4G: LTE FDD: 1/2/3/4/5/7/8/12/13/17/18/19/20/26/28/32/66

4G: LTE TDD: 38/40/41

5G: n1/3/5/7/8/20/28/38/40/41/66/77/78
Telephoning and mobile surfing works smoothly. The smartphone convinces with good reception and an equally good voice quality. Whether via the handset or the hands-free function. The standards VoLTE and VoWiFi are available. The SAR value is 0,956 W/kg on the head, 0,596 W/kg on the body
Wi-Fi and Bluetooth
The smartphone supports dual-band AC WiFi (802.11 a/b/g/n/ac) and Bluetooth 5.1. The range and data throughput are high in WLAN. Bluetooth connections are stable and without limitation.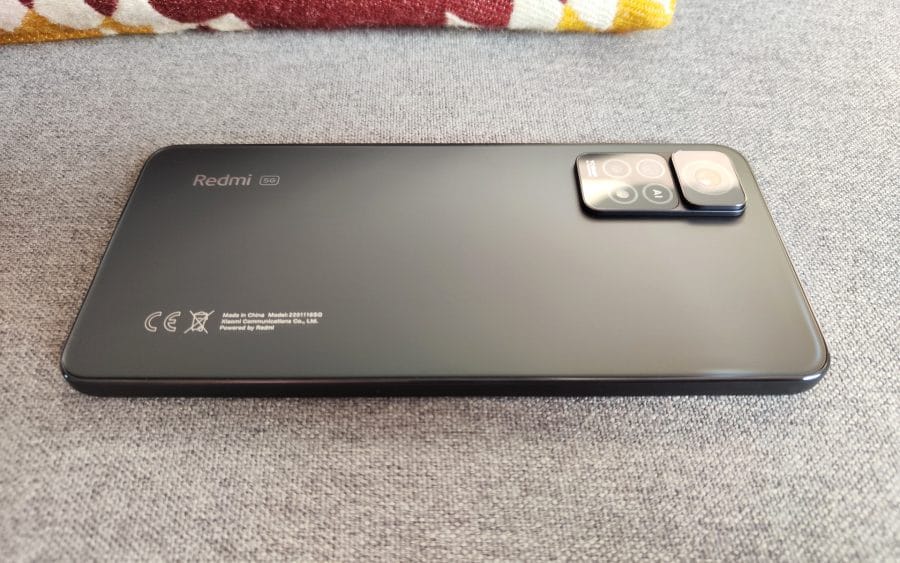 GPS and sensors
The Redmi Note 11 Pro 5G determines the position with the help of GPS, GLONASS, Galileo and BeiDou. The satellites are quickly integrated and the location is determined with high accuracy. Navigating works flawlessly whether navigating through urban or rural areas. An e-compass is available.
The sensor system also includes a proximity sensor, an ambient light sensor, an acceleration sensor, a gyroscope, a G sensor and a Hall sensor. Equipment with an infrared receiver, such as a television, can be controlled via the infrared transmitter (IR blaster). The necessary Mi Remote App is already pre-installed on the smartphone.
NFC is available and the use of Google Pay is therefore possible.
Fingerprint scanner
The smartphone can be unlocked quickly and reliably using the fingerprint scanner. This is located in the side power button. Alternatively, other unlocking methods are available with a pattern, PIN, password or face recognition.
Stereo speakers
We really liked the stereo speaker. The sound is powerfully loud and even sound effects are provided via Dolby Atmos. For the connection of headphones you have the choice between 3.5 mm jack, Bluetooth or USB-C. High-resolution audio codecs such as aptX are supported for Bluetooth connections. It is even possible to receive FM radio with wired headphones.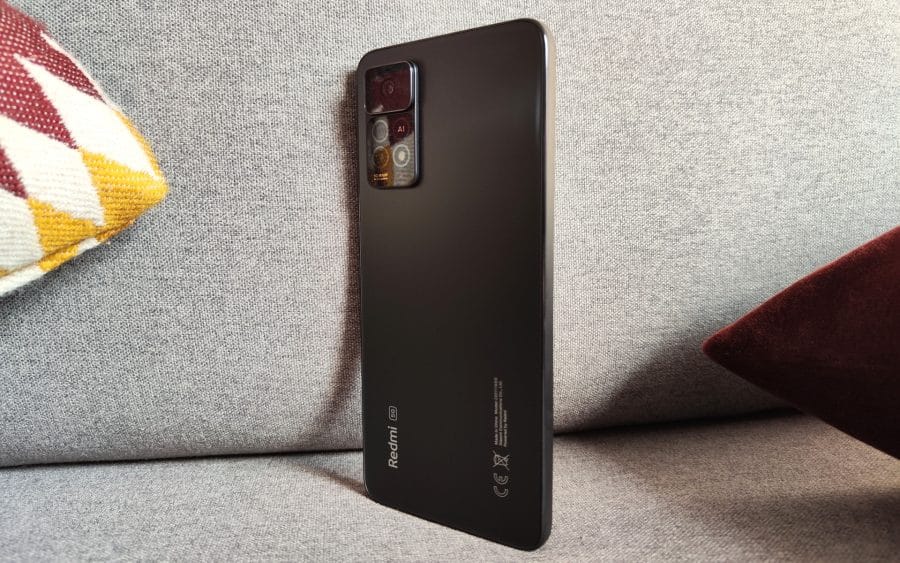 Redmi Note 11 Pro 5G: Battery
With a capacity of 5000 mAh, the Redmi Note 11 Pro 5G has a battery of the usual size nowadays. The frugal consumption of the efficient Snapdragon 695 has a positive effect. If you use the smartphone for everyday things like telephoning, surfing the Internet and social media, you can count on a runtime of around 2 days.
Fast charging is possible with up to 67 watts. A full charge takes just under 41 minutes. With only 15 minutes of power, the smartphone is already charged to 55 percent. Reverse charging, i.e. charging in the opposite direction, similar to a power bank, is supported. As expected, no wireless charging.
Price Comparison