Update 22. April 2022
Summer is just around the corner and festivals are set to take place again this year. You take your expensive smartphone with you, but you don't like it. Losing your smartphone in the fray is not so far-fetched.

If you are looking for a cheap smartphone under 100 euros, you should take a look at the Redmi 9C from Xiaomi. In the Goboo range, there is currently a smartphone with 2+32GB memory and NFC for only 93 euros. If you need more memory, you can get the 4+128GB memory variant for an unbeatable 120 euros.
Shipping is free of charge from the EU, there is a 14-day right of return and the guarantee is 2 years. By the way, Goboo is an official Xiaomi sales partner!
Redmi 9C product details
Smartphones under 100 euros these days are equipped with everything you can expect from a smartphone. You can primarily make phone calls with it, but surfing the web, taking photos or navigating via GPS also works with the cheap smartphones.

A well-equipped device is the Redmi 9C, which is even equipped with NFC for mobile payments (Google Pay). The MediaTek Helio G35 processor is of course not a high-end chip, but it is considered to be extremely economical in consumption and, in terms of performance, is sufficient for common everyday tasks such as WhatsApp, web surfing and YouTube.

The Redmi 9C is available in different memory versions with either 2GB, 3GB or 4GB RAM and 32GB, 64GB or 128GB data storage. It is possible to expand the data storage using a microSD memory card.

In terms of mobile communications, the Redmi 9C gets along with GSM, 3G and LTE. WLAN and Bluetooth are also supported and GPS is available for navigation. A 5000 mAh battery powers the Redmi 9C. Runtimes of more than 2 days are no problem thanks to the efficient MediaTek Helio G35.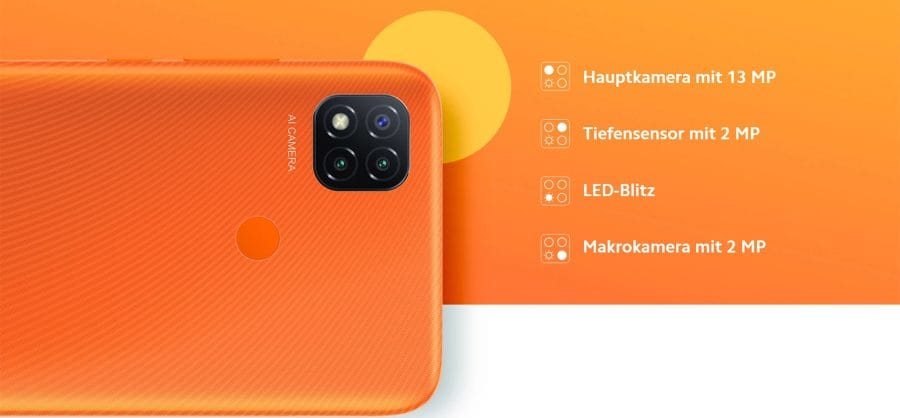 The front is adorned with a 6,53 inch display with HD resolution (720 x 1600 pixels). A 5 MP front camera is responsible for selfies. On the back is a triple camera setup with a 13 MP main camera, a 2 MP depth camera and a 2 MP macro camera.
Redmi 9C reviews
English review
Xiaomi Redmi 9C Review - Full Review (English)
User Reviews
Redmi 9C price comparison