Realme Watch functions and first pictures showed up
The next Realme launch event is just around the corner. The presentation of the Realme Watch and Realme TV is planned for May 25th. The announcement of the event shows us first pictures of the smartwatch and reveals details of the functions.
Realme Watch - Time to be smarter!
In terms of design, the Realme Watch is very similar to the Apple Watch. The square and touch sensitive color display measures 1.4 inch in the diagonal and is according to Realme "the largest display in this price segment" It is not yet known which price segment the company is referring to. The watchband will be available in 3 different colors and 2 designs. Noteworthy features are the 24/7 Health Assistant and Smart Connect, which enables intelligent notifications, music control and camera control.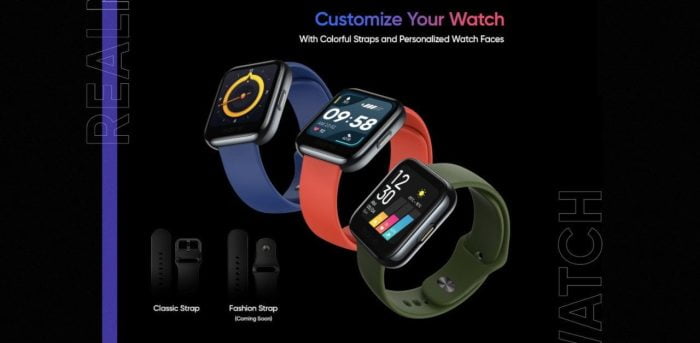 Similar to the realme band, the realme watch is about the Realme Link app connected to the smartphone. All adjustments, such as changing the watch face or the detailed view of the fitness data, will probably only be available via the Link app. The Heath Assistant is a typical activity tracker with 14 sports modes, including running, spinning, soccer, badminton and more. The heart rate in the human body and facts about the Blood oxygen content (SpO2) the smartwatch detects with the help of an optical sensor.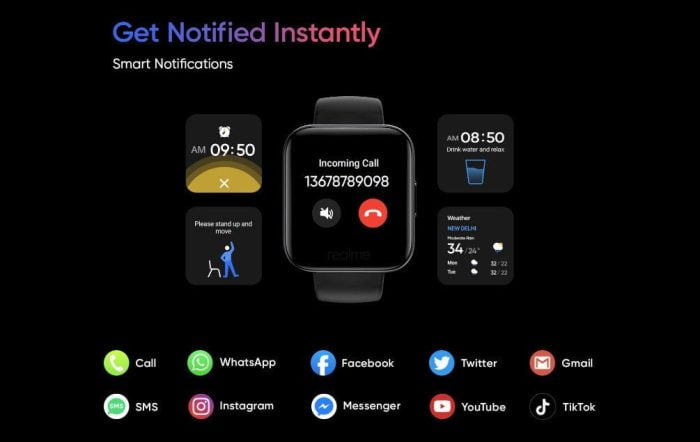 What the Receive notifications , the Realme Watch will be compatible with SMS, WhatsApp, Facebook, Twitter, Gmail, Instagram and other applications. To what extent it will be possible to reply to messages via the smartwatch is not known. A Telefoniefunktion is available. At least one of the render shots shows the receipt of a call that can be accepted, rejected or muted. It remains to be seen whether this only means the control of calls or whether calls can be made via the smartwatch.
assessment
What Realme tells us in this announcement is much more like an impact chic fitness tracker with additional functions, as a full-fledged smartwatch. Instead of Wear OS, we are likely to find a proprietary operating system that is limited to the apps that are already preinstalled.