POCO M3 - Snapdragon 662, 6000 mAh battery and more!
POCO Global has announced the launch of the new POCO M24 smartphone on November 3th. In all probability, POCO will present us with a smartphone from the mid-range segment. The first leaks already provide information on possible equipment.
LITTLE M3
Update 24. November 2020
POCO has presented the new POCO M3 smartphone. The technical data corresponds to the leaks and teasers of the past few days. The low budget smartphone has a lot to offer and already is from € 129,90 to have. Here the Specifications of the POCO M3 at a glance:
CPU: Qualcomm Snapdragon 662
GPU: Adreno 610
Memory: 4 + 64GB / 4 + 128GB
Display: 6,53 inch FHD +
Camera: 48MP + 2 MP + 2 MP + 8 MP (front)
SIM: Dual SIM 2G, 3G, 4G
Battery pack: 6.000 mAh 18W charging
Update 23. November 2020
The LITTLE M3 is in the starting blocks! tomorrow at 13 p.m. German time the smartphone is officially presented. POCO has already published the essential specification. So the smartphone with a Snapdragon 662, One 6.53 inch displayto 48MP quad camera and a 6000 mAh battery be equipped.
A short teaser even reveals the design of the back. It is noticeable Area around the camera, which bears the POCO lettering. How much the smartphone will cost will not be revealed until tomorrow. We reckon that POCO will be roughly 150 to 200 Euro will require. You can follow the POCO M3 Global Launch online via YouTube.
Just in time for the biggest sales day of the year, POCO is sending a new smartphone into the race. A teaser on the POCO Global Twitter Channel announces the launch of the POCO M3 for the 24. November at. The #MoreThanYouExpect could also be understood as a reference to other POCO products.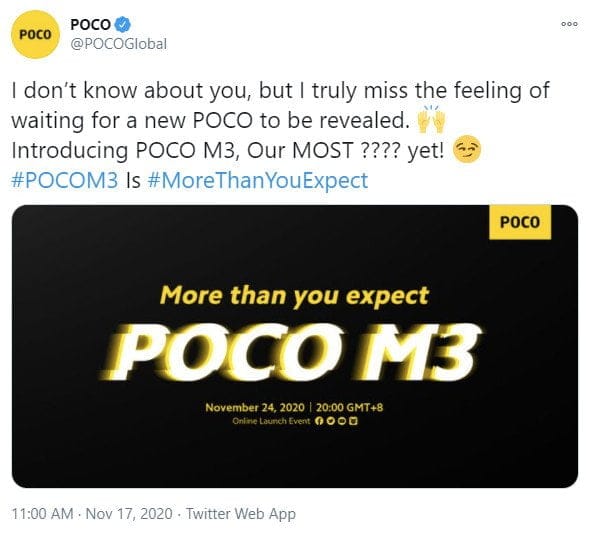 According to rumors, the POCO M3 is one Further development of the Redmi Note 10. At least that's what the model number of the new one suggests POCO M3 (M2010J19SG / M2010J19SI) that corresponds to the model number of the Redmi Note 10 (M2010J19SC) is very similar.
Accordingly, the new POCO smartphone could be introduced at the beginning of 2019 Qualcomm Snapdragon 662 be equipped. The memory equipment leaves 4GB RAM and 64GB internal data storage expect. The display would be from Type IPS and would with a diagonal 6.53 inch in FHD dissolve. There is also one 48 MP quad camera and one 6.000 mAh battery with 22.5 watt quick charge function.
But it could also turn out quite differently and the POCO M3 will be an inexpensive one 5G Smartphone with Dimensity 800U system-on-chip! What do you think?
Source: Twitter / TENAA