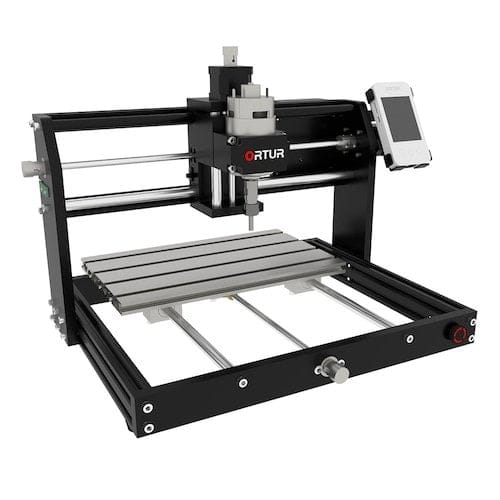 ORTUR Aufero CNC Engraver for 191 €
With this Gearbest Offer you can buy the ORTUR Aufero Milling machine for only 191 € instead of 242 € to buy! You can find all information about the offer in the deal. There are no additional costs for this item.
ORTUR Aufero CNC Engraver product details
Update 13. October 2020
The ORTUR Aufero CNC machine is only new on the market and will initially be available exclusively through online retailers Gearbest offered. There is a promotion running until October 18, with which you can reduce the number of milling machines from € 191 can buy. Every day at noon, a buyer has the chance to receive the CNC milling machine at a reduced price with the coupon available above. It's worth being quick!
Attention hobbyists! The ORTUR Aufero CNC milling machine is a product especially for you. The solid aluminum structure is set up in just 20 minutes. On a Area of ​​300 x 180 x 50 mm can the Stainless steel milling head with 997 DC motor (24V - 10000 RPM) really let off steam. Editing can be done with it (Solid) wood, PCB, acrylic and PVC. A control takes over STM32 mainboard with GRBL1.1 controller. As software, "Candle" unterstützt.
There is a control element on the side of the milling machine for easier operation Color display and touch screen. It is also possible to mill via App to control. The ORTUR Aufero CNC has a WiFi module integrated in the control unit. A USB interface is also available. The modular design allows the milling machine to be modified afterwards. It would be possible, for example, to replace the milling head with a laser module. ORTUR has also provided special security mechanisms. One Emergency switch on the frame of the device allows immediate termination.
Specifications
data
Brand: ORTUR
Model: Aufero
Type: CNC milling machine
Material: stainless steel + aluminum
Motherboard: STM32 32-bit
Milling surface: X300 x Y180 x Z50mm
Software: Candle
Controller: GRBL1.1 3018
Dimensions
Weight: 10kg
Size: 48 x 27 x 14 cm
ORTUR Aufero CNC Engraver reviews
No test reports available yet!
User Reviews
Techreviewer
Overall rating:
(0 reviews)
ORTUR Aufero CNC Engraver price comparison
Current prices
Price too high? Use our price alarm clock!
Prices last updated on: 25. October 2020 14: 43