NO.1 G7 - Square 1.54 Inch Smartwatch
It has become a bit calmer for the Chinese smartwatch manufacturer in recent months. The NO.1 G7 released a new smartwatch in December, similar to the NO.1 D6 on a square watch case. All information about the functions, the price and the availability, we have summarized in this article!
Overview
CPU: MTK2502
RAM: 64MB
Internal memory: 128MB
Memory extension: Yes
Display diagonal: 1.54 inches
Display resolution: 240 x 240 pixels
Display glass: Corning Gorilla Glass
SIM: Yes
Network: GSM 850 / 900 / 1800 / 1900MHz
Bluetooth: 4.0
Battery: 380 mAh
NO.1 G7

Modular design
The NO.1 G7 is not a traditional smartwatch. By the modular design The case can be completely separated from the watch strap, resulting in a variety of uses. Without losing the actual functionality, the 1.54 inches big smartwatch even use a watchband like a compact smartphone. Further versatility results from the different watch straps. An appealing business look ensures a Metal chain bracelet, If you prefer sporty, NO.1 has a simple one for you silicone bracelet in stock.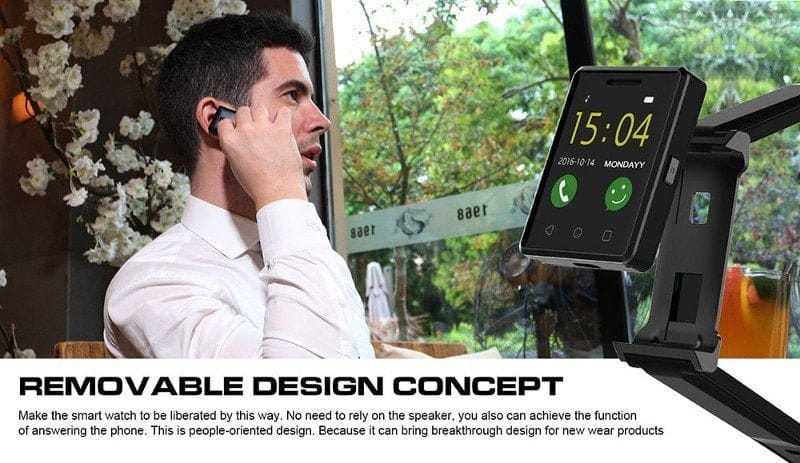 Hardware
Installed is a quadratic 1.54 inch IPS touch display that with 240 240 x pixels dissolves. The display is protected by scratch-resistant Corning Gorilla Glass, Inside the NO.1 G7 works one MediaTek MTK2502 processor, which is mainly used in cheap smartwatches. Supportive stand 64MB memory and an 128MB large internal memory to disposal. A memory expansion by means of a micro SD memory card is possible.
What can you see when unboxing? - NO.1 G7 Smart Watch
So that the NO.1 G7 can also be used as a stand-alone smartphone, the watch can be equipped with a SIM card be provided. However, only the GSM mobile standard is supported. On Microphone and a speaker are integrated. Wireless data transfers succeed over the existing one Bluetooth 4.0 compatibility, WiFi and GPS are missing. Another feature is a Heart Rate Monitorwhich is located on the back of the case. By means of a green LED and a photodiode an approximate pulse can be determined. The capacity of the battery is 380mAh.
Large selection of SmartWatches
Features
The smartwatch does not run a native Android, so no apps can be installed later. The preinstalled apps are a wide selection of fitness, telephony, and office / media apps. Various watchfaces are also pre-installed, as well as subsequently created watchfaces can be added.
The NO.1 G7 can be paired with both Android, as well with iOS Devices. The connection is via Bluetooth. In addition to the standalone telephony feature, the Smartwatch is also able to accept calls made on the smartphone and make. Also Notifications can be received with the NO.1 G7. Conversely, all fitness data can also be transmitted to the connected device.