Overview
Model
Moman Fillipo video light
Specifications
General
Material: aluminum alloy
Dimensions: 115 mm x 71 mm x 10 mm
Weight: 147 g
LED
Number: 96 piece
Output power: 8W
Color temperature: 3000K - 6500K (± 200K)
CRI: 95 +
TLCI: 95 +
other
Display: OLED screen
Attachment: 1 / 4 inch thread and hot shoe
Battery: 2700 mAh
Voltage: 5V-1A / 5V-2A
Running time: up to 17 hours
Charging time: about 3 hours
What's in the box
1 x Moman Fillipo
1 x Type-C charging cable
1 x hot shoe adapter
1 x carrying case
1 x user manual
Design and workmanship
According to the "Fill Lights in Pocket" concept, Moman is concerned with a design that is as compact as possible. The dimensions are just 115 x 71 x 10 mm, with a weight of 147g. Accordingly, the video light is hardly larger than a conventional smartphone and can even be placed in host pockets. The housing is made of anodized aluminum and is magnetic on the back.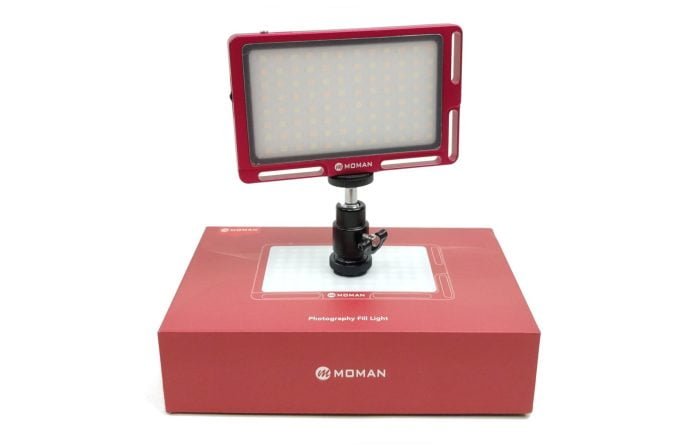 It is operated using an easy-to-use multi-function switch with a rotary control. A diffuser panel ensures a particularly soft light distribution from the total of 96 bi-color LEDs. A comfortable OLED display on the back provides information on the operating mode and the remaining battery life. The Moman "Fillipo" video light is charged via USB-C. The quality of workmanship is no problem considering the price.

Easy construction
The Moman video light offers versatile mounting options. In addition to two ¼ inch threads on the side and below the housing, Moman also supplies a suitable hot shoe adapter. The adapter has a ball joint and can thus be individually aligned. For assembly, the adapter plate (aluminum) is simply pushed into the camera hot shoe and secured with a clamping screw.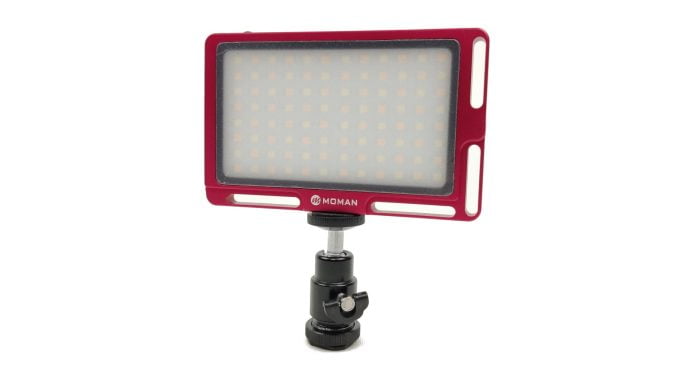 Bi-color LEDs
The total of 96 LEDs in the Moman video light are divided into 48 artificial light and 96 daylight LEDs. The video light delivers the highest light output in mixed light mode. Only then do all 10 LEDs light up. The heat development after 43 minutes of running time at the highest brightness level is almost XNUMX ° C.
The color temperature can be controlled using the rotary control between 3000K and 6500K in steps of 100. The color temperature displayed via the OLED feels slightly different from the color temperature actually output. However, the deviation is still within limits. A memory function saves the color temperature setting even after switching off the video light. The color rendering index is over 96.
The light is pleasantly soft due to the diffuser. Even at close range no annoying multiple shadows arise. Unfortunately, the diffuser is not changeable. The brightness is adjustable between 5% and 100%. In contrast to the color temperature, the brightness setting is not saved after switching off.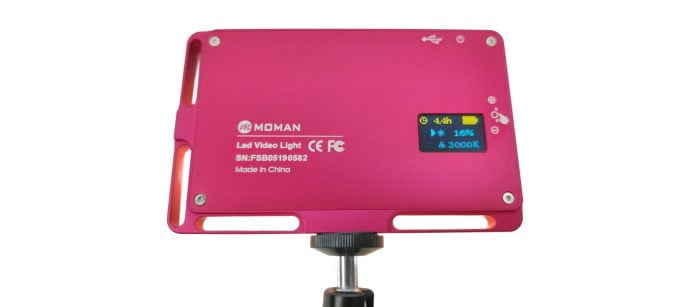 Accumulator
The display of the remaining battery life is particularly practical. In addition to a decreasing bar, the remaining time is also displayed in hours. Depending on the brightness level, the runtime varies between 1 hour (100%) and 17 hours (5%). The 2700 mAh battery is permanently installed and is charged via USB-C within 3 hours. A conventional smartphone charger, a PC / notebook or a power bank can be used to supply power.
Price Comparison