Longer LK5 Pro product details
At Gearbest there is the Longer LK5 Pro 3D printer at the current introductory price of only 296 euros. The discounts are automatically deducted from the shopping cart (see screenshot).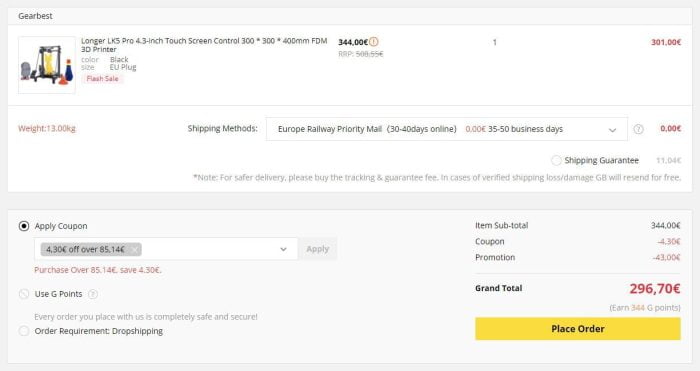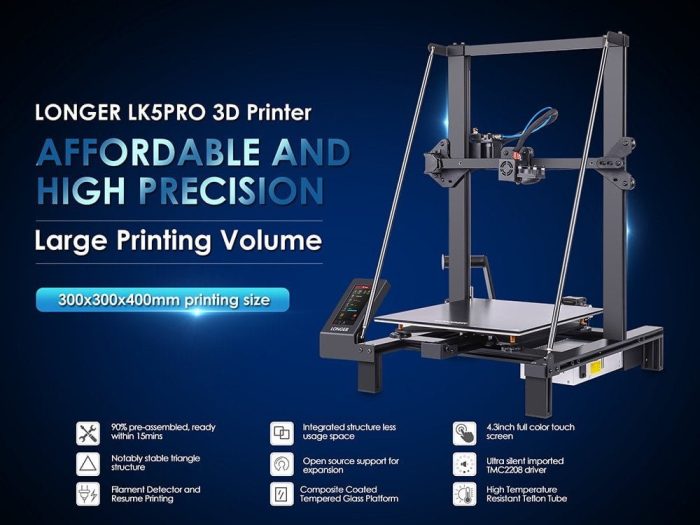 The Longer LK5 Pro is an FDM 3D printer with a Bowden extruder and a particularly large 300 x 300 x 400 mm print volume. The structure of the stable aluminum structure is largely based on the Longer LK4 Pro, which scores well in many test reports. The triangle stabilization of the Z-axis is new. As a result, the manufacturer hopes for fewer vibrations and a resulting, better print result. A test of the Longer LK5 Pro will have to show whether the stabilization actually removes vibrations.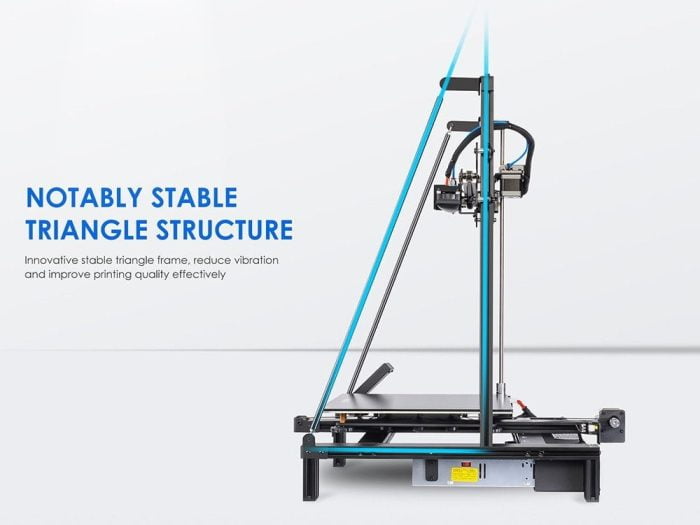 On the software side, the 3D printer is based on the open source firmware "Marlin". This is considered to be particularly user-friendly and allows profound modifications. A possible modification would be to retrofit an auto-level sensor, for example. The Longer LK5 Pro lacks one. If printing stops unexpectedly, be it due to a power failure or a missing filament (filament detection available!), Then printing can be continued from the point where it was interrupted.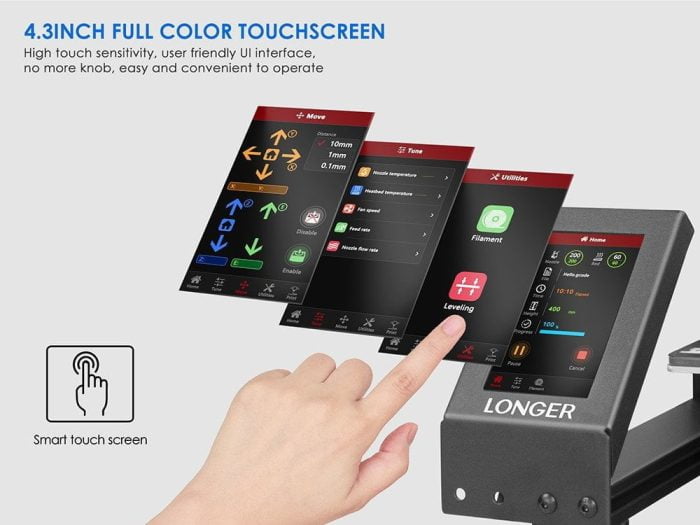 TMC2208 steppers, which can interpolate up to 256 microsteps, ensure pleasantly quiet printing. The heated print bed has a carborundum coating so that the print adheres particularly well. The Longer LK5 Pro is operated via a 4.3 inch color display with touchscreen. Print files can be transferred to the printer via USB or microSD memory card.
Specifications
data
Brand: Longer
Model: LK5 Pro
Type: FDM
Nozzle: Single
Nozzle diameter: 0,4mm
Nozzle temperature: up to 250 degrees
Print area: 300 x 300 x 400 mm
Layer thickness: 0,05 - 0,3mm
Memory card: TF card
LCD screen: Yes, 4.3 inches
Printing speed: up to 120 mm / s
Temperature: up to 100 degrees
Accompanying material: ABS, TPU, PLA, HIPS, etc.
Material diameter: 1,75mm
Languages: English
File format: G-code, OBJ, STL
Voltage range: 110-220V
Dimensions
Weight: 11 kg
Size: -
Longer LK5 Pro reviews
video Reviews
There are currently no reviews for the Longer LK5 Pro!
User Reviews
Longer LK5 Pro price comparison