JYU Hornet 2 - Modular Camera Drone
The Chinese drone manufacturer "JYU" has released with the "JYU Hornet 2" a revised successor of the 2016 released "JYU Hornet S". The modular structure was retained, which is why the Hornet 2 can also be used as a camera drone, FPV drone and as a conventional quadrocopter.
Overview
Drone
Size: 23.30 x 23.30 x 17.20 cm
Weight: 800g (with battery)
Ascent rate: up to 4 m / s
Rate of descent: up to 2 m / s
Airspeed: up to 10 m / s
Altitude: up to 4000 m
Flight time: up to 28 minutes
Sensors: GPS / GLONASS
Radio Transmitter
Frequency: 2.400 - 2.483 Ghz and 5.725 - 5.825 GHz
Transmission range: FCC 2km - CE 800m
radiant power
2.400 - 2.483 GHz
26 dBm (FCC); 17 dBm (CE)
5.725 - 5.825 GHz
28 dBm (FCC); 14 dBm (CE)
Battery: 2200 mAh LiPo
Operating voltage: 0.5A @3.7V
battery performance
Battery type: LiPo 4S
Capacity: 3600 mAh
Voltage: 14.8V
Energy: 54Wh
Weight: 190g
FPV version
Sensor: 8 Megapixel
FOV: 125 °
ISO: 50 - 800
Resolution
1080P @ 30FPS
720P @ 60FPS
4K standard
Sensor: 16 Megapixel
FOV: 112 °
ISO: 50 - 800
Resolution
4K @ 25FPS
2.7K @ 30FPS
1080P @ 60FPS
720K @ 120FPS
4K Pro
Sensor: 12 Megapixel
FOV: 110 °
ISO: 400 - 1600
Resolution
4K @ 30fps
1080P @ 120fps
720P @ 240fps
Gimbal
Stabilization: 3 axes
Inclination: -90 ° to + 20 °
Accuracy: +/- 0.05 °
JYU Hornet 2
"JYU" is a comparatively young company that made 2016 a hit for the first time. The same 2016 released JYU Hornet S. was the first drone of the manufacturer with modular construction. The drone can be used for aerial photography, as an FPV drone and as a conventional quadrocopter. Although the Hornet S pursued an interesting concept, it has found little appeal on the ever-growing drone market. With the JYU Hornet 2, JYU launches a new startup and once again releases a modular drone called the Standard version, as FPV version, 4K gimbal version and 4K Pro-Gimbal version Has been published.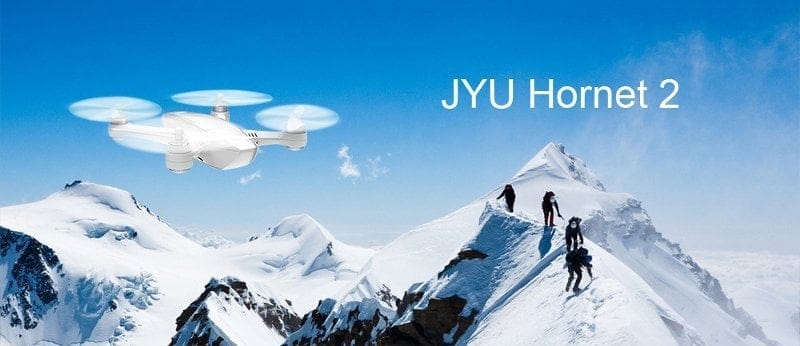 Hornet 2 Standard Version
First, let's take a look Standard model of the Hornet 2 which already available from about 230 € is. This version includes no cameraso that a pure visual flight is possible. The hull of the drone, however, is removable, so that the camera modules can be attached later. The different modules are available individually.
The basic model of the Hornet 2 measures 23.30 x 23.30 x 17.20 cm and includes including battery Weight of 800g on the scales. The maximum take-off weight is 1.800g. The maximal altitude indicates JYU with theoretical 4000 meters, where the 2.4 GHz and 5.8 GHz Radio range The remote control is located at 2.000 (FCC) or 800 meters (CE). All models are with one GPS / GLONASS Module, which allows the drone to fly flight points independently and can be landed at the touch of a button. An optical vision system, as known from DJI drones, does not own the JYU drone. The forward-looking airspeed is a maximum of 10 m / s and is thus well below one DJI Mavic Pro (18 m / s) and even under one DJI Spark (13 m / s). Also the climbing speed and the rate of descent with 4 m / s or 2 m / s are comparatively low. The capacity of the 4S LiPo is 3.600 mAh. The one possible with a battery charge flight time is a maximum of 28 minutes.
Hornet 2 FPV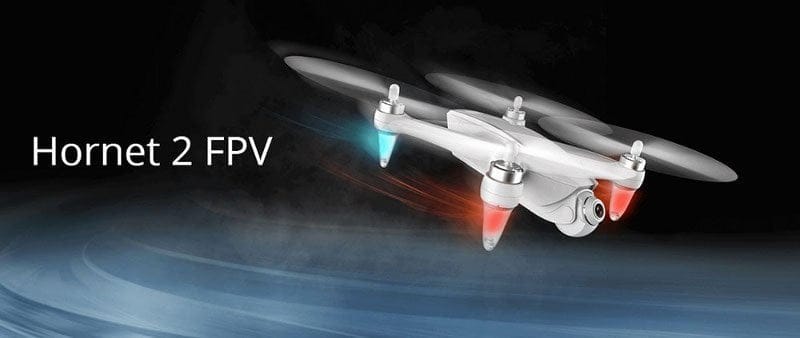 The FPV version (first-person view) is for recreational pilots who want to follow the drone flight with a live image. The Hornet 2 FPV is for this with a 8 megapixel camera which transmits the video signal in 1080p at 30 pictures-per-second and in 720p at 60 pictures-per-second. By the 150 ° wide-angle lens a very comprehensive picture can be transmitted. In addition, the camera can tilt 118 °. The video signal is transmitted via 5.8 GHz. The transmission range is 500 meters. To receive the delivery includes one 5 inch monitorsplitting into 800 x 480 pixels. Alternatively, it is also possible to transmit the video signal of the Hornet 2 FPV to FPV glasses. Priced, the Hornet 2 FPV is about 340 €.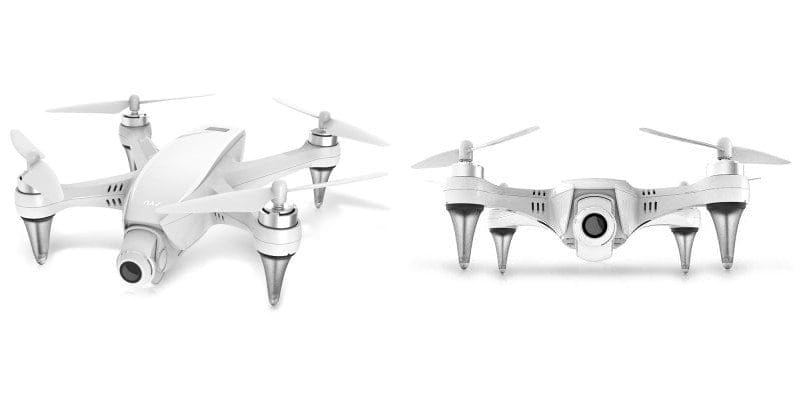 Hornet 2 Aerial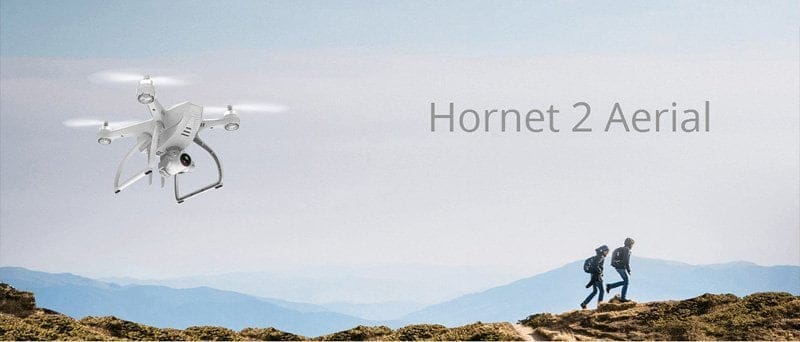 The JYU Hornet 2 Aerial is divided into two variants. Both versions have one 3 axes gimbal together, which should provide for stabilized image and video recordings. In addition, the gimbal can be rotated by 110 °. There are differences in the camera equipment. Both cameras are capable Videos in 4K take. The Pro model uses one 12 megapixel image sensor with 100 ° wide angle and achieves up to 30 images-per-second at 4K resolution and up to 120 images-per-second at 1080p resolution. The normal model puts on one instead 16 megapixel image sensor with 112 ° wide angle and achieves 4 images-per-second or 25 images-per-second at 60p at 1080p at XNUMXK resolution. Recordings can be saved directly to an SD memory card and sent to a smartphone via WiFi Live JYU app be transmitted. The recording format is MP4 or JPG. In terms of price, the 4K standard model is around 395 €. The 4K Pro version is available from 519 €.
Product page of the manufacturer: en.jyu.com