JJRC H31 Drone - Waterproof Quadrocopter
The JJRC H31 is a sleek drone that as "Waterproof Drone" is advertised and thus protected not only from splashing, but also from temporary submersion. If you want, the JJRC H31 can even land in the water and start out of the water. At a Price from about 30 € In addition to the drone, you also get a comprehensive set of accessories, including a remote control, replacement propellers, a matching propeller protection and the battery. If you want to know what else the drone can do, you should read on now.
JJRC H31 - Waterproof Drone



Really waterproof?
Waterproof drones usually move in a much higher price range, which already comes from a separate design. The fact that the JJRC H31 should actually be protected from submersion is therefore more than unlikely at first sight. However, there are already several test reports and videos on the net showing that the JJRC H31 quadrocopter also survives a submersion lasting several minutes and remains fully airworthy. The board located in the drone case is doing with a thick layer of glue overdrawn. However, the engines are exposed, which also have no special water protection.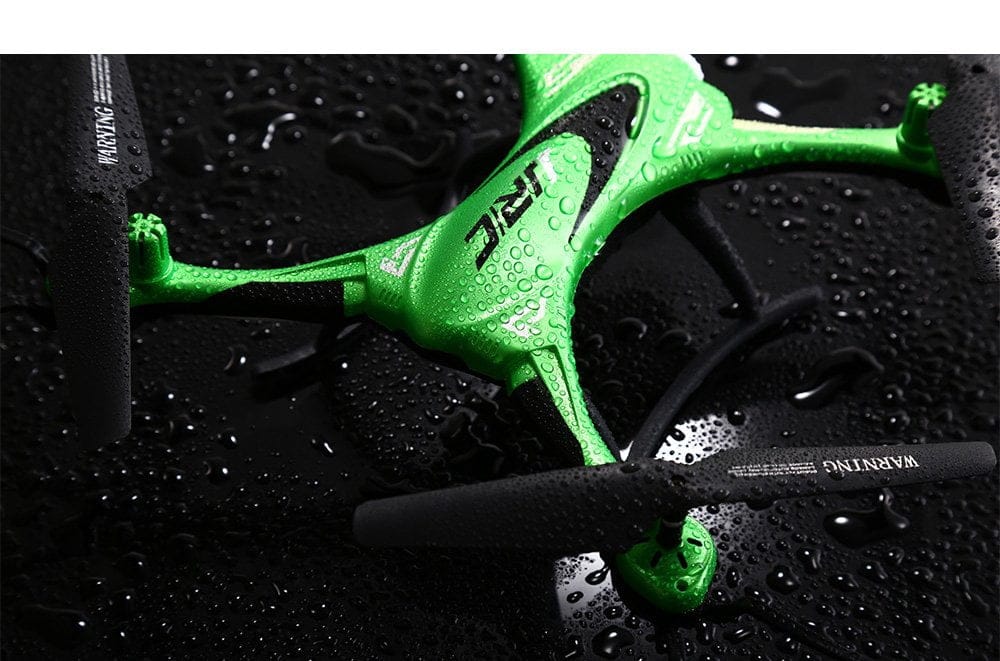 Type and flight modes
At a Weight of just 73g is the 29 29 x x 9cm large JJRC H31 drone extremely light and even allows to carry an additional camera. On the bottom of the housing are several green and red glowing LEDs, whereby the respective flight direction remains recognizable and the Quadrocopter gives off a good figure also at night. The maximal Flight range is with 70-80 meters specified and is completely sufficient for beginners. over three different flight modes The maximum speed of the quadrocopter can be regulated. Here are beginners (50% and 75%) but also experienced flyers (100% performance) best at their expense. There is also one "Headless Mode" (The orientation of the drone does not matter), one "Return to Home" Function and one "3D Flip Mode", Calibration is carried out via the included remote control.
Battery and flight time
The capacity of the battery comes with 400mAh specify. This gives the JJRC H31 drone a maximum Flight time of about 6-7 minutes, It is important to mention that the Battery compartment not protected from water is! Especially with LiPo's, which are very often used in model making, there is a fire hazard even with the smallest incorrect charge. Intentional submersion should be avoided at all costs. In various test reports, the short transmission range was also criticized and that the drone in case of a water landing does not float on the water, but goes down and thereby engines and the battery are endangered.
Price Comparison
Price too high? Use our price alarm clock!
Prices last updated on: April 5st, 2020 11:01