JIMMY JV83 Pet product details
The JIMMY JV83 Pet is the economy model of the popular cordless handheld vacuum cleaner. The difference between the Pet Edition and the normal model lies in the color and the scope of delivery. Instead of blue, the vacuum cleaner is made of copper. The scope of delivery is a bit sparse, which also justifies the lower price. The flexible extension tube, the carpet roller and the upholstery attachment are missing. All other parts are included.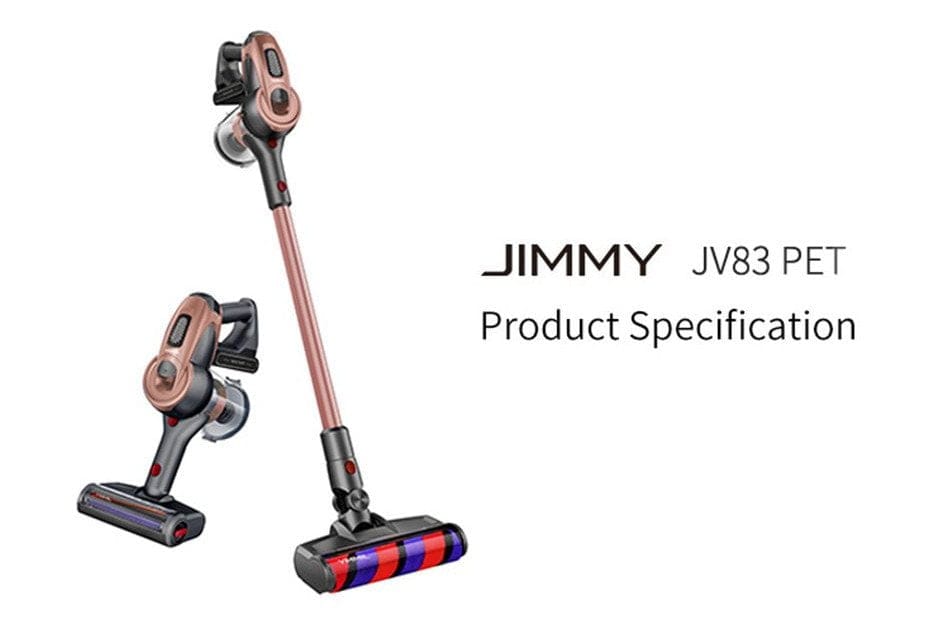 The dual cyclone motor of the JIMMY JV83 Pet works with up to 100.000 revolutions per minute and achieves a nominal output of 450 watts. This in turn corresponds to 135 air watts and a suction force of 20.000 Pa. The floor nozzles are electrically driven and thus catch the dirt even better. The clip-on system allows the attachments to be changed quickly. Soak up dirt is passed through a multi-layer filter system. A HEPA filter prevents the finest dust particles from being released into the ambient air. All filters and the 0.5 liter dust container can be cleaned under running water.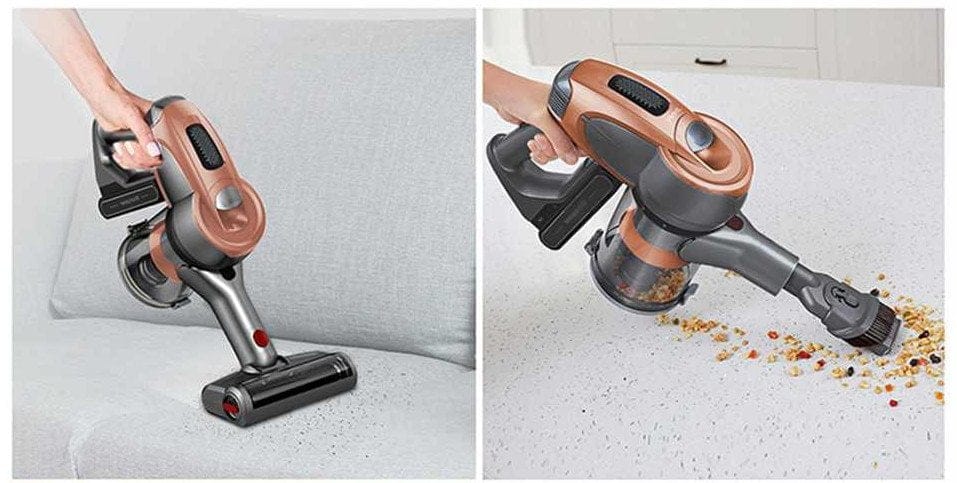 The lithium battery pack is removable and can be charged separately from the suction unit. A total of 7 cells with 2500 mAh per cell provide an output of 63 Wh. The running time varies between 9 and 60 minutes depending on the attachment and suction level (Eco, Normal and Power). The charging time is around 5 hours.
Specifications
data
Brand: JIMMY
Model: JIMMY JV83 Pet
Type: cordless handheld vacuum cleaner
Power: 450 watts (135 AW)
Revolutions: 100.000
Suction power: 20.000 Pa
Filter: HEPA
Suction container: 0.5 L
Battery: 63 Wh (7x2.5AH)
Runtime: 4-5 hours
JIMMY JV83 Pet reviews
XIAOMI LEXY JIMMY JV83 ► Test & Comparison (German) | Value for money winner?
User Reviews
JIMMY JV83 Pet
Inexpensive and good
I have been using the JIMMY for several months. The performance is top and is in no way inferior to a more expensive Dyson. There are spare parts almost everywhere. If you want to get that, you should order a second battery.
JIMMY JV83 Pet Price Comparison