Can you already see the iPad Pro for 2020 here?
In October 2019, Apple last equipped the iPad Pro, its tablet upper class, with new technology. Gradually, the rumor kitchen around the iPad boils again and now the first leaks to the iPad Pro appear. These could shake things up in the tablet industry. We have gathered the specs and leaks for you here:
It's been a long time ...
No iPad Pro in the past year. Say 2018 was completely renewed. The iPad has finally got Face-ID, a new form factor and a new display. Of course, a lot has happened under the hood. The iPad was provided with an A12X Bionic chip. In addition, Apple unexpectedly introduced the USB-C port to connect the iPad to cameras and display. Furthermore, the iPad got a 12 MP camera. The TrueDepth camera received 7MP.
… and nun finally up-to-date again!
After Apple not only launched the iPad 2019 ″ in 10,2, but also created its own operating system for the iPadOS tablet and Samsung also presented the Galaxy Tab 6 as a pioneer, Apple should soon be able to present its new top.
Apple iPad Pro Leaks
Release and prices
There are various dates in the room for the release. Some sources suspect that March 2020, others, suspect the release to mid-year, Of course, there is no confirmation or information on the iPad from Apple.
The prices for the iPad Pro are unlikely to change. The iPad Pro 11 ″ with 64 Gb storage starts at $ 799. If the storage is to grow, the price naturally also increases. The should then be $ 1549 with 1TB storage. The iPad Pro 12,9 ″ would start at $ 999 and grow to $ 2.197.
The prices for the accessories, which make the iPad the right pro for many, should also keep its prices. Thus, the Apple Pencil would be $ 129 and the Apple Smart Keyboard folio would be back at $ 169.
The cameras
The photo that showed up shows the back of the iPad, which has a triple camera installed. That would be a big step, because the current iPad Pro has only one camera on the back. More precise data about the camera has not appeared. But you can assume that the camera will be the same one that was installed in the iPhone Pro. This has a 12MP f / 1.8 camera, a 12MP f / 2.0 telephoto lens and a 12MP f / 2.4 ultra wide angle lens.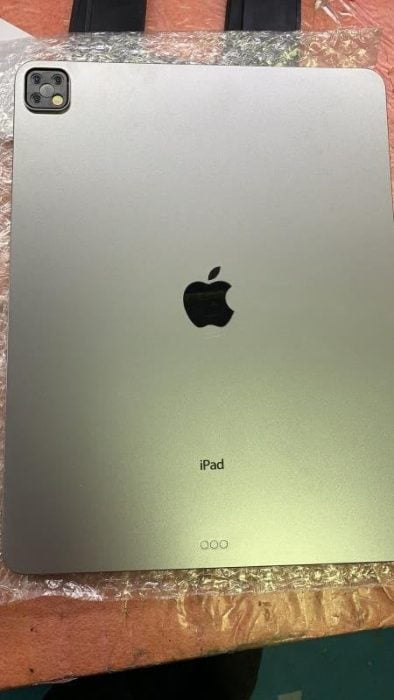 This step would be strange, because the main camera for the iPad should be of little interest. Otherwise, Apple is increasingly moving in the direction of augmented reality and that would be an important step forward.
Source: https://www.techradar.com/news/new-ipad-pro-2020-release-date-price-news-and-leaks
https://sonnydickson.com/2019/09/17/first-physical-leak-of-apples-new-ipad-pro-mockup/