ILIFE A6 Suction Robot - New Model 2017
ILIFE welcomes a new robotic vacuum cleaner in its ranks. The ILIFE A6 is a beginning 2017 published vacuum robot with strong "Gen 2 CyclonePower 3-Stage System" and "BladeAway" brush. All information about the robotic vacuum cleaner and what is actually behind the terms, you will learn in this post.
Overview
Saugparameter
Brushes: 2 side brushes
Suction power: 1000 Pa
Suction range: 150 - 200 m²
Container: 0.3 liter
Filter: HEPA
Features
Suction function: Yes
Remote control: Infrared remote control
Return function: Yes
Cleaning modes: Auto, Dot, Edges and Schedule
Accumulator
Type: Lithium-ion
Capacity: 2.600mAh
Charging time: 300 minutes
Runtime: 160 minutes
other
Sensors: Infrared, OBS, (Virtual Wall)
Size: 30.50 x 30.50 x 8.00 cm
Weight: 2.550g
ILIFE A6 suction robot

Update 01. July 2019
New ILIFE Deals: GearBest has a selection of ILIFE vacuum robots in January. Shipping is free of charge directly from the EU warehouse. The delivery time is 2-5 working days and customs and import taxes are not applicable. All deals can be found in the Deal-Box.
GearBest Flash Sale - ILIFE V5S Pro
With this GearBest offer you can buy the ILIFE V5S Pro Suction Robot with fast EU shipping for only 142 €.
GearBest Flash Sale - ILIFE V7S Plus
With this GearBest offer you can buy the ILIFE V7S Plus Suction Robot with fast EU shipping for only 159 €.
The once under the name "Chuwi ILIFE" sold vacuum robot brand, which is now marketed only under "ILIFE", grows with the ILIFE A6 to another model. Meanwhile are more than 10 models of the ILFE A and V series available, which differed mainly in detail. Exactly these small subtleties are then tried with terms such as "Gen 2 Cyclone Power3-Stage System" or "Blade Away" to make tasty.
Gen 2 Cyclone Power3-Stage System
Sounds cool at first, but what is behind it? This term means the Combination of the two side brushes and the main brush (3 Stage) as well as the vacuum cleaner motor, A special technology is not hidden behind it. Mainly a stronger engine was installed, which in contrast to the other models a Suction power of 1.000 Pa reached.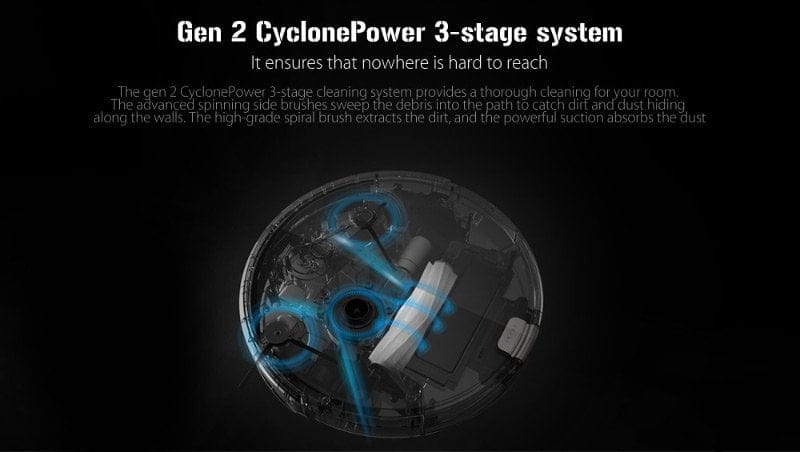 BladeAway rubber brush
The so-called BladeAway brush of the ILIFE A6 understands itself rather as an innovation. In contrast to the previously used round brush with plastic bristles, this model uses for the first time a Round brush with rubber blades, similar to the products of iRobot. The advantage of such a rubber roller is that dirt and caught hair are easier to remove. In addition, it has already been shown in other vacuum robots with rubber brush that dust is absorbed more efficiently in particular.
Invisible wall, floor roll and volume
With the ILIFE X5 the manufacturer also has the "Invisible wall" introduced. This can be used to cut off an area that the robotic vacuum cleaner does not overrun during its cleaning tour. One unit is included as an accessory in the delivery. A rather inconspicuous innovation is the small one bottom rollerwhich is located opposite the tax role. According to ILIFE, this means even better traction and smaller obstacles such as carpet edges can be better traveled. The removable dust chamber of the ILIFE A6 has one Capacity of 0.3 liter, The two integrated HEPA-Filter are interchangeable. There is no wet wipe function.

Design, control and battery
The Dimensions of the vacuum robot indicates ILIFE 30.50 x 30.50 x 8.00 cm at. The Weight is 2.550 g, The special, optical touch provides the glass top with illuminated power button. The A6 can be controlled via a Remote Control, which is also included. Control via app is not supported. The remote control can be used to start various cleaning modes, which run from structured to arbitrary. An intelligent room recognition similar to the Xiaomi suction robot there is not any! Only the sensors for detecting obstacles and heels are present. The battery of the ILIFE A6 has a capacity of 2.600 mAh. The possible running time is 160 minutes. When the battery charge is used up, the vacuum robot automatically finds its way back to the charging station.
Price Comparison
Price too high? Use our price alarm clock!
Prices last updated on: 10. July 2020 00: 09