Overview
Model
Icefox - Waterproof Wi-Fi Action Camera
Specifications
* Model: Icefox Wi-Fi Action Camera
* Material: plastic, aluminum alloy
* Waterproof: up to 30 meters
* Languages: English, French, Spanish, German, Italian, simple Chinese, Traditional Chinese, Russian, Japanese
* Power: 4.2V 450mA
* Battery type: Li-on battery
* Battery capacity: 900mAh rechargeable
* Charging time: Approx. 3 hours
* Aune Duration: 1080 p approximately 90 minutes
* Size: 61mm x 42.4mm x 25mm
* Weight: 74 g (with battery), 58 g (without battery)
What's in the box
* The Icefox Cam with battery
* A waterproof case (up to 30m)
* Various brackets (belt, helmet, bike steering wheel, adhesive pads, ribbons)
* USB data or charging cable, power adapter with EU plug, UK adapter
Overview
The Icefox Cam uses an 14 megapixel CMOS sensor and an 170 ° wide-angle lens. Videos can be captured at a resolution of 1080p and 30 pictures-per-second, as well as 720p and 60 or 30 pictures-per-second. WVGA and VGA are also adjustable. The recording format is MOV, H.264 is used as the codec. Images shoot the camera, according to the product description, with up to 8 megapixels. In the user interface, however, you can adjust to 12 megapixels. The display used an 2 "TFT LCD.
Capture / Footage with the Icefox WiFi Action Cam indoors with 1080p @ 30fps
The camera also has a microphone and a WLAN module integrated. The battery of the camera is removable and has a capacity of 900mAh.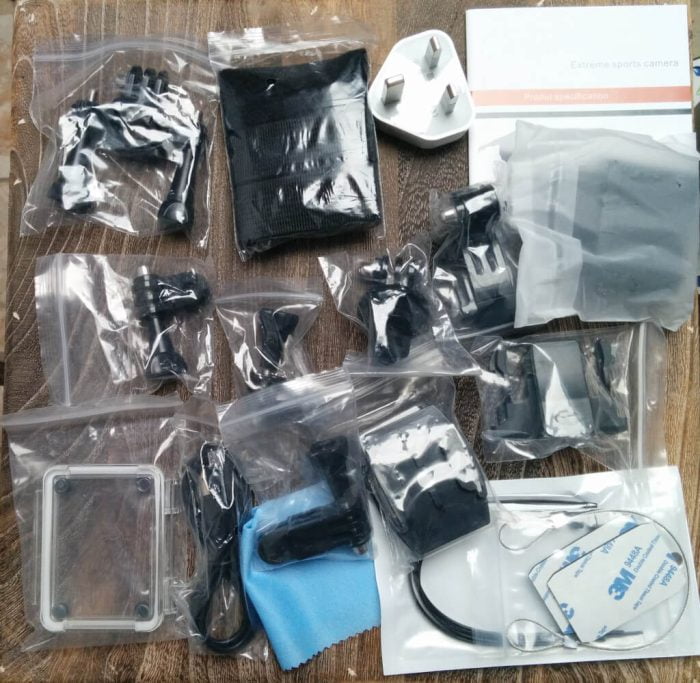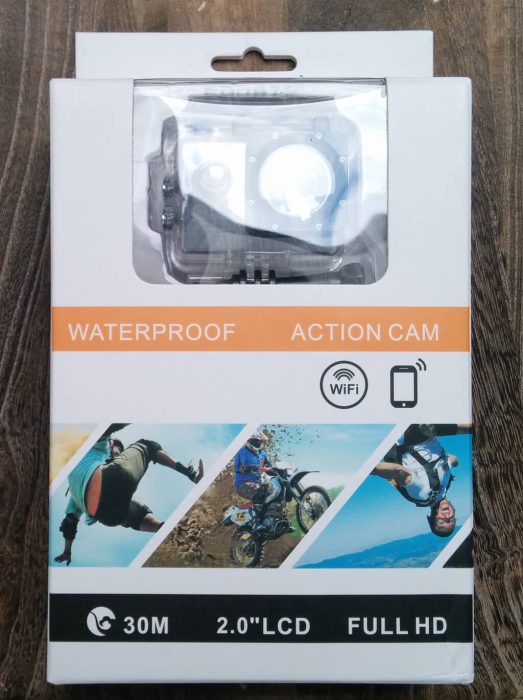 commissioning
For commissioning, an additional micro SD card is required. It is important to note that the camera only supports cards up to 32GB.
The camera can be operated via the integrated function buttons as well as via WLAN. To connect the camera with your smartphone or tablet you have to activate the WLAN of the camera. The camera then builds its own Wi-Fi network, to which one can connect via Wi-Fi. With an additional app, the camera can then be controlled. You can also make adjustments to the image quality, as well as show a live image. You can also switch between video and picture mode and also watch recordings directly on the receiver and share them on social media.
Within the user interface of the camera you have numerous settings. Among other things, you can change the resolution and image quality, change the camera's shooting mode (Burst mode, Timelapse mode), or activate a car mode. Here is a quick overview of what settings the cam offers:
Resolution | TV Out | OSD Mode | Timelapse | Recording mode | Cycle recording | HDR | Movement Detection | Date display | Resolution (pictures) | Quality | Audio | Sharpness | White Balance | Color | ISO | Exposure | Stabilization | Language | Date / Time | Car off | Acoustic signal | TV mode | Screensaver | Frequency | Turn 180 ° | Car Fashion | WiFi SSID | WiFi Password | License number set | Delete Format | Default Settings | version
Incidentally, the camera is recognized as 96655 SJ7000. The number 96655 suggests a current Novatek chipset, which is also used in the SJ5000.