Huawei Mate X - foldable smartphone with 5G
Huawei unveiled the Huawei Mate X at Mobile World Congress (MWC) 2019. The handheld surprises with its foldable design, fast 5G mobile communications and a new 55 Watt fast charging standard. You can find all information in the following article.
Huawei Mate X
Foldable OLED display
Not only has Samsung ventured to a smartphone tablet hybrids, but Huawei has also completely unveiled a foldable handheld. The Huawei Mate X has one flexible OLED display with mechanical wing joint. When folded, the Mate X already comes on a front-side diagonal of rich 6.6 inches (2.480 x 1.148 pixels). At the back, the handheld is still 6.38 inches (2.480 x 892 pixels). For the slightly smaller diagonal, the frame is responsible.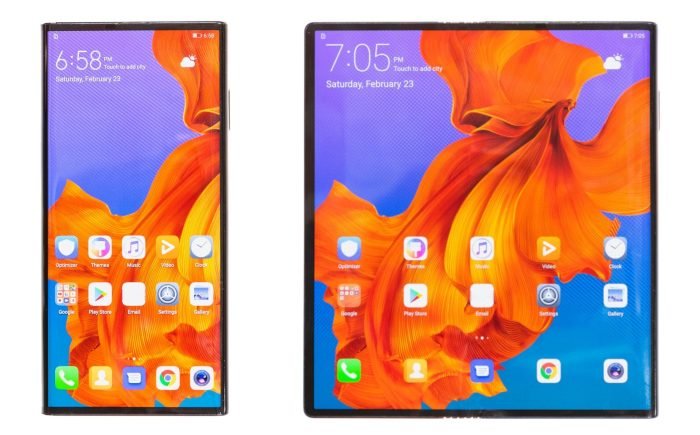 Unfolded unfolds the mobile device to a 8 inch tablet. The resolution is up to 2.480 x 2.200 pixels, with an aspect ratio 8: 7.1, which makes the unfolded Mate X literally square. So that the display is really flat, Huawei has the so-called Falcon Wing joint developed. When unfolded, the joint snaps in and provides more stability. For the durability of the kink Huawei has made no information so far. According to first experiences, minor bumps in the folding do not remain, which affects the presentation slightly! When unfolded, the Mate X is only 5,4 mm thick. When folded, the handheld grows to a whopping 11 mm.
Triple Camera
The Mate X is with 3 cameras (Leica) fitted. More about the sensor and aperture is not yet known. On a front camera is waived. However, this is not needed, because the dual-display, the main camera can be used for both conventional shots, as well as for selfies. When folded, the Mate X shows a viewfinder on both sides, so the subjects can contribute to the photo shoot as well.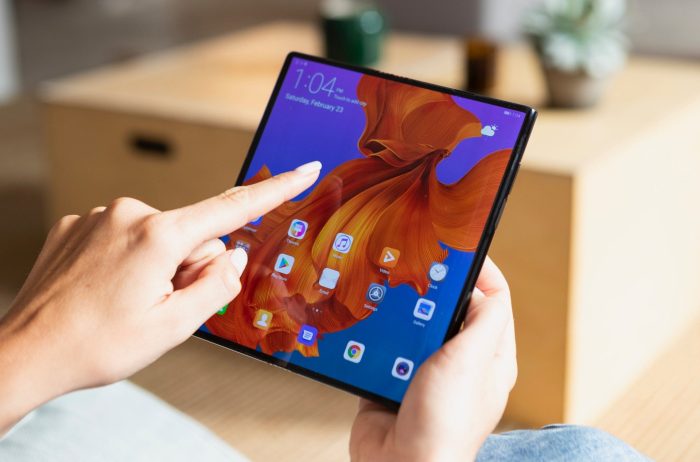 5G mobile and others
Not only fast in design, but also fast on the way. The system-on-chip used is the powerful one Kirin 980, This is what Huawei is doing Balong 5000 5G modem to the side, which also comes from own development. According to Huawei, this modem is even twice as fast as the competition from Samsung and Qualcomm. About a smarter Fingerprint Power Button The handheld can be switched on innovatively in the joint.
The battery comes to a capacity of 4500 mAh. A new Quick charging Standard invites the smartphone tablet hybrids up to 55 Watt on. After only 30 minutes on the new SuperCharger, the battery should be charged at 85%. A AI energy saving technology in turn ensures a long-lasting battery life.
Price and availability
The Huawei Mate X should appear in the middle of 2019. The price should be 2.300 €!