Huawei Mate 20 Pro & Mate 20 - All information about your smartphone
At a launch event in London, HUAWEI introduced the new HUAWEI Mate 20 series. The new models not only set new standards in artificial intelligence, but are also equipped with improved Leica Triple camera. All information about the two models can be found in the post!
Overview
Huawei Mate 20 & Mate 20 Pro
Processor and memory
CPU: Huawei Kirin 980
GPU: Mali-G76 GPU
RAM: 6GB / 8GB (4GB / 6GB)
Internal memory: 128GB / 256GB (128GB)
Memory extension: Yes
Display
Type: OLED (IPS)
Diagonal: 6,39 inches (6,53 inches)
Resolution: 3.120 x 1.440 pixels (2.244 x 1.080 pixels)
Color space: DCI-P3
cameras
Mate 20 Pro
* Main camera: 40 MP f / 1.8 (color) + 20 MP f2.2 (color) + 8 MP f2.4 (color)
* Front camera: 24 MP (color), aperture f / 2.0
Mate 20
* Main camera: 12 MP f / 1.8 (color) + 16 MP f2.2 (color) + 8 MP f2.4 (color)
* Front camera: 24 MP (color), aperture f / 2.0
Network
Dual SIM: Yes
SIM size: Nano SIM
LTE: Cat21
wireless
WiFi: 802.11 a / b / g / n / ac MU-MIMO
Bluetooth: 5.0
GPS: Yes
sensors
* Gravity sensor
* Ambient light sensor
* Proximity Sensor
*Gyroscope
*Compass
* Fingerprint Sensor
* Room sensor
* Laser sensor
* Infrared sensor
* Color temperature sensor
* NFC
Accumulator
Battery: 4.200 mAh (4.000 mAh)
Quick Charge Function: Huawei SuperCharge 40W (22.5W)
Qi Store: Yes, 15W (Pro only)
Connection: USB-C
other
Operating system: EMUI 9.0
Size: 72.3 x 157.8 x 8.6 mm (77.2 x 158.2 x 8.3 mm)
Weight: 189g (188g)
Huawei Mate 20 Series
With the Huawei Mate 20 and the Huawei Mate 20 Pro The Chinese smartphone manufacturer has introduced two new models of the innovative series. Based on the new Kirin 980 System-on-Chip, which was first produced in the 7nm process, as well as the powerful on-device AI, both smartphones offer a unique user experience. It continues to innovate with the revolutionary Dual NPU, a new Leica Triple camera and the Huawei SuperCharge technology, a fast charging function that charges up to 40 Watts.

Brilliant design and OLED display
The Huawei Mate 20 series comes in a sleek housing. Both devices are available in different colors. In the colours Emerald Green and Midnight Blue is the back with "Hyper Optical Pattern" structured, whereby the smartphone should be more comfortable in the hand. The back camera is arranged in a two-by-two matrix and surrounded by a polished metal frame. The new 6.39 inch OLED display the Mate 20 Pro (resolution: 3.120 x 1.440 pixels) as well as the 6.53 inch IPS display The Mate 20 (resolution: 2.244 x 1.080 pixels) shows colors with excellent contrast and high brightness.
Fast on the road with the Kirin 980 SoC
The Kirin 980 is the new Huawei Mate 20 Series system-on-chip. The SoC produced in the 7nm process comes on 10x more transistors compared to a conventional 1.6nm SoC. The unique three-stage architecture divides the SoC into two ultrafast and two highly efficient Cortex-A76 cores, as well as four Cortex A55 cores, The Cortex-A76 cores are up to 75 percent more efficient and 58 percent more efficient than their predecessors. The Mali-G46 GPU delivers up to 76 percent of graphics performance and higher efficiency. The new Dual NPU of the SoC is responsible for the AI ​​tasks of the smartphone. Other hardware features are the support of Cat21 LTE, dual-AC WiFi (802.11ac) and Bluetooth 5.0.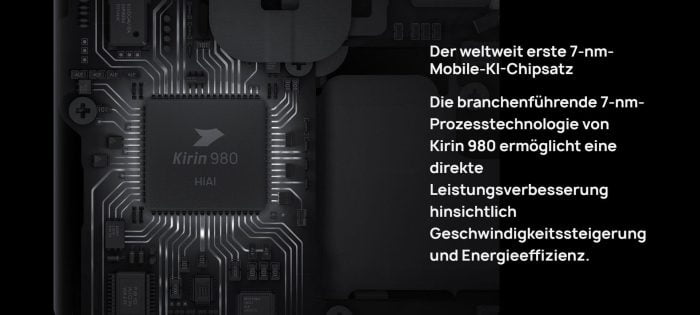 Both the Huawei Mate 20 Pro and the Huawei Mate 20 come with one 128 GB (256GB) large data store fitted. Through the newly introduced Nano memory card format The size of a Nano-SIM card can be expanded by up to 256 GB. The random access memory comes with a size of 6GB / 8GB (Pro) or 4GB / 6GB therefore.
Leica Triple Camera for even better shots
Huawei has a new Mate 20 series Leica Triple Camera missed with ultra-wide-angle lens. The triple camera is in the case of the Mate 20 Pro from a 40 megapixel RGB sensor with wide-angle lens (Aperture f / 1.8), one 20 megapixel sensor with ultra wide-angle lens (Aperture f / 2.2) and one 8 megapixel sensor with telephoto lens (Aperture f / 2.4) together. The front camera resolves with 24 megapixels. The sensors of the Mate 20 amounts to a 12 + 16 + 8 megapixel triple camera. Ultra wide-angle shots and macro shots with crisp details at just 2,5cm distance are no problem.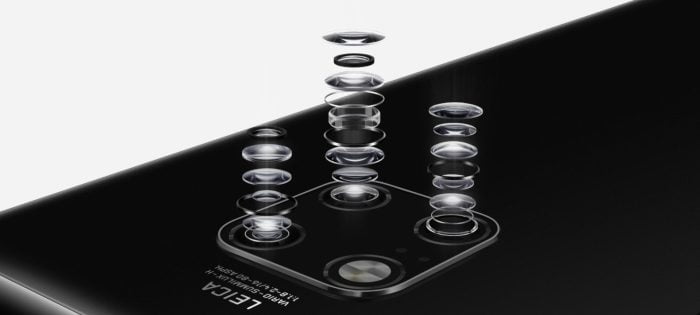 New possibilities are provided by the AI ​​camera functions. The AI Cinema Mode improves the hue, saturation and brightness of video clips. Different modes (vintage, fresh, tension and blurred background) can be easily put over the recording. Selective desaturation highlights the foreground color and fades the background. The AI Spotlight mode analyzes videos and trims them to a 10-second highlight clip.
Videos can be natively in 21: 9 aspect ratio which allows for a much broader and more comprehensive perspective. Both models are "YouTube Signature Devices" certified and support the playback of HDR recordings.
EMUI 9.0 and more security
The smartphones are running the new Android operating system EMUI 9.0, which is on Android Pie based. The new user interface is much clearer and offers many useful functions. HiVision complements the camera app, identifies sights or other objects and provides the user with appropriate information. HiTouch detects products and automatically displays the matching online shopping offers.
usage statistics of the device can be tracked with the Digital Balance function. So the user can understand exactly how long he has used the smartphone or an app. The function Easy Projection 2.0 allows wireless connection with a monitor. As a result, the smartphone can be easily used as a PC replacement with optimized operating surface.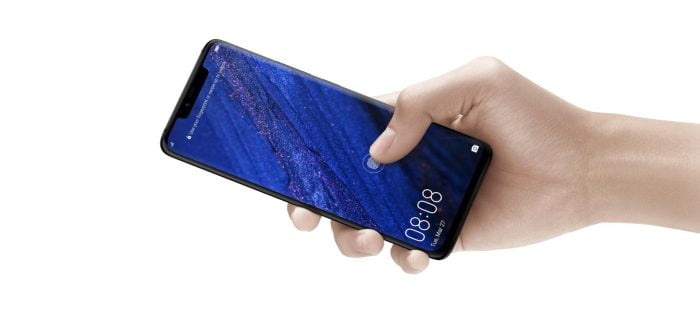 For those who value security, the Mate 20 Pro offers a Display integrated fingerprint sensor as well as one 3D Face Unlock, The latter detects a user within 600 ms, with an error rate of less than one in a million. The Mate 20 in turn is equipped with a classic fingerprint scanner on the back and a conventional Face Unlock. Both devices can also be protected with ordinary unlocking methods such as pattern or PIN.
Super fast charging
The Huawei Mate 20 Pro offers a 4.200 mAh battery. The Huawei SuperCharge technology loads the smartphone up to 40 watts in just 30 minutes to 70 percent up. In addition to wired shop is also Qi charging possible with up to 15 Watt. In just 30 minutes, the battery can be charged up to 30 percent.

Thanks Reverse Charge The smartphone can be converted into a power bank to provide other devices with wireless power. The battery of the Huawei Mate 20 is a bit more compact with 4.000 mAh. The SuperCharge function of the Mate 20 comes to a performance of 22,5 watts.
Price and availability
Mate 20 Pro kostet 849€. Das Mate 20 is available for the price of 799€, From the 16. to 25. In October, pre-orderers will receive an Amazon Echo Plus worth 20 € for free when they purchase the Mate 149,99. Pre-orderers of the Mate 20 Pro will receive an Amazon Echo Show worth 229,99 € for free. The exception is the Mate 20 Pro in the color Emerald Green. Both models are available from the end of October.
All further information and conditions under: https://consumer.huawei.com/de/promotions
Product page Mate 20 Pro: https://consumer.huawei.com/de/phones/mate20-pro/
Product page Mate 20: https://consumer.huawei.com/de/phones/mate20/