Huami Amazfit Arc A1603 Smartband - Fitness Bracelet
The Arc A1603 Smartband Amazift is a fitness bracelet created in collaboration between Xiaomi and the wearable manufacturer Huami. Among other things, Huami produces the popular Mi band for the Chinese electronics giant Xiaomi, which is why the Amazfit smartband could certainly be interesting. All information about the fitness bracelet we collected in this post.
Overview
Display
Display: OLED
Display diagonal: 0.42 inches
Touchscreen: Yes
memory
RAM: 128kB
Internal memory: 8MB
Accumulator
Battery capacity: 70 mAh
Battery life: ~ 20 days (standby until 60 days)
Battery charge duration: ~ 3 hours
other
Bluetooth: 4.0 BLE
GPS: No.
Pedometer: Yes
Heart Rate Monitor: Yes
Sleep Monitor: Yes
Notifications: Yes
Huami Amazfit Arc
The designation of the Amazfit A1603 Arc Fitness Wristband as Xiaomi product is not completely accurate. Although the wearable is often with the Xiaomi Addition advertised, the electronics giant is only a known Investor of the company Huami, Huami sells his products under the name Amazfit and could at the latest with the Amazfit Pace Smartwatch make a name. By the way - the Amazfit A1603 fitness bracelet is not a new product! Already since November 2016 the Wearable is distributed over Amazon USA.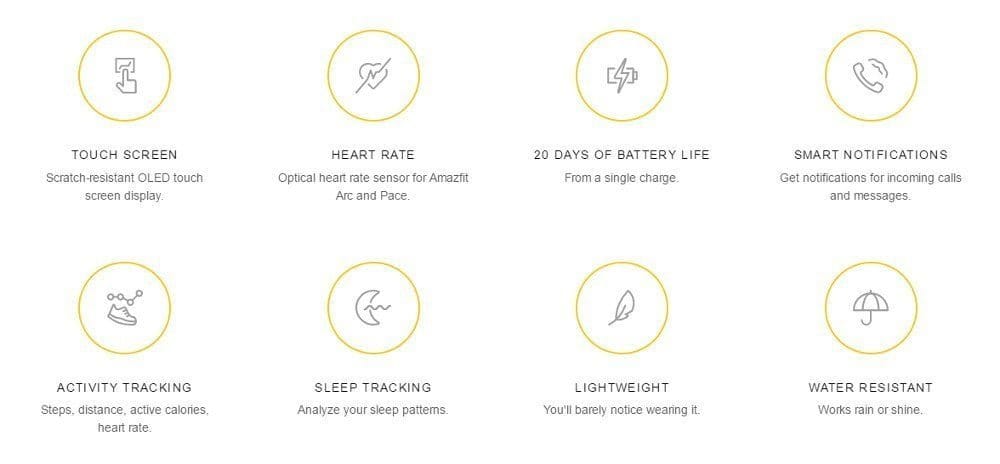 Waterproof and with OLED
Visually, the fitness bracelet reminds one Mix of Fitbit Alta and Xiaomi Mi Band 2. Das Bracelet Closes over a pin buckle, is made of silicone and is only available in the color black. The tracking unit can not be disconnected from the wristband, so replacement of the wristband is not possible in the event of a defect. The OLED display has a diagonal of 0.42 inches and is equipped with a touch screen. The color representation is limited to black and white. After Degree of protection IP67 The wearable is protected from dust and temporary submersion. Showers and dishwashers will not harm the fitness tracker, but you should not swim with them.
Large selection of fitness watches
Tracker, heart rate monitor and battery
The Amazfit Arc fitness bracelet is similar to the Xiaomi Mi Band 2 fitted. An integrated Pedometer counts the daily steps and calculates the distance covered and the calories burned. A GPS module for position determination is not available. About an optical Heart Rate Monitor The current heart rate can be determined. It should be noted that optical heart rate monitors, which measure the heart rate by means of an LED and photodiode, do not yield 100% results. The collected data is conveniently synchronized via Bluetooth with your smartphone or tablet. For graphical representation, there are the Amazfit Activity Tracker App, which also have far-reaching functions, such as a sleep monitor and notification features offers. Of the Accumulator The Amazfit Arc smartband has a capacity of 70 mAh and should reach, according to Huami, a running time of 20 days. The manufacturer specifies the charging time with 3 hours.
Price Comparison
Price too high? Use our price alarm clock!
Prices last updated on: April 5st, 2020 08:00