Update 05. January 2022
The HONOR Magic V is in the starting blocks! The smartphone will be presented in China on January 10th. But not only HONOR China is ready for the first HONOR foldable, the German HONOR press representatives have also invited to follow the event in a live stream.
This is a clear indication that the smartphone is also being released in this country. If and when you were not allowed to answer questions.
Honor Magic V Official Trailer
In the last few days, HONOR has revealed a little more about the design of the HONOR Magic V. A trailer already shows the folding mechanism of the smartphone and that there is also a display on the outside.
HONOR Magic V with Snapdragon 8 Gen 1?
The year 2022 will be the year of the foldables! Hardly any smartphone manufacturer misses the trend and wants to bring the best foldable onto the market without annoying creases. HONOR has also announced a foldable smartphone for 2022. Teased as "HONOR's First Foldable Flaghsip", we can look forward to a device with flagship equipment.
HONOR has not yet officially commented on the features, but the Weibo blogger @ 长安 数码 君 has announced that the smartphone will be equipped with the new Qualcomm Snapdragon 8 Gen 1. He refers to a photo that is supposed to show a confidential presentation slide for the HONOR Magic V.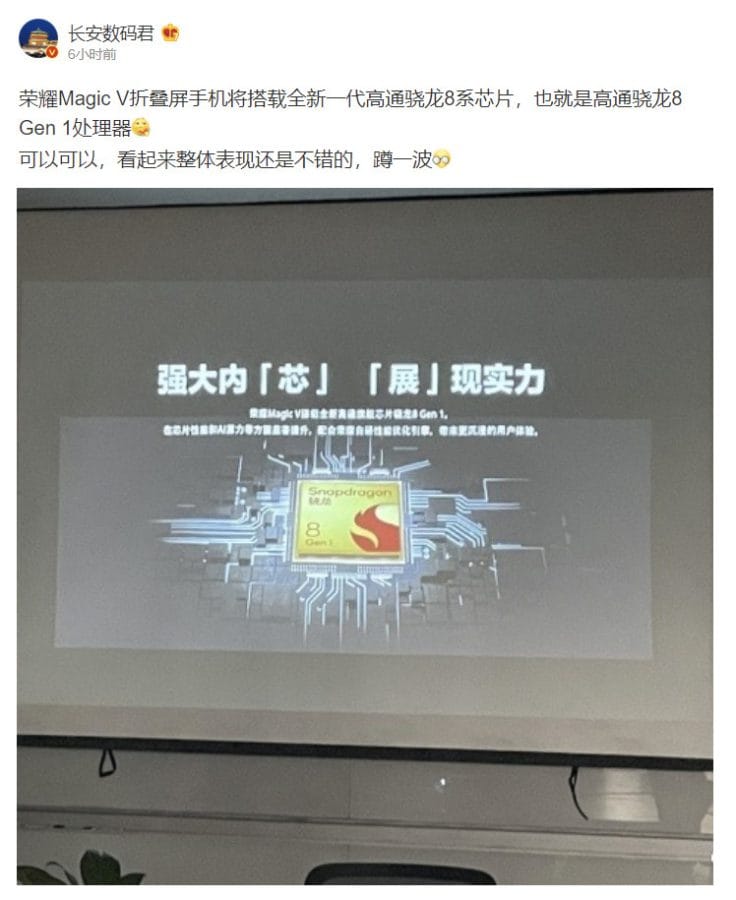 Another rumor reveals the first details about the display. As the teaser shows, the smartphone is folded in half. The inner display should have a diagonal of 8 inches and use a panel from BOE Technology. There should also be an external display that has a 6,5 inch diagonal.
Is it coming to Europe?
It is not yet known whether and when the smartphone will come to Europe. HONOR Germany has been keeping a low profile so far. Other European HONOR agencies are a little more open. HONOR France and HONOR UK have published the teaser for the HONOR Magic V on their social channels. We'll probably find out more about the HONOR Magic V in early 2022. A publication in the 1st quarter of 2022 is quite realistic.
Source: