Review
Honor 9X Pro Review - The phone without Google!
We tested the technically promising Honor 9X Pro! At the same time, it is also the first Honor smartphone to completely do without Google Apps and Google Play services. Instead, there is the Huawei App Gallery and other app creations from Huawei.
In this test you will find out whether we can make a recommendation for the Honor 9X Pro despite all of this.
Overview
Processor and memory
CPU: HiSilicon Kirin 810
GPU: Mali G52
RAM: 6GB / 8GB (LPDDR4x)
Internal memory: 128GB / 256GB (UFS2.1)
Memory expansion: yes (hybrid)
Display
Display diagonal: 6.59 inches
Display resolution: 2340 x 1080 pixels
Display type: LTPS IPS
Screen Protector: Unknown
Multitouch: 10 fingers
cameras
Main camera: 48 MP Sony IMX 582 (f / 1.8 aperture)
Ultra wide angle: 8 MP (f / 2.4 aperture)
Depth sensor: 2 MP (f / 2.4)
* AI mode
* PDAF (autofocus)
* LED flash
Front camera: 16 MP (f / 2.2 aperture)
Mesh
Dual SIM: Yes
SIM size: Nano SIM
eSIM: No.
GSM: B2 / B3 / B5 / B8
WCDMA: B1 / B4 / B5 / B8
LTE FDD: B1/B3/B8/B20/B28
LTE TDD: B38 / B40 / B41
wireless
WiFi: 802.11 a / b / g / n / ac
Bluetooth: 4.2
GPS: Yes
sensors
* Ambient light sensor
* Accelerometer
* Proximity Sensor
* Hall sensor
* E-Compass
*Gyroscope
* Fingerprint Sensor
* NFC
Accumulator
Battery: 4.00 mAh
Quick charge function: No (10 watts)
Qi store: no
other
Operating system: Android 9 (EMUI 9)
Connection: USB-C, 3.5 mm audio
Size: 163 77 x x 9 mm
Weight: 210g
1x smartphone
1x SIM needle
1x charging cable
1x charger
1x protective cover
1x user manual
Introduction: Honor 9X Pro
The effects of the US embargo pronounced in 2019 have hit Huawei and the subsidiary brand Honor particularly hard. Google also has to follow the tough course of the US government, which is why all new smartphones from the Huawei Group have to do without Google support.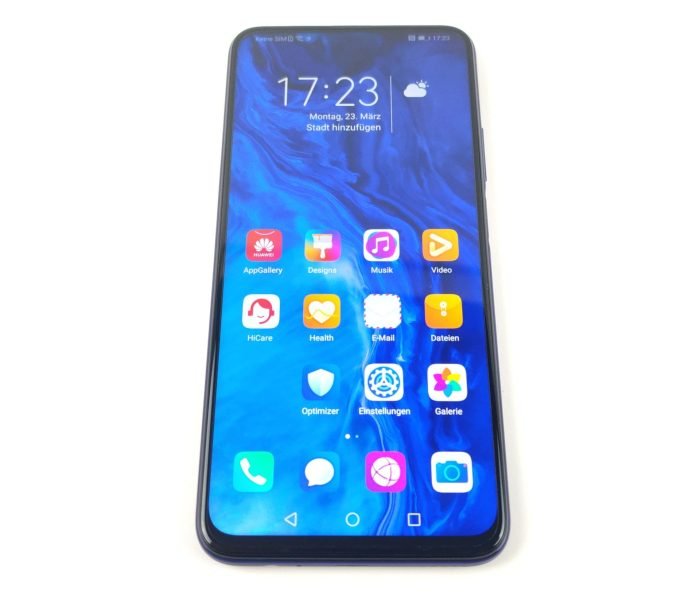 This affects not only Google and Huawei, whose business has become more difficult globally, but also customers. An Android without Google Play Store, Google Apps and Google services is hard to imagine for many users.
Design, workmanship and delivery
Dual 3D glass back
The Honor 9X Pro shows one extravagant look, which is primarily tailored to a younger audience. The back adorns "Dual 3D glass". Colored light reflections in our Phantom Purple test device provide a dazzling look that converges to an X in the middle.

The glass is slightly curved towards the sides, which in turn ensures a pleasant grip. A Aluminum frame holds the glass back in position. Unfortunately, the gap size is a bit large, so that dirt easily settles in it. There is no water protection. The smartphone is in the colors "Phantom Purple" and "Midnight Black" erhältlich.
48 MP triple camera
On the back is the vertically arranged triple camera. The camera is divided into one in order 2 MP depth camera, One 48 MP main camera and 8 MP wide angle camera. An LED flash is located directly below the camera system.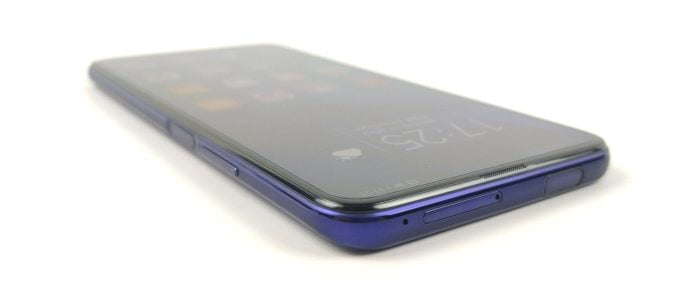 Side fingerprint scanner
The fingerprint scanner is not on the back or under the display glass. Instead, the fingerprint scanner is integrated into the side power button. The position is well chosen so that the smartphone can be unlocked in no time. The scanner's detection rate is good and you quickly land on your home screen.
The volume rocker is located above. The right side of the case frame remains empty. Below are those USB-C socket, Microphone, One 3.5 mm headphone jack and the Mono speaker housed. There was another one above Microphone, Hybrid SIM slot and the 16 MP pop-up front camera placed.

Notch-less display
The display of the Honor 9X Pro measures 6.59 inch in the diagonal. Punch-hole or notch are eliminated due to the pop-up front camera. The display edges are through that Curved glass pleasantly rounded. A Notification LED is missing.
Processing and delivery
The smartphone offers a pleasant keystroke and feels high quality. The high also contributes to this Weight of 210 grams at. Except for the unsightly gap between the back of the glass and the aluminum frame, the workmanship is flawless.
That in What's in the box Included accessories include a charger, a USB-C cable, a protective cover, a SIM needle and a quick guide.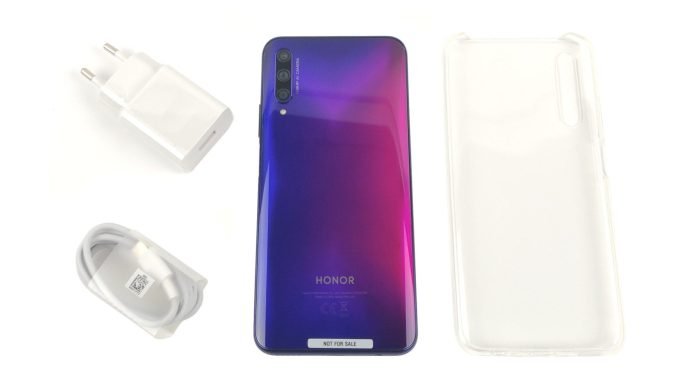 Display
Let's take a closer look at the Honor 9X Pro's display. As already mentioned, it is a 6.59 inch LTPS IPS panel without notch and without punch-hole. The Resolution is 2340 1080 x pixels, which in turn corresponds to razor-sharp 391 DPI. The aspect ratio is 19.5:9.
display measurement
The display measurements were made using a Colorimeter. The tests were carried out in standard color mode and in vivid color mode.
With the display brightness starting, the maximum value is enclosed up to 515 cd / m². Distributed over the panel, the luminance fluctuates by 12 percent depending on the measuring point. The highest values ​​were reached in the upper section of the display, the lowest in the lower section. These deviations are not visible to the naked eye. The average luminance is 491 cd / m². The contrast ratio is 1005:1.
Im Standard color mode The Honor 9X Pro is largely based on sRGB color space. An average Delta E of 2.58 and a maximum Delta E of 5.25 were measured. in the Vibrant color mode a high proportion of blue is added. In this mode, the deviations from the sRBG color space are clear. An average delta E of 6.02 and a maximum delta E of 10.98 were measured.
Display in everyday life
By default, the display is in Vibrant color mode. The high proportion of blue, which can already be seen in the display measurement, is also clearly visible to the naked eye. The display therefore provides a cool touch with strong color rendering and a garish white tone. This fits the blue background image that greets you after the first start of the smartphone, but it is extremely tiring for the eyes in the long run.
The display settings help. In addition to the color mode, the color temperature can be adjusted in 3 steps or via a color wheel. Area Viewing angle do not change the contrast, color intensity or sharpness. The display remains largely legible outdoors.
Display settings and functions
In addition to the settings for color mode and color temperature already mentioned, there are additional setting options that affect the display. The brightness can be adjusted manually or automatically. The change in brightness in automatic brightness mode takes place without noticeable delay.
The mode "Smart resolution" automatically reduces the display resolution. Instead of FHD + (2340 x 1080 pixels), the resolution is reduced to HD + (1560 x 720 pixels). Those who use this function save electricity and gain a few battery minutes. There are also setting options for idle status, the font and display size, and full-screen display. An eye-friendly Blue light filter is of course also on board.
Touchscreen
The touchscreen recognizes maximum 10 simultaneous inputs. The input recognition is precise. What type display glass is not known. A particularly thin screen protector is on the display from the factory.
Performance
Kirin HiSilicon 810
Not taking into account the Chinese Honor 9X, the Honor 9X Pro is the first Honor smartphone with Kirin HiSilicon 810 Mobile processor. The middle-class system-on-chip from Huawei is in the 7nm procedure manufactured and a significant upgrade compared to the Kirin 710.
The CPU has 8 processor cores, which are in 2 Cortex-A76 (2.27 GHz) and 6 Cortex-A55 (1.8 GHz) Divide the cores. The GPU is one Mali-G52. Stand by 6GB or 8GB LPDDR4X memory and 128GB or 256GB UFS2.1 data store to the side. If you want more data storage, this can be done via MicroSD memory card expand.
Benchmark
If you run the usual benchmark tests on the Honor 9X Pro, you quickly find that the smartphone is currently equipped with one of the fastest mid-range system-on-chips. To name a few values, in AnTuTu benchmark 304.144 points reached. Only the Qualcomm Snapdragon 765G is a little faster here with around 320.000 points. The memory that Honor has installed is also fast. Our 6 + 256GB test device achieved one RAM Speed of scarce 22 GB / s. The UFS2.0 data storage achieves average speeds 450 MB / s reading and 180 MB / s when writing.
Performance in everyday life
Without first taking a look at the lack of Google support, the Honor 9X Pro has to be used in everyday use do not hide from higher priced smartphones. The smartphone does not offer any performance reserves like a high-end device, but is enough to run all current apps and games smoothly.
multitasking works smoothly and the smartphone can be operated smoothly overall. Apps are permanently stored in the memory and are also available when you are constantly changing at lightning speed. Even if you start an app for the first time, long loading times are not to be expected. The combination of powerful processor and fast memory types shows not only what it can do in the benchmark, but also in everyday life.
Gaming
Demanding mobile games can be played smoothly with the Honor 9X Pro. High-resolution textures can be activated without hesitation in most games. On Liquid cooling system prevents thermal throttling and ensures constant performance. After half an hour of PUBG, a demanding game that a smartphone definitely requires, the measured maximum temperature was 35 ° C.
User Interface
Honor smartphones use the so-called EMUI user interface. In contrast to Stock Android, the user interface is heavily modified and expanded with numerous functions. Nevertheless, the design remains minimalistic and the operation is comfortable.
The problem with the updates
Although Huawei's Android license has been withdrawn, EMUI is still based on Android. And that on the Android Open Source Project (AOSP)that is not affected by this limitation. Huawei also obtains system updates and security patches from AOSP. However, new system versions and security patches are integrated into the open source code with a time delay, which is why you have to wait longer for updates here. This also shows the Honor 9X Pro, whose EMIUI 9 on Android 9 based and only uses security patches from November 1, 2019 (as of April 2020). Whether the smartphone will even get a system update on Android 10 is still a question of interest.
The problem with the apps
Another limitation is that missing Google Apps and Google Play services. Simply loading an app from the Google Play Store is not possible. Instead, Huawei has developed its own apps and app store. The so-called Huawei AppGallery can't keep up with the Play Store. The selection of apps is (still) very limited and the store as a whole can be expanded. Most used apps like WhatsApp, Facebook or Instagram are missing. These apps can be retrofitted via APK, but you have to laboriously search them online and it can often happen that the app can be downloaded from a dubious source. It remains to be seen how the AppGallery will continue to develop.
More serious are the missing Google Play services, which are required by many apps. This also includes non-Google apps. Would you like, for example Netflix stream, you fail at Google's Widevine DRM, whose support is required by Netflix. It is the same with many other apps. If an app developer uses the play services in his app, it cannot be run on the Honor 9X Pro. Instead, the developer would have to offer an additional, play-service-free app.
Google Play Store via detours
With detours it is possible to get Google Apps and the Google Play Store on the smartphone. How exactly this works can be read in the numerous instructions on the net. We don't want to go into that here.
There are many ways to get there, but keep in mind that this is a cat and mouse game. Nobody guarantees that the "Google modification" will last. In addition, you fall back on unofficial installation packages, where you never really know which hands they went through.
camera
The rear triple camera of the Honor 9X Pro is divided into one 48 MP Sony IMX582 main sensor with f / 1.8 aperture, one 8 MP sensor with ultra wide-angle lens and one 2 MP depth sensor.
The 48 MP main sensor does that Quad-Bayer technology advantage. 4 pixels are connected to one pixel, which in turn results in a higher color resolution per pixel. At the same time, the image resolution is reduced to 12 MP. The sensor of the Pop-up front camera resolves with 16 MP and uses an f / 2.2 aperture.
Practical test of the main camera
12 MP pictures
In normal photo mode, photos can be taken at 12 MP, 48 MP and 48 MP AI Ultra Clarity. The 12 MP mode is active by default.
The test recordings convince with a strong color rendering and one good dynamic range. The HDR mode almost never needs to be activated. A weakness is the sharpness of the image, which is not always constant. The main camera is quickly overwhelmed, especially with fine structures. Details tend to be muddy due to the strong noise reduction. The Camera-AI responds quickly and recognizes the subject in most cases.
48 MP AI Ultra Clarity
In 48 MP AI Ultra Clarity mode, it takes approximately 5 seconds until the shot is in the box. To get a clear photo, it is important to keep still while taking the picture. In addition, this mode only works in really good lighting conditions. In contrast to the 12 MP mode, the recordings are actually more detailed.
Zoom and wide angle
Without a telephoto lens is too no optical zoom possible. The enlargement is done purely digitally. With 2x magnification subtleties are still clearly visible in the picture. Photos stay pleasantly sharp. If the magnification increases, the image details also decrease. Recordings with 10x magnification are hardly usable.
The 8MP wide-angle shots are acceptable. In contrast to normal photo mode, the dynamic range is slightly smaller, details are weaker and the lens correction results in a visible blur towards the sides.
Portrait mode
Portrait mode works somewhat inaccurately. In most cases, portrait mode cleanly separates people or objects from the background. Subtleties like hair are often affected by the blurring effect. Stand next to the standard blur effect 7 other effects (Hearts, circles, etc.) to choose from.
Nachtaufnahmen
The Honor 9X Pro can do in low light detailed, sharp and colorful photos record, tape. Provided you go about it with a steady hand. Because of the lack of image stabilization even small wobble very quickly lead to blurred pictures.
A special one night mode is available. The smartphone takes several photos in succession with different settings and automatically combines them into one picture in postprocessing. Wobbles are more likely to be warped in this mode and details come into their own better.
video mode
The smartphone takes videos at maximum Full-HD Resolution on. Right, there is no 4K mode! The frame rate can be changed in the settings between 30 and 60 frames per second. At 30 frames per second is one by default electronic image stabilization active that cannot be switched off. Details get lost a little bit.
More details can be achieved with 60 frames per second. Image stabilization is not active in this mode. Overall, the recorded videos convince with a pleasant sharpness, good color rendering and enough details. The sound quality is good.
Practical test of the front camera
The 16 MP pop-up front camera is able to take good selfies. But it takes a little while until the camera comes out of its hiding place and is ready for the snapshot. The selfies taken with the Honor 9X Pro are particularly impressive due to the natural coloring.
As explained above, it is a very small amount of concentrated sourdough, a small power chamber, with which you can bake a new bread without having to wait days for your sourdough to ripen. The leaven is stored in the refrigerator and is waiting to be activated. With a very small part of it a new sourdough is "inoculated". It needs only XNUMX-XNUMX hours - instead of XNUMX to XNUMX days - to be ready for baking a bread. Since a little part of this mini sourdough is always retained and stored in the fridge, the new sourdough can be used completely to bake a bread. From the mixture in the fridge a new sourdough can be made at any time. Now you are going to learn Portrait mode is available, but struggles with detail extraction just like the main camera. What you should also look out for is the Beauty filter. It is active at level 5 by default and leads to unnatural blurring. In the settings, the beauty filter can be completely deactivated or raised to level 10. The front camera records videos in 1080p or 720p.
You can find these and other test recordings in full resolution under this Link.
connectivity
Telephony
The Honor 9X Pro has one Hybrid SIM slot. The smartphone can with two nano SIM cards or a Nano-SIM + MicroSD memory card be equipped. The most common in Germany 2G, 3G and 4G cellular bands available. Here is an overview:
GSM: B2 / B3 / B5 / B8
WCDMA: B1 / B4 / B5 / B8
LTE FDD: B1/B3/B8/B20/B28
LTE TDD: B38 / B40 / B41
However, the smartphone is not suitable for worldwide use, as some country-specific bands are missing. LTE is supported on both SIM slots. VoLTE and VoWiFi or WiFi calling unfortunately did not work in the test.
The reception quality is neat. The smartphone is strong in reception and enables good cell phone reception even in locations with poor mobile communications. The voice quality is clear and what is spoken is transmitted in an understandable way in both directions. The noise-reducing microphones keep noise out very well.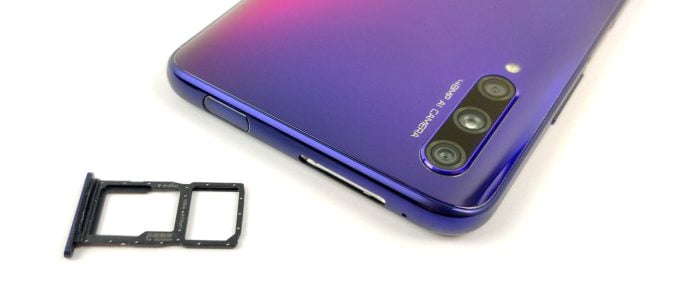 Wi-Fi and Bluetooth
A fast WiFi connection is provided by Dual AC WiFi reached. The data throughput in the immediate vicinity of the router is 270 Mbit / s. The reception remains largely stable through several walls. device is only in version 4.2 to disposal. In the Bluetooth network, the smartphone behaves inconspicuously and convinces with a good transmission quality.
GPS and sensors
The smartphone will find a GPS fix in no time. The position is determined precisely. There were no serious deviations during a one-hour test navigation. Changes in direction are made by the E-Compass quickly recognized. In addition to the usual smartphone sensors, the Honor 9X Pro also offers NFC. Mobile payment is generally possible. However, users of Google Pay look into the tube.
Audio
The Mono speaker delivers an average sound. Weaknesses show up in the depths and heights, which come a little short. To play a song or watch a video, the speaker of the Honor 9X Pro is more than sufficient.
On a 3.5 mm jack Honor did not do without the USB-C connection. There is nothing wrong with the playback quality over both connections.
Accumulator
The battery of the Honor 9X Pro has a capacity of 4000 mAh. In the test, we achieved a continuous screen-on-time of 14 hours on medium display brightness. If you use the smartphone more for average telephony, surfing the web and social media, then the battery needs everyone 1 ½ days be recharged. With intensive use, it ends after a day.
The battery is via the included charger after an hour by about 55 percent loaded. A complete one charging lasts two hours. Contactless Qi charging is not supported.
Final Words