GPD WIN GamePad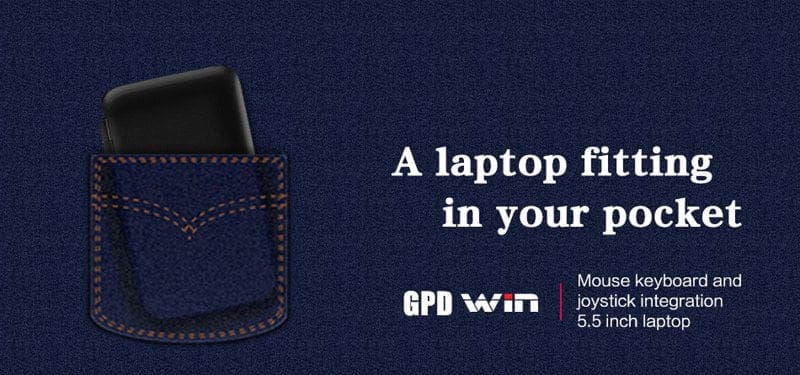 Compact housing
The GPD WIN GamePad presents itself as a combination of tablet, notebook and game console. Windows 10 is used as the operating system, which means that it can be used extensively. Visually, the 15.50 x 9.70 x 2.20 cm device is reminiscent of a miniature notebook. The weight is about 300 grams. If you open the handy device, a 5.5 inch in-cell OGS IPS display appears. The touchscreen and the protective glass surface are connected to one another by full lamination technology, which results in an extremely clear and color-saturated display. The resolution of the display is 1280 x 720 pixels. The protective glass surface is made of Corning Gorilla Glass 3.
Keyboard and GamePad
In order to control games accordingly or to make them playable at all, the GPD WIN has high-quality ALPS analog sticks, a classic D-pad, A / B / X / Y buttons and shoulder buttons. The switches are from Omron. All controls that are known from a conventional GamePad are available. The GamePad is also equipped with a QWERTY keyboard, which means that it can be used as a compact notebook. Depending on how you want to use the device, you only have to flip a switch to get the best possible configuration for the respective application area.
Connection and transmission options
The small Windows game console is also surprisingly well equipped in terms of connection options. The device can be connected to a larger display via a mini HDMI socket. A USB Type-C socket ensures fast data transfer. There is also a USB type A socket. The total of 64GB internal memory can be expanded by a further 128GB using a micro SD memory card. All connections are placed on the back of the frame in such a way that they are easy to reach and do not hinder usability at any time. The wireless transmission takes place via Bluetooth 4.1 and WiFi (802.11a / b / g / n / ac). Dual-band WiFi is fully supported. A headphone connection is available, as well as the device has a microphone. A camera for video telephony is missing.
Powerful interior
A powerful Intel Cherry Trail Z8700 processor is installed so that the GPD WIN GamePad can also be used as a game console. The clock rate of this quad-core processor is a maximum of 1.6 GHz per core. A dedicated graphics card is of course not installed, which is why the integrated Intel HD processor graphics are used. The entire system is also supported by 4GB of RAM. The capacity of the battery is 6.000mAh.
gaming capabilities
Intel Atom processors are not among the fastest processors and are only suitable for gaming to a limited extent. Of course, blockbuster titles with bombastic graphics cannot be played smoothly. However, the GPD GamePad is suitable for numerous source engine titles from CS: GO to Dota 2 to Payday 2. One of the most interesting options is to emulate older game consoles. Whether N64, Nintendo DS or PSP games, all console classics and also current handheld games, for which there is an emulator, can be played smoothly on the device. XBOX One Streaming is also supported by Windows 10.
Summary
In terms of price, the console is not a bargain. For around 320 € you can still get a multifunctional device that is not just a curious gadget. Just the possibility of running all emulators from past game consoles on this device makes you want more! However, it remains to be seen whether the handheld can also convince in test reports and not only leaves a fantastic impression on the data sheet.