GOGOBEST V1 product details
Christmas offer
The current special offer includes the GOGOBEST V1 Kids E-Scooter including a free set of protective equipment for only 49,98 euros. Shipping is free from the EU warehouse and takes about 2-6 working days.
Today we would like to introduce you to a very special product, the GOGOBEST V1 - an electric scooter especially for children. Thanks to the maximum power of 150W and a top speed of 6 km/h, the kids e-scooter is a fun vehicle even for children under the age of 12. The GOGOBEST V1 is not street legal, but due to its limited performance, it falls much more into the toy category than a means of transport.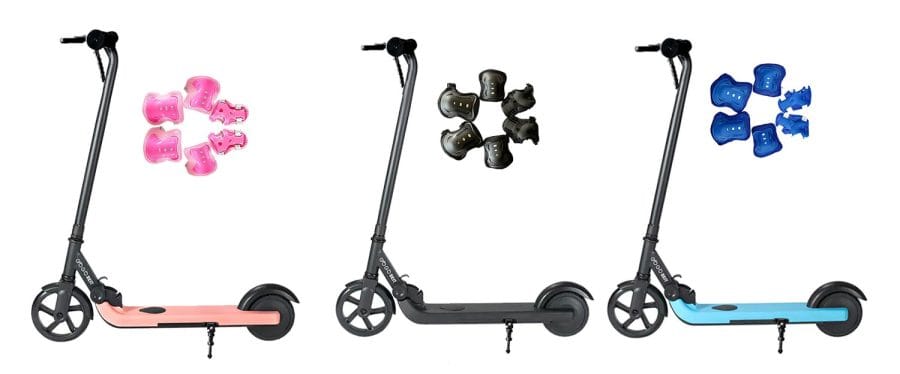 A 2AH / 21,6V battery built into the running board provides the necessary energy. GOGOBEST specifies the range as a maximum of 7 km. The e-scooter, which is made of sturdy aluminum and therefore weighs just 6 kg, can be folded on the handlebar. When unfolded, the size is 80 x 36 x 90 cm. The carrying capacity should not exceed 50 kg. The children's e-scooter is available in the colors blue and pink as well as plain black.
Specifications
General
Brand: GOGOBEST
Model: V1
Type: Kids Electric Scooter
Leistung: 150W
Battery: 2AH / 21,6V
Parameter
Range: 7 km
Speed: 6 km / h
Incline: up to 5 °
Capacity: up to 50 kg
Dimensions
Weight: 6 kg
Size (unfolded): 80 x 36 x 90 cm
Size (folded): 80 x 36 x 23 cm
What's in the box
Includes: 1 x e-scooter, 1x charger, 1x manual
GOGOBEST V1 reviews
No test report available yet.
User Reviews