GOGOBEST GF600 product details
Sale
If you want to get the GOGOBEST GF600, you should take a look at the current 3-in-1 offer. So there is the e-bike, including the electric tire pump from Xiaomi and the matching luggage rack for 1429 euros. This saves about 80 euros compared to the individual purchase!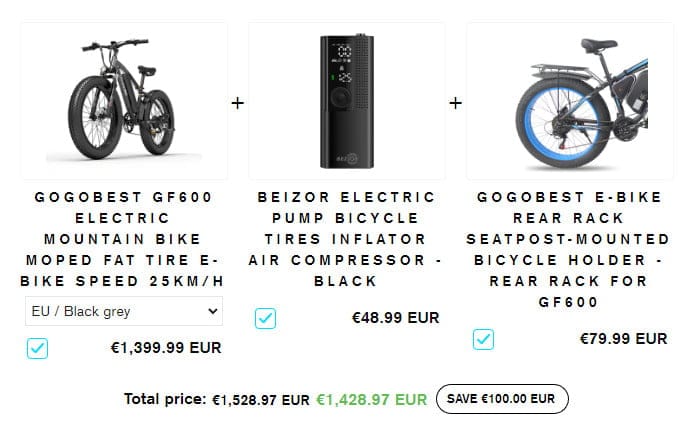 The GOGOBEST GF600 electric bike combines a 1000W electric motor with a large 48V 13AH battery and fat 26 inch tires with a width of 4 cm. This makes the GF600 perfect for rough terrain, where it takes gradients of up to 35°.
The full-fledged e-bike, the GF600 has a size of 193 x 110 x 85-100 cm and weighs 28 kg. The electric bike is designed for riders between 160 and 190 cm in height and a maximum weight of 200 kg.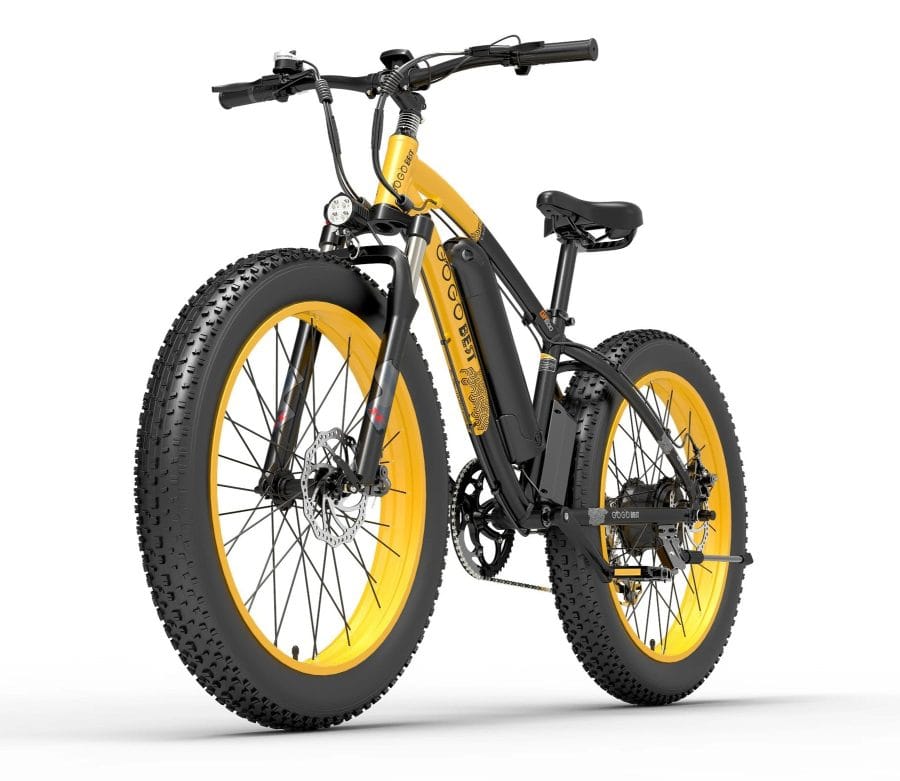 Thanks to the 1000W strong hub motor, the GOGOBEST GF600 drives up to 40 km/h at its peak. Depending on the country, you should definitely look at the local road traffic regulations, because the e-bike cannot be ridden everywhere due to the high motor power.
The range depends on the respective driving mode. Purely electrically, i.e. with a throttle, up to 45 km are possible. If the motor acts as pedal support (pedelec mode), up to 110 km are possible. However, the actual range depends heavily on the driver, driving behavior and other external influences, and experience has shown that it is somewhere in the middle.
The 48V 13AH battery pack is attached to the frame and can be removed for charging (5-6 hours). Replacement batteries are available. If you prefer to pedal yourself, you can look forward to a 7-speed gear system from Shimano. A suspension fork dampens the ride over bumpy terrain. Mechanical disc brakes at the front and rear ensure a short braking distance.
Specifications
General
Brand: GOGOBEST
Model: GF600
Type: E-Bike / Pedelec / electric bike
Leistung: 1000W
Battery: 13AH / 48V
Parameter
Range: 45 km (electric) to 110 km (pedelec)
Speed: 40 km / h
Incline: up to 35 °
Load capacity: max. 200kg
Dimensions
Weight: 28 kg
Size: 193x110x85-100cm
What's in the box
Includes: 1 x e-bike, 1x tool, 1 x English user manual
GOGOBEST GF600 reviews
French review
ESSAI: A FAT BIKE ELECTRIQUE SURPUISSANT ! (GOGO BEST GF600)
User Reviews