Gearbest coupons, coupons and promotional codes
We offer you the largest Gearbest voucher collection on the net. New Gearbest coupons and offers are added every day, with which you can save a lot on well-known products from Xiaomi and Roborock, smartphones, tablets, 3D printers, vacuum robots and gadgets. If you are looking for a voucher for a specific product, we will be happy to help you find a suitable discount. We are in constant contact with GearBest and are therefore able to request individual vouchers.
How do I redeem a GearBest Coupon Code?
Put the product you want to buy in the shopping cart.
At the top right under "Cart" you can see your personal shopping cart.
Create a GearBest customer account or log in with an existing customer account.
In the summary of your order you will find the input mask "Use Coupon" below
Enter your GearBest Coupon Code there and click on "Apply". The discount is deducted immediately and can be viewed!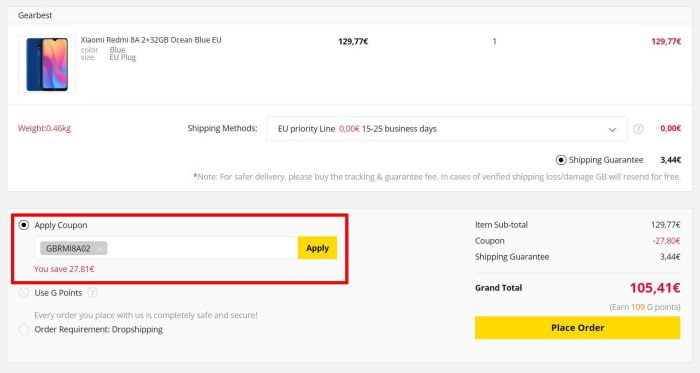 Below you will find a collection of GearBest coupons and flash sale offers from all categories. To see a coupon or a deal, you just have to click on "Show Coupon" or "Activate Deal". We check all Gearbest promo codes daily and add new offers as they appear. At the end of the article, questions & answers and Gearbest shop reviews are waiting for you.
Latest GearBest Coupons
There are currently no vouchers!
Who or what is Gearbest?
10 International Warehouse
GearBest is now the largest "international" online shop from China, which sends the latest smartphones, action cams and gadgets all over the world. GearBest mostly ships from China. Nevertheless, the dealer now has 10 different warehouses, which are located in China as well as in the USA, Russia and Europe.
Many interesting products are also offered from the large EU warehouse, so that even faster and cheaper delivery is possible. The warehouses are located in countries such as Germany, France, Spain, Italy, Poland, the Czech Republic and others. You don't have to worry about customs and taxes thanks to intra-European shipping. Shipping is usually free and takes place within 2-7 working days.
Customer service and warranty
If you want to get in touch with GearBest, there are several ways to contact us. In addition to the usual e-mail and a contact form, the customer service can also be reached daily via a live chat. Preferably you should contact the staff in English. Partly, however, it is also possible to communicate in other languages. Customer service is helpful, and if there are problems with the delivery or the product itself, a customer-friendly solution is found.
If the product received is damaged, there is a "DOA guarantee" (Dead On Arrival). You can choose to have the same product shipped free of charge within 3 days, or you can get your money back. The guarantee that GearBest gives itself is 12 months. If the product is defective, it must be sent to China for repair. The customer bears the shipping costs, however, shipping to China usually does not cost more than € 10.
Assortment of goods and flash deals
The product range, which is growing every day, is particularly interesting. GearBest offers products from various categories. In addition to smartphones, tablets or action cams as well as other products from the areas of entertainment electronics, there are also clothing, household items and articles from the field of model making. Many products are offered in the so-called PreSale. You can use it to reserve the product at a discounted price and receive it as soon as the item arrives at the warehouse. You can also save within the "GearBest Flash Deals". There are daily changing offers that entice with big discounts. It pays to be quick, because many promotions are over after a few hours.
Straightforward delivery with Gearbest
With the shipping method "Germany Express" or "Priority Line", the online retailer offers one of the easiest and fastest shipping methods. Standard shipping from China is generally free at GearBest. For the first two types of shipping, depending on the product or warehouse, shipping costs of up to around € 5 may apply. GearBest specifies the shipping costs for each product individually.
Even if "Germany Express" or "Priority Line", unlike standard shipping, are not free, it is worth choosing one of these two shipping methods. The delivery time is an unbeatable 10 to 14 days. From China, the package will first be sent to the United Kingdom. GearBest already takes over the import there, so that the recipient no longer has to worry about an import. The dealer also pays the import sales tax. The package is then forwarded to a German shipping service provider, who then forwards the package to the recipient with DHL or DPD.
Shop Rating
Now it's your turn! Have you ever ordered from Gearbest? How are your experiences with the shop. Describe how satisfied you are with the shop, how long you had to wait for your delivery, or whether there were any problems with the order. With your rating you help others with their purchase decision.
Gearbest shop
Satisfied
I'm quite happy with Gearbest. I ordered via priority line. It then took about 2 weeks to get to me. Is actually the same as with any other shop, only that it takes a little longer with the delivery. But who knows that they ship from China shouldn't complain.
Inexpensive but long delivery time
I have often shot really good bargains on Gearbest. Thanks also to the coupons that you are constantly updating here. Otherwise a good shop with a lot of exotic products. There are two deductions for the fact that many products come from China and the delivery time takes 2-3 weeks.
One of the better shops from China
I have already ordered 20x from Gearbest and have never had any problems. Sometimes the delivery takes up to a month, but if you know that, then you can wait with confidence. I had also received defective goods before. After two emails with the customer center, to which I had to send pictures of the defect, I got my money back.