Flsun Q5 product details
Update 10. November 2020
Just in time for Singles Day, the Flsun Q5 3D printer is available at the new best price. Banggood has provided us with an exclusive discount code, which reduces the price to 161,44 euros. The code is valid in all of the dealer's EU warehouses. Shipping takes about 3-5 working days.

The Flsun Q5 is a particularly inexpensive FDM 3D printer in the Delta style. The decisive factor for this type of 3D printer is the circular print bed with triangular suspension of the extruder. One advantage of this design compared to a Cartesian 3D printer is the relief of the Z-axis mechanics.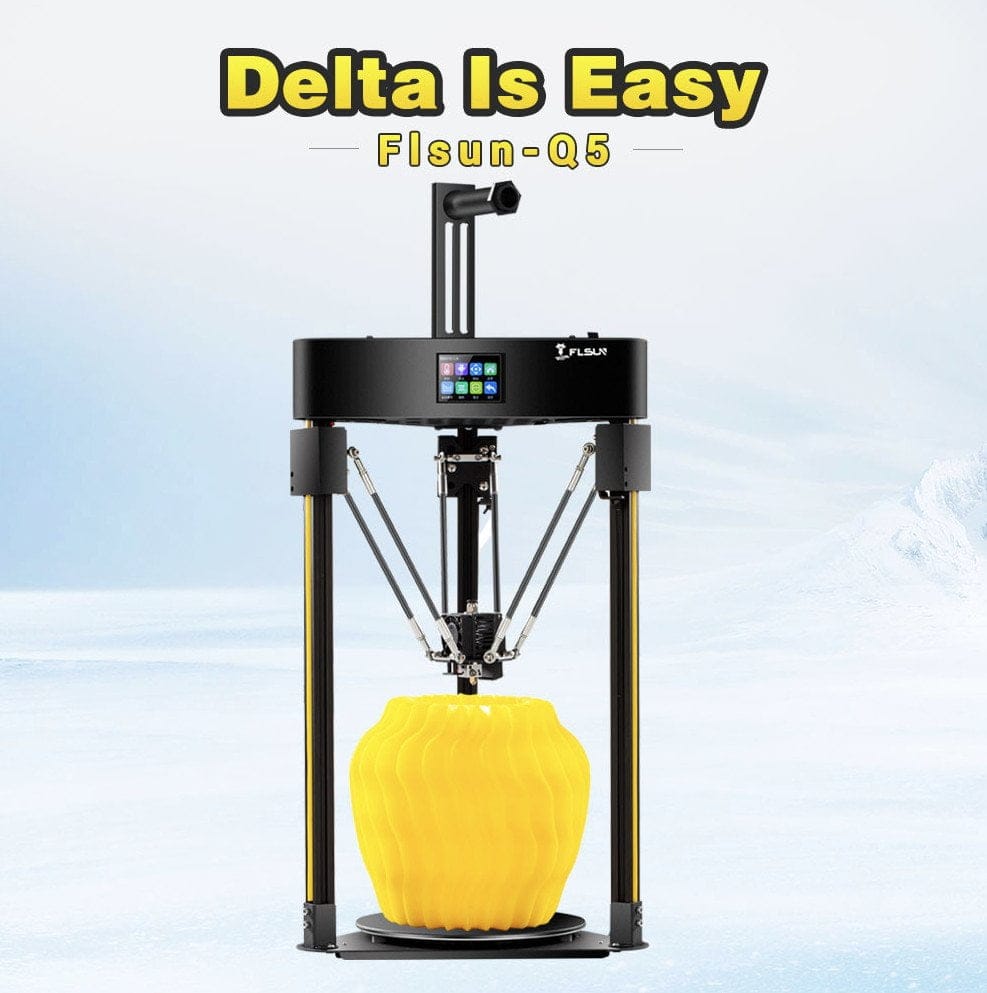 The printing platform is immovable and can therefore be loaded as required. At the same time, delta printers like the Flsun Q5 promise higher printing speeds. In the case of the Q5, this is between 60 and 150 mm / s. The movement speed even reaches up to 300 mm / s.

Microstepping is an important aspect of Delta 3D printers. The Flsun Q5 is equipped with TMC2208 stepper drivers for precise results. With <10dB, these are particularly quiet in operation and achieve 1/256 microsteps. The extruder, on the other hand, is controlled by a little louder A4988 driver. The mainboard is of the type MKS Robin Nano 1.2 and allows the connection of a WLAN module.
The heated print bed with a glass surface has a size of 200 x 200 mm. Medium-sized objects can be easily printed with it. It takes about 100 minutes to heat the bed to 6 ° C. The built-in titanium extruder is also suitable for flexible filaments. Although this is only a clone of the E3D extruder, Flsun has developed an extruder that comes very close to the E3D titanium extruder. The V6 hotend clone is suitable for temperatures up to 245 ° C. Next to the hotend there is an auto-level sensor that calibrates on the basis of 27 measuring points. The Flsun Q5 is operated via a 2.8 inch color display.
Specifications
data
Brand: Flsun
Model: Q5
Type: Delta 3D printer FDM
Print area: 200 x 200 mm
Layer resolution: 0.04 - 0.5 mm
Nozzle: 0.4 mm
Printing speed: 60 - 150 mm / s
Movement speed: 300 mm / s
Filament: PLA, ABS, Flexible PLA, TPU, Wood, PVA, HIPS
Temperature: 245 ° C
Energy intake: 200W
Volume: <60 dB
Dimensions
Weight: 8 kg
Size: 63 x 34 x 15 cm
Flsun Q5 reviews
Flsun Q5 test: Introduction and practical test for the inexpensive Delta 3D printer
User Reviews
Flsun Q5 price comparison