Finow X5 Plus - Smartwatch with Android OS
A smartwatch on which a real Android OS is running and which can also be used like a smartphone, we have known since the NO.1 D5. In the meantime a lot has happened and besides NO.1 also the Chinese manufacturer "Finow" has established itself in the smartwatch market. All information about the latest model "Finow X5 Plus" can be found in this post.
Overview
Display Type: AMOLED
Display diagonal: 1.39 inches
Display resolution: 400 x 400 pixels
CPU: MTK6580
RAM: 1GB
Internal memory: 8GB
Memory extension: no
Bluetooth: 4.0
WiFi: 802.11 b / g / n
GPS: Yes
Pedometer: Yes
Heart Rate Monitor: Yes
Network:
* GSM: 850 / 900 / 1800 / 1900MHz
* WCDMA: 850 / 1900 / 2100MHz
OS: Android 5.1
Battery: 450mAh
Finow X5 Plus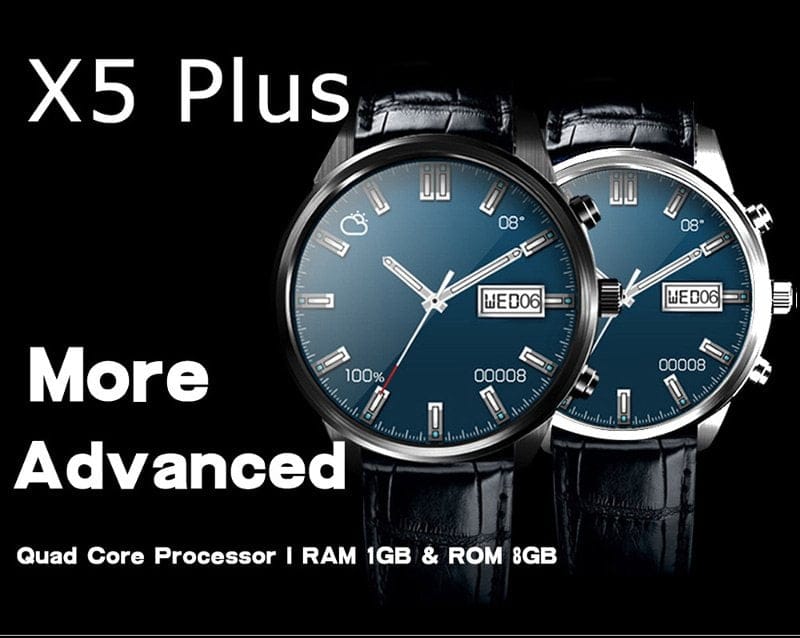 Comparison of Finow Smartwatches
This article is about the Finow X5 PlusBut before we take a closer look at the Smartwatch, let's take a look at the other Finow Smartwatch models. The biggest differences are in the design. Here it is a matter of taste, whether one chooses a model with leather strap or with silicone bracelet. The housings of the Finow Circular Smartwatches are all made of metal and differ only in color. Depending on the model, the case is available in shiny silver or in matt black.
There is another and essential difference regarding the processor. All Plus models use the MediaTek MTK6580 processor, which has 4 processor cores that clock with a maximum of 1.3GHz. A telephony feature through 3G network support, GPS, Bluetooth and WiFi have all models in common. Smaller differences exist in the display diagonal, which ranges from 1.30 inches to 1.40 inches, depending on the smart watch. Both the Finow X5, as well as the Finow Q3 Row put on an AMOLED display. Only the sporty Finow X3 Plus uses an IPS display.
Native Android and Watchfaces
Many smartwatches from Chinese manufacturers rely on a user interface that has little to do with a conventional Android. Most apps can not be installed and the selection of pre-installed apps is very limited. The Finow X5 Plus, however, uses a real Android 5.1, as we know it from smartphones. Although the user interface is adapted to the round display, the differences to a "smartphone Android" are only of an optical nature. To install apps, the Google PlayStore is preinstalled. An installation of WhatsApp or other smartphone apps is thus nothing in the way!
Similar to Android Wear, so-called watchfaces can also be installed in this watch. In addition to the pre-installed Watchfaces can also make their own Watchfaces and set up on the clock. Guides and finished watchfaces can be found in the relevant smartwatch communities.
FINOW X5 Plus Smartwatch Phone - Gearbest.com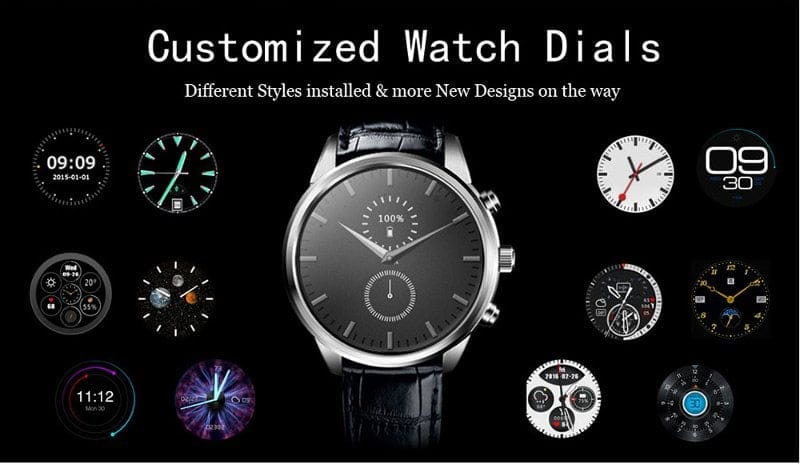 MediaTek processor
The heart of the Finow X5 Plus is a MediaTek MTK6580 processor, which has a total of 4 processor cores clocking with a maximum of 1.3GHz. The memory amounts to 1GB RAM and an 8GB large internal memory. A memory expansion by means of a micro SD memory card is not provided. The internal memory may seem small at first, but the operating system only uses 2GB of memory, leaving 6GB for apps or other files. The capacity of the battery is 450mAh. Thanks to the economical processor, the Finow X5 Plus achieves terms of about one day to a maximum of one and a half days. The smartwatch is already fully charged after 30 minutes.
AMOLED display
Particularly interesting is the display of the Finow X5 Plus. One is used 1.39 inches AMOLED display with a resolution of 400 x 400 pixels. Advantages of an AMOLED display over a conventional LCD are particularly strong colors and a rich black value, which is generated by the fact that no backlight is needed, but the individual pixels themselves light up. If the display should light up black, the pixels simply remain switched off. At the same time a lower energy consumption is achieved.
connectivity
Full-fledged telephony is the smartwatch with a Nano SIM slot fitted. Both 2G and 3G network standards are supported. A microphone and a speaker are also integrated. If you prefer to transfer phone calls from your smartphone to the Smartwatch, you can pair both devices via Bluetooth. Another connection is WiFi. If you connect the Finow X5 Plus with a WLAN, you can surf the smartwatch or download apps and watchfaces.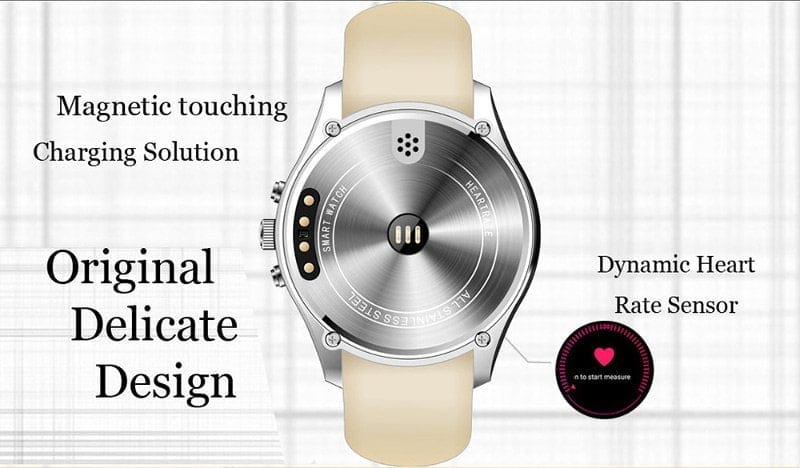 GPS, heart rate measurement and pedometer
Also the sporty side of this Smartwach should not be neglected. In addition to one PedometerCounting the daily steps also measures the calories burned and the distance traveled. On Heart Rate Monitor on the back of the metal housing determines the current heart rate by means of a light emitting diode and a green LED. Through the integrated GPS module the run distance can be determined exactly. If you also install Google Maps, the Finow X5 Plus can also be converted into a compact navigation system.
Prices and availability
Price too high? Use our price alarm clock!
Prices last updated on: 2. July 2020 00: 01