FIIDO M1 product details
Update 20. October 2021
The FIIDO M1 e-bike is available from Banggood at the current offer price of only 822 euros (first coupon). Alternatively, there is the FIIDO M1 Pro for 943 euros (second coupon). In contrast to the normal FIID M1, the Pro version offers a more powerful motor (250W to 500W) and a larger battery (36V 12.5Ah to 48V12.8Ah).

Regardless of which of the two electric curbs you choose, shipping is free of charge from the dealer's EU warehouse and usually takes 5-7 working days. There are no additional costs (customs and import tax) due to EU shipping.
The FIDOO M1 is a very special e-bike. The compact e-folding bike uses full suspension and particularly wide 4-inch tires on a 20-inch wheel. This ensures as much driving pleasure as possible, even on rough terrain. The E-Fatbike can be folded to a transportable 96 x 45 x 79 cm. When unfolded, the FIIDO M1 grows to 172 x 26 x 106 cm and weighs no more than 29.5 kg. The sufficiently padded saddle is height adjustable between 80 and 105 cm. The 55 cm suspension fork at the front is adjustable in its sensitivity. A common 7-speed Shimano gearshift, a comprehensive bike computer, light, horn and throttle are located on the handlebars.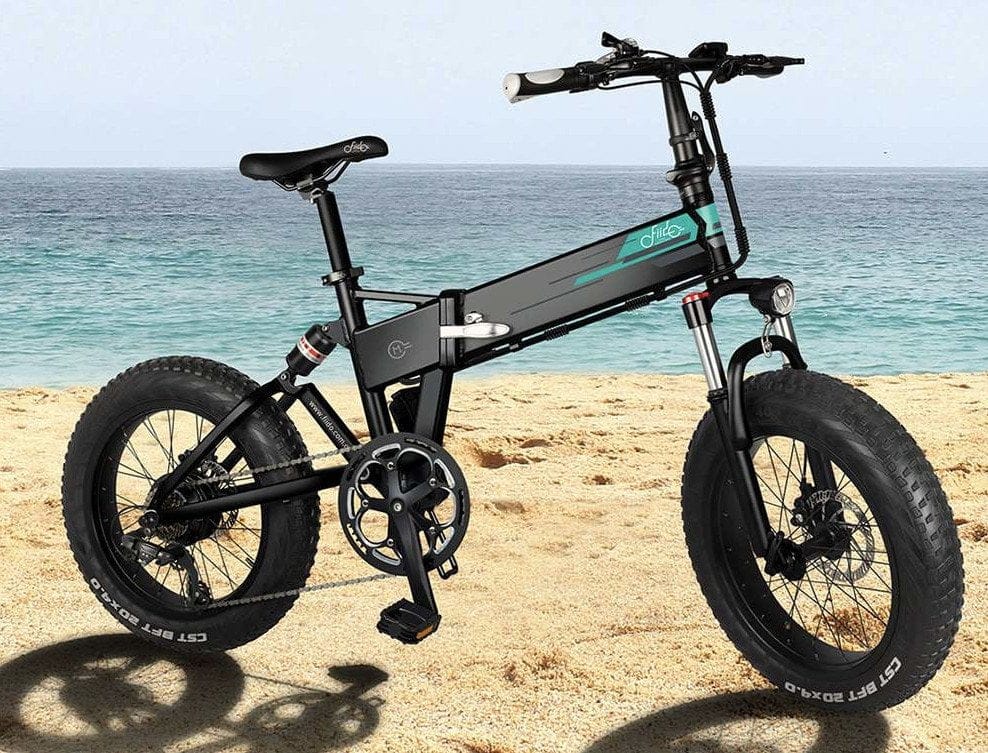 The electric bike is powered by a 250 watt brushless motor. The speed is reduced to 25 km / h, but according to the manufacturer, it can be unlocked to a maximum of 31 km / h. The bike masters inclines of up to 30 °. Mechanical disc brakes ensure a pleasantly short braking distance and more safety when cycling. Power is supplied by a 450 Wh battery (12.5 AH / 36V). The electric range is around 25 to 30 km. In pedelec mode, the e-bike has a range of approx. 50 km. The manufacturer himself specifies the range at 45 to 65 km. The battery is charged after approx. 7 hours.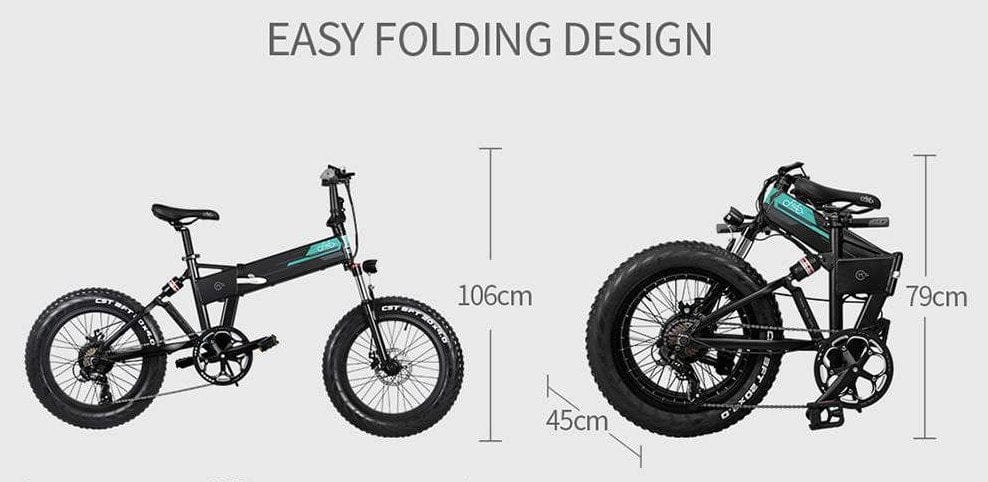 Specifications
General
Brand: FIIDO
Model: M1 (Pro)
Type: E-Bike / Pedelec / electric bike
Power: 250W (500W)
Battery: 12.5AH / 36V (12.8AH / 48V)
Parameter
Range: 45 - 65 km (60 - 80 km)
Speed: up to 31 km / h
Incline: up to 30 °
Load capacity: max. 120kg
Tires: 20 x 4 inches
Dimensions
Weight: 29.5 kg
Size (unfolded): 172 x 26 x 106 cm
Size (folded): 96 x 45 x 79 cm
What's in the box
Includes: 1 x e-bike, 1x tool, 1 x English user manual
FIIDO M1 reviews
The Best Electric Folding "Fat Bike" for Less than $ 1000: Fiido M1?
User Reviews
FIIDO M1
Ideal for the campsite
I bought the M1 a few months ago. Back then for just under 1000 euros. The processing, suspension and tires speak for the bike. The drive and battery is no better or worse than other e-bikes. It is the ideal bike for the campsite, especially if you want to ride over hill and dale.
FIIDO M1 price comparison