Dreame T20 product details
Offer January 13, 2022
Online retailer Goboo has the Dreame T20 on sale for just €234,99. The discount will be deducted by entering the code above in the shopping cart. Shipping is free from Spain.

The products of the Chinese household appliance manufacturer Dreame are good proof that quality and performance do not always have to cost a lot. The Dreame T20 is a powerful yet affordable cordless vacuum cleaner. With up to 25.000 Pa suction power, which corresponds to 150 Air-Watt, the cordless vacuum cleaner goes to work. Dirt has no chance there. So that the cordless vacuum cleaner does not give up after a few minutes, it is equipped with a replaceable 2700 mAh battery.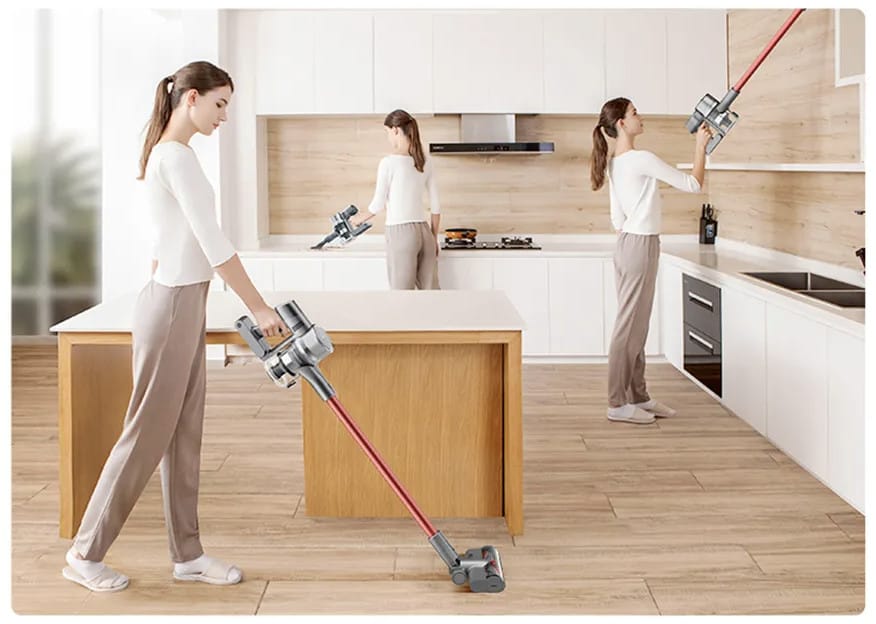 This means that the Dreame T20 achieves running times of up to 70 minutes on the lowest suction level. There are a total of 3 suction levels and an automatic suction mode. At the highest suction level, the running time is still 10 minutes. Replacement batteries are readily available online. The charging time is approx. 4 hours. In the automatic suction mode, the cordless vacuum cleaner automatically increases the suction power as soon as you drive on a carpet. As some reviews have already shown, it actually works pretty well.
The dirt is collected in a 600 ml dust container. So that no particles are released into the ambient air, the Dreame T20 uses a multi-layer filter system consisting of a coarse metal filter and a HEPA filter. The dust container and filter can be easily rinsed under running water. The display at the end of the vacuum cleaner is particularly convenient to use. This means you can keep an eye on the display at all times. Among other things, the remaining battery or the suction level can be read off.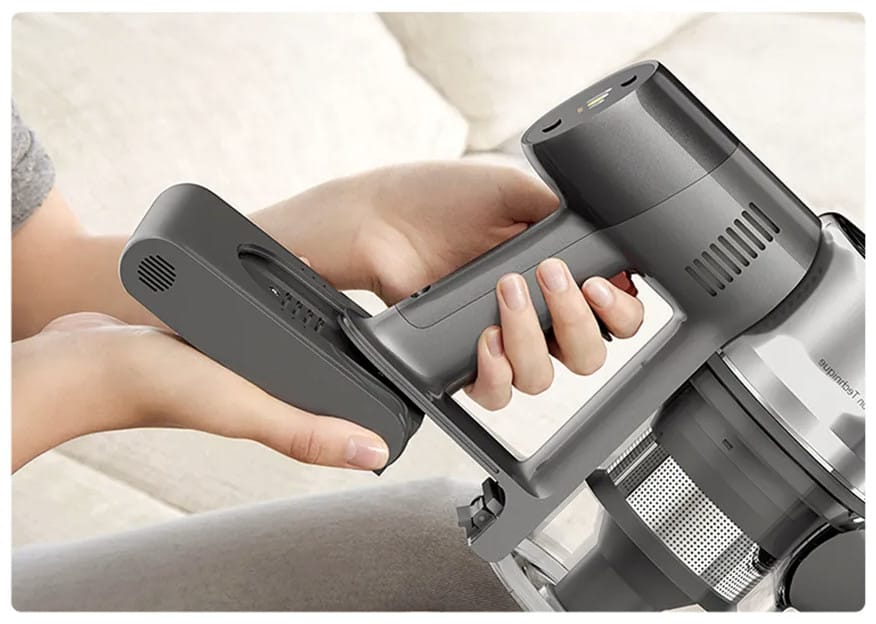 The scope of delivery can also be seen. In addition to the electric main brush, it offers various attachments, such as an electric upholstery brush, an extension hose and a wall bracket. The entire scope of delivery can be seen on the product page. A mopping attachment is available as a separate accessory for the Dreame T20, which can be used to convert the battery-powered vacuum cleaner into a smart mop.
Dreame T20 specifications
General
Brand: Dreame (Xiaomi)
Type: cordless vacuum cleaner
Model: T20
Details
Suction force: 25.000 Pa (150 AW)
Dust container: 0.6 liter
Battery: 2700 mAh (replaceable)
Working time: up to 70 minutes
Charging time: 4 hours
height and weight
Weight: 1.71kg
Size (L x W x H): 126,5 x 25,5 cm
Dreame T20 reviews
English review
Dreame T20 Cordless Vacuum: Another Xiaomi Ecosystem Masterpiece!
User Reviews
Dreame T20 price comparison