DJI Osmo Action
Compact design and 2 displays
DJI is imitating the many other manufacturers and has opted for a rectangular camera housing. The dimensions are 65 × 42 × 35 mm, with a weight of 124g. The Action Cam is inherently waterproof up to 11 meters, so that no separate case is required for swimming or smaller dives.
DJI - Introducing Osmo Action
The Osmo Action is equipped with a color display on the front and back. The rear panel has a diagonal of 2,25 inches with a resolution of 640 × 360 pixels. It is operated conveniently via the touchscreen. The front is the control display with 1,4 inch screen diagonal and 300 DPI resolution. Both displays achieve an above-average brightness of 750 cd / m². This means that they are easy to read even in the sunshine.

The physical control buttons of the Osmo Action are a power button, an adjacent shutter button and a QS button (Quick Switch) on the side for an even faster selection of the recording mode. The Action Cam is connected via the USB-C standard, which also enables video transmission. There is a microSD memory card slot underneath. An important design feature is on the front. DJI has placed a heat sink underneath the camera lens, which effectively prevents heat problems. The interchangeable protective lens is also very interesting. This can be removed in a few simple steps and exchanged for other (filter) lenses. What the DJI Osmo Action unfortunately does without is a tripod thread. Instead, you have to rely on a bracket supplied by the manufacturer.
12 megapixel image sensor with 4K60 recording
The built-in image sensor is a 1 / 2.3 inch CMOS with 12 megapixel resolution. The lens is a 145 ° wide angle F2.8. Both photos and videos can be recorded with ISO 100-3200. The shutter speed is 120-1 / 8000 s.
DJI does not provide any information about the image processor. However, it is able to process videos natively in 4K at 60 frames per second. The recording format is MOV or MP4. The maximum bit rate is 100 Mbit / s. The video coding is done using H.264. Encoding video material in H.265 is unfortunately not possible. Pity! The sound is recorded with 48 kHz, AAC encoded. Images can be saved in JPEG and DNG format.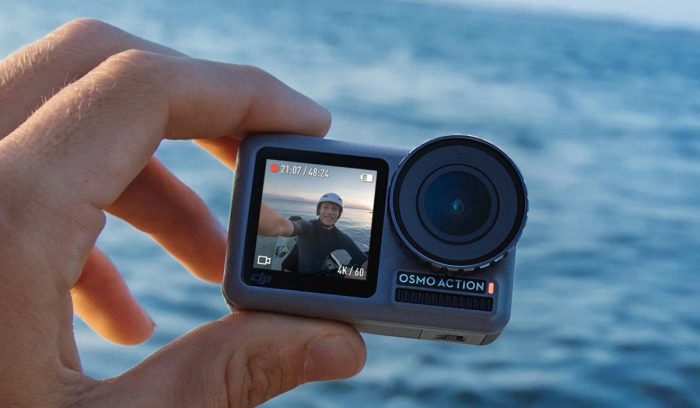 In addition to the many setting features for recording, the DJI Action Cam also offers interesting recording modes. High-Dynamic-Range (HDR), for example, can be switched on up to 4K30 and thus improves the dynamic range of the recording. Time-lapse recordings as well as slow-motion recordings at a resolution of 1080p with up to 240 frames per second and 4x / 8x slowdown are also supported. Osmo Action offers the so-called Hyperlapse mode for short, stabilized time lapse.
RockSteady Image Stabilization and Mimo App
Video recordings are stabilized by DJI RockSteady. This is an electronic stabilization algorithm that was specially developed by DJI and comes very close to optical image stabilization. Even 4K60 recordings can be stabilized with RockSteady.

The DJI Mimo app offers an external control option. Connected to the Action Cam via WLAN (802.11a / b / g / n / ac), all camera settings can be conveniently made using a smartphone or tablet. There is also a live image output and direct access to the memory card. Recordings can be edited via the Mimo app and shared directly on social media.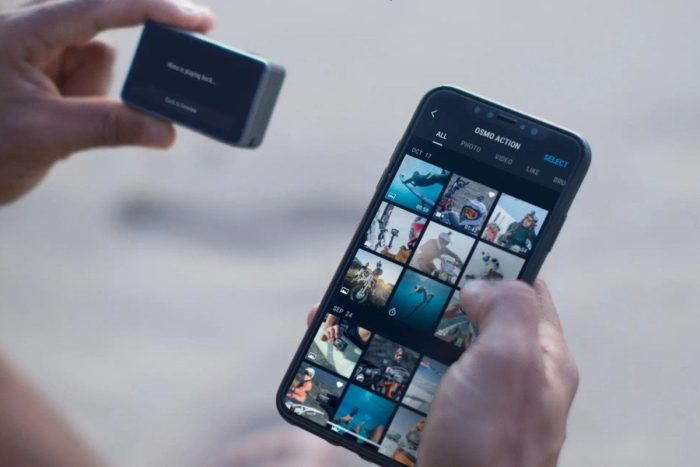 Voice control and long-lasting battery
Five voice commands ensure effortless operation, such as taking photos or turning off the device. The capacity of the exchangeable battery is 1300 mAh. A fully charged battery allows a recording time of up to 135 minutes in 1080p30 (RockSteady deactivated) and 63 minutes in 4K60 (RockSteady activated). The battery is charged in 90 minutes.
Price and availability
The DJI Osmo Action can now be ordered for 379 € from the DJI Store. The Action Cam will also be available from other retailers from May 22nd. As soon as we receive a test copy, the detailed test report will follow here.