DJI Mavic Pro - All Drone Information, Vouchers & Deals
The DJI Mavic Pro is one of the best consumer drones the market currently offers. For a long time the drone was hardly available. Meanwhile, the availability is no longer a problem, which is why online retailers such as GearBest, TOMTOP or Geekbuying attract with quite interesting offers to the drone. What you have to consider when buying and where the best deal for the DJI Mavic Pro is currently available, read more in this post!
Overview
Drone
Size: 198 x 83 x 83 mm (folded)
Weight: 743g
Ascent rate: up to 5 m / s
Rate of descent: up to 3 m / s
Airspeed: up to 64.8 km / h
Altitude: up to 5000 m
Flight range: to 7000 m
Flight time: up to 27 minutes
Floating time: up to 24 minutes
Total flight time: up to 21 minutes
Sensors: GPS, ultrasound, ToF, camera
Radio Transmitter
Frequency: 2.4 - 2.483 GHz
Transmission range: FCC 7 km - CE 4 km
Battery: 2970 mAh LiPo
Radiation Power (EIRP): FCC 26 dBm - CE 20 dBm
Operating voltage: 950mA 3.7V
Supported mobile device size: Thickness: 6,5-8,5 mm - Length: 160 mm
battery performance
Battery type: LiPo 3S
Capacity: 3830 mAh
Voltage: 11.4V
Energy: 43.6Wh
Weight: 240g
camera
Sensor: 12.35 Megapixel - 1 / 2.3 inch CMOS
Lens: 78.8 ° FOV 28mm - Aperture f / 2.2
ISO range: 100 - 3200 (video); 100 - 1600 (photo)
Exposure time: 8 - 1 / 8000s
Image resolution: to 4000 x 3000
Video resolution:
* C4K: 4096 x 2160
* 4K: 3840 x 2160
* 2.7K: 2704 x 1520
* FHD: 1920 x 1080
* HD: 1280 x 720
Video bit rate: max. 60 Mbps
Photo format: JPEG, DNG
Video format: MP4, MOV (H.264 / MPEG-4 AVC)
Memory card: Micro SD
Max. Capacity: 64GB Class 10 or UHS-1
Gimbal
Stabilization: 3 axes
Controlled area:
* Tilt: -90 ° to + 30 °
* Pan: 0 ° or 90 ° (horizontal and vertical)
Optical position determination
Forward looking vision system
Downward vision system
Obstacle detection range: 0,7 to 15 m
Range: 15 to 30 m
Speed ​​range: ≤36 km / h at 2 m above ground
Altitude range: 0,3 - 13 m
Operating range: 0,3 - 13 m
DJI Mavic Pro - overview
Before we look at the current deals, let's take a closer look at the various DJI drones and of course the DJI Mavic Pro. If you are only interested in Mavic Pro offers and coupons, click "To the DJI Mavic Pro Deals" to jump directly to the offers.
If you want to get the DJI Mavic Pro, you have to dig deep into your pocket. Although it is a Consumer Drone The Mavic already costs 900 € and in the so-called Fly More Combo with numerous accessories even about 1060 €. What makes the Mavic so expensive and why is the drone still so in demand?
Compact design
With dimensions of just 83 x 83 x 198 mm, the collapsed Mavic is one of the most compact drones on the market. By the foldable design The drone can be easily stored in a bag and taken as good as anywhere. If, for example, you want to take fantastic aerial photos while on holiday, the Mavic will be spoiled for choice Weight of only 743g certainly not a burden.
DJI Introducing the DJI Mavic Gearbest com
High-end technology
The DJI Mavic Pro is also one of the easiest to fly drones on the market. Even beginners without experience can control the Mavic easily and safely after a short introduction. Ensures a safe flight "FlightAutonomy", This system, consisting of 7 components made up of different sensors, provides precise long-range obstacle detection. A forward and downward vision system prevents unexpected collisions. In addition, the drone is with one GPS / GLONASS Module equipped, whereby an accurate position determination is possible. This makes the Mavic Pro even able to fly autonomously. For example, if you lose control, the drone can be safely returned to its starting point by the Return to Home (RTH) function.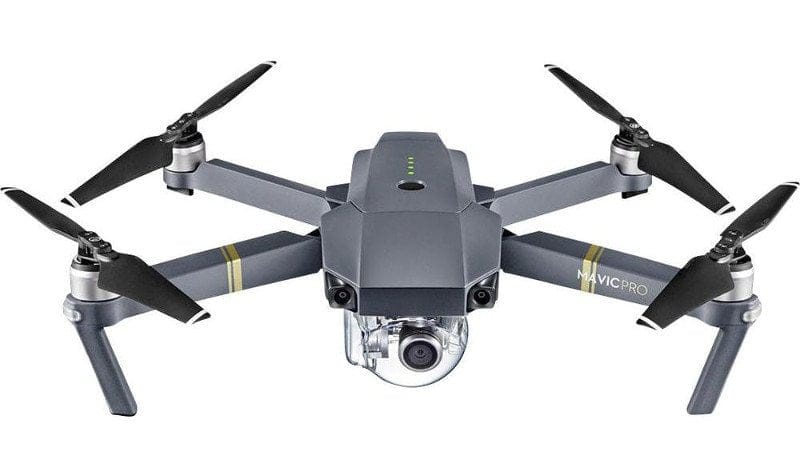 High up!
Another notable feature is the flight range of the DJI Mavic Pro. With the so-called "OcuSync system" the Mavic reaches a maximum Flight range of 7 kilometers and a theoretically possible altitude of 5000 meters, but limited to 500 meters. Sophisticated digital compression and transmission technology enables OcuSync to bypass interference and ensure stable transmission quality. At the same time, OcuSync delivers a stable video signal with improved image quality in 720p and 1080p.
For a sufficiently long flight time ensures a LiPo 3S battery with a capacity of 3830 mAh. Under optimal conditions are there Flight times up to 27 minutes possible. The Mavic achieves airspeeds of maximum 64,8 km / h in sport mode. The maximum climbing speed is 5 m / s in sport mode. The rate of descent is 3 m / s.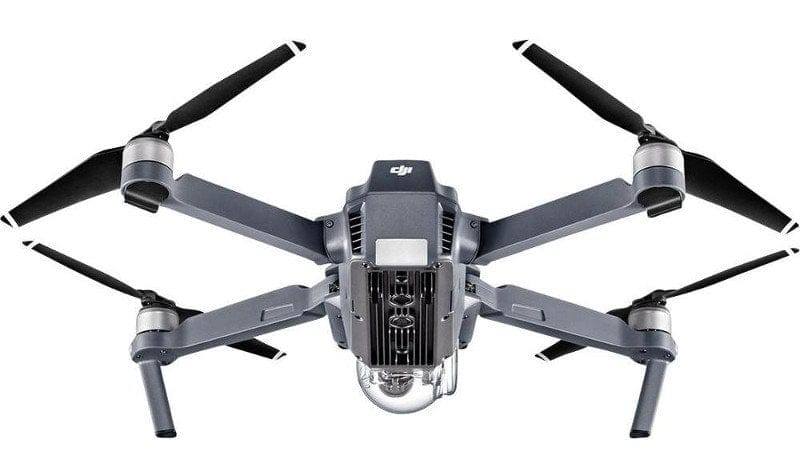 High resolution camera
Videos takes the DJI Mavic in high-resolution 4K resolution on. Installed is a 1 / 2,3 inch CMOS image sensor with effective 12,35 megapixel Resolution, an aperture f / 2.2 and a field of view of 78,8 °. For stabilized video recordings ensures 3 axes gimbal, which completely compensates for camera shake with the help of so-called brushless motors. The refresh rate is 4K resolution at maximum 30 frames-per-second. With a resolution of 1080p even up to 96 pictures-per-second are possible. In addition to videos, the camera is also able to take photos. There are different photo modes, such as single shot, continuous shooting or interval shooting. All recordings are stored directly on the inserted Micro SD memory card.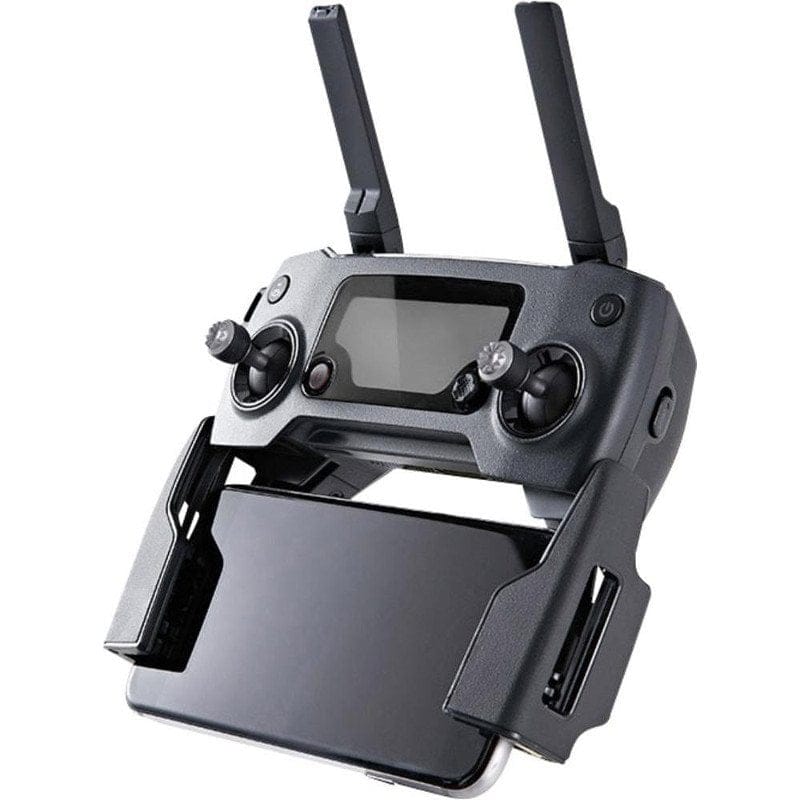 Flight modes and DJI GO 4 app
You can control the DJI Mavic Pro in different ways. First, there is the normal control over the DJI remote control, For live image transmission, the remote control can also be equipped with a smartphone that uses the DJI GO 4 app connected directly to the Mavic. With active connection can also read numerous details on the current status of the drone. Furthermore, there is the possibility to operate the Mavic only via the smartphone. Manual control takes place via virtual joysticks. A recently added option to control the DJI Mavic are the so-called DJI goggles, This is a FPV head-mounted displaythat you sit up similar to a VR glasses. DJI Goggles, DJI Remote and DJI GO 4 app can be combined as desired.
TAPFLO
The TapFly mode is particularly suitable for drone novices. The drone is controlled not by joysticks, but by marking locations on the smartphone display. The obstacle detection system always keeps an eye on the environment.
Trace, profiles and spotlight
The generic term "ActiveTrack" enables autonomous flying based on automatic object recognition. If one chooses a goal, this can be followed from all directions.
Gesture mode and Tripod mode
In gesture mode, the Mavic's vision system recognizes various gestures to which a function is assigned. If you wave to the drone, which is recognized and triggered a selfie. In Tripod mode, the speed is limited to 3.6 km / h and the control sensitivity of the remote control is weakened. This mode is especially suitable for indoor flights.
You are also interested in other drones from DJI? Then visit our contributions to ...
Contribution to the DJI Mavic Air Contribution to DJI Spark
DJI Mavic Pro deals and coupons
Almost every online store from China is trying to offer the DJI Mavic Pro and the Fly More Combo at the best price. In contrast to the official DJI Store you can save a lot. Officially, the Mavic costs in the DJI Store as a single version, ie the drone including remote control, battery, charger and spare parts, 1.199 €. The Fly More Combo, which includes an extra battery, carrying bag and other accessories, even costs 1.499 €. Enclosed you will find a guide on what to pay attention to when buying or importing from China.
Current DJI vouchers
Currently no new coupons available!
Buy DJI Mavic Pro - warranty and guarantee?
If you look in the better known China shops, such as TOMTOP, GearBest, Banggood or Geekbuying um, the drone is partly already from € 740 to find. These prices sound at first tempting, but what about the warranty of the dealer or the manufacturer's warranty?
On the one hand, the dealers often offer themselves a free exchange, if the goods "Dead-on-Arrival", ie already arrived broken. In addition, you are protected by PayPal, if you choose this payment method. More interesting is the question, in which frame you can take the manufacturer's warranty. In the network it is often said that the manufacturer's warranty applies only to the country in which the Mavic was acquired. If you were to order the Mavic in China, you would have to send it back to China for repair. That's not true. If you own a Chinese DJI Mavic Pro, you can certainly use the German repair service. The same applies to the DJI Care package, which can be completed independently of the place of purchase of the drone.
Buy DJI Mavic Pro - Customs and VAT?
In addition to the possibility to order the drone directly from a European warehouse, there is often the cheaper way of ordering from a Chinese warehouse. GearBest offers for orders from the CN and HK warehouse the so-called "Priority Line" or "Germany Express" Shipping method to exclude Customs and EUSt by sending via UK. The delivery time of this shipping method is between 10 and 14 days.
Auch TOMTOP offers for the purchase of DJI Mavic Pro an acquisition of customs duties and import VAT. TOMTOP sends via DHL Express and takes over "DDP" (Delivery Duty Paid) already all fees. The delivery time here is usually only one week!
Price Comparison